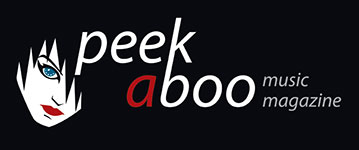 like this cinema review
---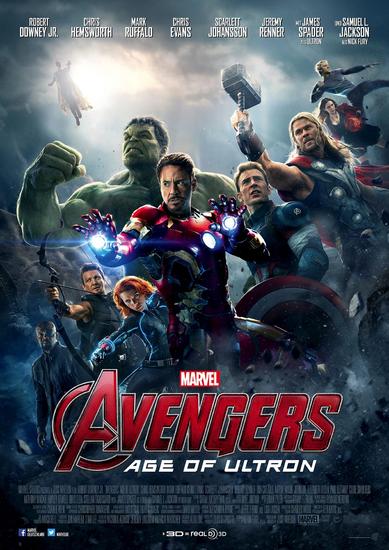 JOSS WHEDON
Avengers: Age Of Ultron
Movie
•
Cinema
Comic
[58/100]

Walt Disney
24/04/2015, Didier BECU
---
Let's face it, for movie buffs who consider movies as an opportunity to have a seat and eat a huge bag of disgusting popcorn, these times are very hard. Week in week out we (and others) recommend movies you absolutely have to see. The reality however is that most of the times the theatres are completely empty. Hyped movies by critics are often movies that are doomed to disappear after two weeks only, if they ever get a cinema release! With a blockbuster like The Avengers: Age Of Ultron you have a total different situation as during the first weeks of the screening it is hard to find a decent seat. After all, if you don't count Avatar and Titanic, then the first Avengers is the most successful movie ever. With that in mind, it is no surprise that Walt Disney producers were keen to give the newest Avengers story a budget of 250 million dollar. It's clear that director Joss Whedon was given the task to make this new superhero adventure as spectacular as possible. And yes, for those who were having their doubts about it: the new Avengers is indeed spectacular, but that doesn't make it a good movie yet!
Fans think that they're floating in fantasy, but don't be a fool. This franchise is made by producers who just have one thing in mind: gaining money and being sure that the public is enthusiastic enough to go and see a third (and who knows a fourth) part. In the case of The Avengers, the makers are doing that by adding new superheroes who can join the club. The twins Quicksilver (Aaron Taylor-Johnson) and Scarlet Witch (Elizabeth Olson) join the dark evil side, but after a while they know that it's better to join the camp of Iron Man (Robert Downey Jr.), Black Widow (Scarlett Johansson) Thor (Chris Hemsworth), Captain America (Chris Evans) and the Hulk (Mark Ruffalo). This time the enemy is created by Iron Man and the Hulk. Throughout experimenting with artificial intelligence, the two have created a new creature that has only one solution to save the world: exterminate mankind!
The movie has a length of 141 minutes, but the storyline is quite thin. The main plot is disturbed by many subplots that add nothing to the messy story and are only invented to please fanatical comic fans who know everything about the Marvel-creations. It's absolutely true that you have to be aware of who is who in Marvel world to be able to follow this quite complicated story that has no mercy for those who never saw such a film. There's nothing wrong with the cast, except that it just seems like the actors are acting on automatic pilot. The new Avengers is again one of those movies that are created to show the audience what technology is capable of these days. Don't take us wrong, we love super heroes. On lonely nights we also like to dream that we're wearing a bat suit and are driving with a fast bike throughout the city. But The Avengers: Age Of Ultron looks too much like a ridiculous Halloween party with an insane budget.
Didier BECU
24/04/2015
---
Voor wie film ruimer ziet dan een gelegenheid om zich in een zetel neer te ploffen en vol te vreten met een pak stinkende popcorn, is het vandaag triestig gesteld. Films die wij (en natuurlijk anderen) ophemelen worden voor bijna lege zalen geprojecteerd om na amper twee weken genadeloos van de programmering te worden gegooid, terwijl het voor een superproductie als The Avengers: Age Of Ultron in de eerste weken zoeken is naar een plaatsjes. De eersteling die drie jaar geleden uitkwam verpulverde talrijke records en als je Avatar en Titanic niet meerekent, dan is het de meest succesvolle film aller tijden. Het spreekt vanzelf dat ze er bij Walt Disney geen probleem van maakten om de tweede film uit de Marvel-reeks een budget van 250 miljoen dollar te gunnen. Het is overduidelijk dat regisseur Joss Whedon de opdracht kreeg om alles er gigantisch te laten uit zien. Fans die daaraan zouden twijfelen mogen gerust zijn, deze superheldenfilm ziet er ontzettend spectaculair uit. Maar is een superspektakel synoniem voor een goede film? Mooi niet dus!
Fans wanen zich wel in een fantasiewereld, maar moeten zich toch niet te veel illusies maken. Deze franchise wordt op poten gezet door bikkelharde producenten die alleen maar dollartekens willen zien en daarom wordt zo'n film gemaakt met het oog op een derde (en indien mogelijk zelfs vierde) deel. Men probeert de fans warm te maken voor een nieuwe aflevering door iets extra's toe te voegen, en in het geval van The Avengers is dat door de introductie van twee nieuwe helden. Bij aanvang kiezen de tweeling Quicksilver (Aaron Taylor-Johnson) en Scarlet Witch (Elizabeth Olson) natuurlijk voor de kant van het kwade, maar ze staan uiteraard na een tijdje zij aan zij met Iron Man (Robert Downey Jr.), de Black Widow (Scarlett Johansson) Thor (Chris Hemsworth), Captain America (Chris Evans) en de Hulk (Mark Ruffalo). De vijand is deze keer gecreëerd door Iron Man en de Hulk, want door het experimenteren met artificiële intelligentie hebben zij een wezen in het leven geroepen dat maar één oplossing geeft om de wereld van de ondergang te redden: gewoon de mensheid uitroeien.
Ondanks zijn 140 (lange) minuten gebeurt er bitter weinig in deze film. Het verhaal is flinterdun en soms gaat de hoofdplot verloren door het inlassen van allerlei onnodige subplots die nauwelijks iets aan het verhaal toevoegen, en alleen maar dienen om trouwe fans van de Marvel-wereld op hun wenken te bedienen. Want geloof ons, wie nog nooit in zijn leven een superheldenfilm zag zal weinig kunnen volgen van het vaak warrige verhaal. Over de cast kan je nauwelijks iets verkeerds zeggen, behalve dat de acteurs één voor één op automatische piloot spelen. The Avengers is wederom een film die toont waar de huidige techniek toe in staat is, maar er valt geen greintje emotie te bespeuren. Het is hoogtechnologisch vakmanschap, maar meer moet je er niet achter zoeken. Neen, mijnhee, wij houden wel van superhelden. Op eenzame avonden beelden wij ons ook soms wel eens in dat we met een vleermuizenpak op een futuristische motor door de stad razen. Maar dat belet ons niet om The Avengers: Age Of Ultron net niet als een bijna ridicule verkleedpartij met een uit de hand gelopen budget te omschrijven.
Didier BECU
24/04/2015
---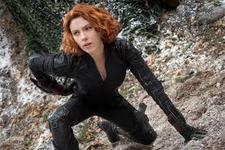 ---