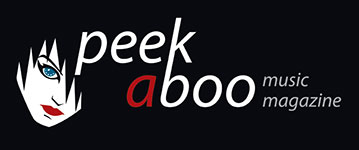 like this concert review
---
MAIA VIDAL
Brussels, Botanique
Concert
11/11/2015, Didier BECU
---
Maia Vidal is in all aspects of life a centipede. As a child of a French-Spanish father and a German-Japanese mother, this damsel is what you call a real multicultural. Not only does she speak a lot of languages ​​, she also lived everywhere. But Maia is not only versatile in that area, musically you can't pigeonhole her either, and she plays a lot of different instruments. It is no coincidence that this beautiful lady ended up at Crammed Discs. Pop remains the key word, but Maia Vidal is so more than that, something she proved with full dedication at the Rotonde of the Botanique-venue in Brussels.
Maia entered the stage barefoot, with her face wrapped in a black shawl. Next to the mystic lady there was an electric drum and the bass of Giuliano Cobelli. Maia immediately started with The Bed We Made. Lovely pop with a voice that recalls of Lilly Allen, but with the quality of Björk. With charming French interludes, Maia gently flew from one song to another. Most of them were taken from her third album You're The Waves (Jell-O, The Tide or Eyes Ears Lungs Lips), but also the wonderful Our Place that was composed for a short film by Alejandro Amenábar.
Maia looks chamois sweet, but the pretty lady is full of vicious black humor. While she and her ex (and the third band member) share the stage, she announces laughing that Mama Told Me So is a song that they both wrote about the rupture. It is indeed a tough world, and maybe just a little too hard for a young woman who can compose a track like Islands Of You And Me. Whose heart doesn't melt if they hear Maia sing the catchy words I'm giving you my heart, do not break it please.
The audience was deeply moved by the electronic pop of Maia Vidal. Maia was funny, enthusiastic because she returned to the most beautiful venue of Belgium, but she especially proved that You're The Waves is not coincidentally her best album so far. To say it with Maia's words: we are the waves, she is the beach. The ideal place to refresh the mind with thoughtful, beautiful pop.
Afterwards Peek-A-Boo had a nice chat with Maia, so keep checking our pages, as soon an interview will be published!
Click below for the photos photographer Siméon Janssens, click here to take a look at his portfolio.
Didier BECU
11/11/2015
---
Maia Vidal is op alle vlakken een duizendpoot. Als kind van een Frans-Spaanse vader en een Duits-Japanese moeder is deze jonge vrouw wat je noemt multicultureel. Ze spreekt niet alleen heel wat talen, ook leefde ze zowat overal. Maar Maia is niet alleen op dat vlak veelzijdig, ook op muzikaal vlak kun je deze artieste niet in één hokje duwen en bespeelt ze heel wat verschillende instrumenten. Het is dan ook geen toeval dat deze mooie dame bij Crammed Discs terecht kwam. Pop blijft wel het sleutelwoord, maar Maia Vidal is zo meer dan dat, wat ze met volle overgave bewees in de Rotonde van de Brusselse Botanique.
Maia kwam blootsvoets, met haar gezicht in een zwarte sjaal gehuld, het podium op. Naast deze mystieke dame stond een elektrische drum opgesteld en de basgitaar van Giuliano Cobelli.
Meteen begon Maia met The Bed We Made. Heerlijke pop met een stem die wat aan Lilly Allen herinnert, maar met de kwaliteit van Björk. In uiterst charmant Frans dartelde Maia van de ene song naar de andere. De meeste nummers uit haar derde album You're The Waves (Jell-O, The Tide of Eyes Ears Lungs Lips) werden gespeeld, maar ook bijv. het wondermooie Our Place dat werd gecomponeerd voor een kortfilm van Alejandro Amenábar.

Maia ziet er zeemzoet uit, maar de knappe dame zit tevens vol venijnige zwarte humor. Terwijl ze samen met haar ex (en derde bandslid) het podium deelt, kondigt ze lachend aan dat Mama Told Me So (een nummer over de scheiding) samen met hem is geschreven. Het is inderdaad een harde wereld, en misschien net iets te hard voor een jonge vrouw die een nummer als Islands Of You And Me kan componeren. Geef toe, je hart gewoon als je Maia de pakkende woorden hoort zingen: I'm giving you my heart, don't break it please.
De elektronische pop van Maia Vidal liet niemand ongeroerd. Maia was grappig, dolenthousiast omdat ze opnieuw in de mooiste concertzaal van het land mocht optreden, maar ze bewees vooral dat You're The Waves niet toevallig haar beste album tot nu toe is. Om het Maias woorden te zeggen: wij zijn de golven, zij het strand. De ideale plek om onze geest te laven met weldoordachte, prachtige pop.
Na afloop had Peek-A-Boo nog een leuke babbel met de zangeres, hou dus onze pagina's in het oog voor een interview!
Klik onderaan voor de foto's die fotograaf Siméon Janssens ter beschikking stelde aan onze site, en klik hier voor een kijkje op zijn portfolio.
Didier BECU
11/11/2015
---
---