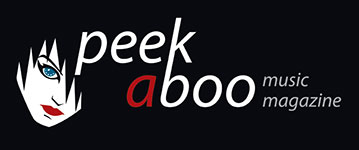 like this article review
---
MARIE AMACHOUKELI, CLAIRE BURGER AND SAM THEIS
Soon in the theatres: Party Girl (A-Film)
Article
A-Film
07/08/2014, Didier BECU
---
The mainstream film audience probably will always consider the Filmfestival from Cannes as an extravagant outburst from cinema. It's indeed a common thing to see in May breathtaking babes exposing themselves at the Croisette, but the festival always has become a perfect springboard for arthouse (did we hear someone whispering the term better cinema?)


So yes, cinema is in the first place entertainment, but between the adventures from apes that conquer the world or cars that turn out to be dangerous robots, it's nice to see something else instead. A beautiful selection of such movies is made by the Un Certain Regard-section during Cannes. This part from the prestigious filmfest has been invented from 1978 on and saw winners like L'inconnu Du Lac, Moolaadé from Senegal or the Greek highlight Dogtooth is (recently praised by the British Eureka! as one of the finest movies from the past decade).


This year the three youngsters Marie Amachoukeli, Claire Burger and Samuel Theis won the Prix d'Ensemble from the Un Certain Regard. They also came home with the Camera d'Or: an award that already has been won by the likes of Steve McQueen, Miranda July and Jim Jarmusch. In other words, awards that really count! Good cinema doesn't have to be limited to the selected few of the filmfestivals. We like to see it in our theatres as well. Distributor A-Film understood this and from 3rd September you can see Party Girl in Belgian theatres.


It's difficult to describe the movie. One will see it as a bittersweet drama, while others will classify Party Girl as a social realistic drama. Fact is that the movie comes close to the Dardenne-style and thus not far away from daily reality. The movie is set in the French-German border. In the region of Lorraine we meet Angélique Litzenburger (mother from one of the directors, Samuel Theis) who is already 60, but still works in a bar. She has to charm clients so they buy her expensive drinks. She might be a mature, but Angélique still enjoys the night life. When she meets mineworker Michel (Joseph Bour) she starts questioning her life as the man proposes her to marry him. Will she end her turbulent life and give up freedom or choose for security?

Party Girl is indeed a nice little movie to remember. Keep an eye on our pages the forthcoming days, as thanks to A-Film we are able to give away some prices!
Didier BECU
07/08/2014
---
Het grote publiek zal wellicht het Filmfestival van Cannes voor eeuwig blijven vereenzelvigen met de extravagantie die vaak met cinema gepaard gaat. Het is wel zo dat je in mei op de Croisette geregeld schaars geklede dames kan aantreffen die het oog van de camera zoeken, desalniettemin is het festival ondertussen ook een springplank voor arthouse (riep daar iemand de betere film?) geworden. Cinema mag dan wel entertainment zijn, toch blijft het heerlijk om tussen het geweld van apen die de wereld veroveren of auto's die in moorddadige robots veranderen af en toe in een fauteuil neer te strijken en eens naar een andere soort film te kijken. Vanuit dat aspect zorgt de Un Certain Regard-prijs tijdens het Cannes-festival voor een ideale selectie. Deze aparte afdeling werd vanaf 1978 in het leven geroepen en bracht al een aardig lijstje winnaars op: van L'inconnu Du Lac, Moolaadé uit Senegal tot het Griekse hoogtepunt Dogtooth die nog deze maand door het Britse Eureka! als één van de niet te missen films van het voorbije decennium werd beschouwd!



Dit jaar mochten drie jonge wolven Marie Amachoukeli, Claire Burger en Samuel Theis zowel de Prix d'Ensemble uit het Un Certain Regard-onderdeel als de Camera d'Or (die eerder door mensen als Steve McQueen, Miranda July en Jim Jarmusch werd gewonnen) mee naar huis nemen. Prijzen die dus kunnen tellen. Goede cinema mag echter niet alleen een onderdeel van filmfestivals zijn, wel een platform. Distributeur A-Film heeft dit goed begrepen en Party Girl komt vanaf 3 september de Belgische cinemazalen binnenwandelen.



De ene zal het als een bitterzoet drama omschrijven, terwijl anderen dan weer het etiket sociaal realistisch drama in de mond zullen nemen. Feit is dat Party Girl nooit ver van de Dardenne-stijl ligt, en zich dus altijd zeer in de buurt van de alledaagse realiteit situeert. Het verhaal speelt zich af in de Franse Lorraine-streek af dat dicht bij de Duitse grens ligt. Angélique Litzenburger (moeder van één van de regisseurs, Samuel Theis) werkt op haar zestigste nog steeds in een bar. Haar job bestaat erin om klanten haar een duur drankje te laten betalen. Ondanks haar rijpere leeftijd voelt Angélique zich nog goed in haar vel, maar mijnwerker Michel (Joseph Bour) stelt dat geluk in vraag. De oudere man vraagt haar om in het huwelijksbootje te stappen. Deze stap zou een einde aan haar turbulente leven betekenen, maar tegelijkertijd een zekerheid voor de (komende) harde jaren.


Party Girl is zo'n kleine film om te onthouden. Let de komende dagen vooral goed onze pagina's in de gaten, want binnenkort mogen we van A-Film enkele filmprijzen verloten!
Didier BECU
07/08/2014
---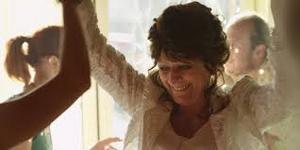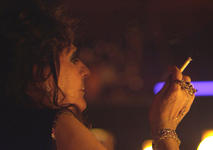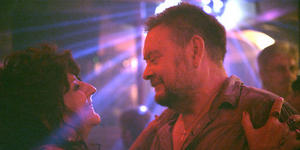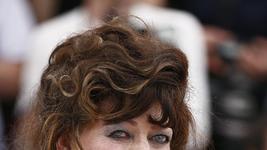 ---