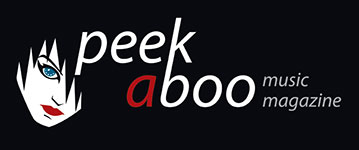 like this movie review
---
DARREN ARONOFSKY
Noah
Movie
Adventure
[68/100]

Universal Pictures
05/08/2014, Didier BECU
---
From the days film was born, Hollywood understood very well that the Bible was the ultimate inspiration for finding majestic spectacles. Almost every page from the Holy Book has been transformed in a Hollywoodscript. Those films were extremely popular during the 50's, but then one day it was as difficult to get people in cinema's as it was to get them in church. But look, due to the new wonder called CGI a whole new generation of filmfans can rediscover the adventures of the Old and the New Testament. Around Christmas you can see Christian Bale as Moses in Exodus: Gods and Kings by Ridley Scott, but the first in row is Russel Crowe as Noah.


The Paramount-studio's were totally convinced that the fairy tale would work as they invested 130 million dollar in this production. They only forgot that the man who was in the leading position, director Darren Aronofsky, is a very apart director. On the bonus section they didn't mention one word about it, but according to various articles the director from The Black Swan and Requiem For A Dream clashed more than once with his investors. There's of course the Aronofsky-touch, but the director also drove many churchgoers mad. Everyone knows the tale from the gently Noah who sails with his ark around the globe, but Aronofsky transformed the Bible-figure in a (vegetarian!) insane who would do anything for God and has absolutely no pity for others. And admit it, if Noah would ever exist, you can bet your money that he was more like the Aronofsky-version as the one the teacher told you about at school!


Just like if this isn't enough, Darren Aronofsky mixed many fantasy-elements that makes Noah more like The Lord Of The Rings. For people who go to sleep with their Bible an extra reason to protest. The story is known by almost everyone and yet, how silly the script might be, Darren Aronofsky made a very special thing from Noah. The movie is extremely black and our creator (the word God is never used) is not exactly a friendly being.


The character from Noah is good performed by Russel Crowe, but it are especially the ladies who deserve the credits. Jennifer Connelly is sublime as always and also Emma Watson who plays the adopted (rebellious) daughter is stunning (and no, we're not only talking about her looks!) Maybe it would have been better if Darren Aronofsky would have used some scissors as 140 minutes is a far too long ride for a Bible-movie. But good, even they who don't believe in God will enjoy this flood!


Noah is out on DVD and Blu-ray (also in 3D-version) by Universal. The company provided us with a Blu-ray on which you can find one hour of extra material that is not on the DVD. First of all there's the documentary Iceland: Extreme Beauty. Don't be fooled by thinking that the magical landscapes are created by some computer as they exist in reality: you'll find them in Iceland. The featurette The Ark Exterior has been divided in A Battle for 300 Cubits and Animals Two by Two. The information you'll get is never groundbreaking, but interesting enough to get you one hour chained to your screen.


Noah is out on Universal.
Didier BECU
05/08/2014
---
Vanaf het ontstaan van de film hadden Hollywoodbonzen heel goed begrepen dat de Bijbel de ideale inspiratiebron was om de kijker met majestueuze spektakelfilms te overrompelen. Zowat iedere pagina uit het heilige boek werd in de jaren 50 tot een Hollywoodproduct herschapen, maar plots was de interesse over. Je kreeg de moderne mens al even moeilijk in de cinema als naar de kerk als het om Bijbelverhalen ging. Maar kijk, dankzij het nieuwe wonder dat CGI heet is men klaar om een nieuwe generatie filmfans in de wereld van het Oude en het Nieuwe Testament onder te dompelen. Rond de kerst kan je Christian Bale als Mozes in Exodus: Gods and Kings van Ridley Scott zien, eerst mocht Russel Crowe als Noah de revue passeren.


De Paramount-studio's waren er heilig (ha!) van overtuigd dat het sprookje zou lukken en pompten niet minder dan 130 miljoen dollar in deze productie. Alleen hadden ze vergeten dat de man aan het roer, Darren Aronofsky, een zeer eigenzinnige mens is. Op de extra's wordt er met geen woord over gerept, maar als je de vele artikels mag geloven dan lag de regisseur van The Black Swan en Requiem For A Dream voortdurend in de clinch met zijn geldschieters. Niet alleen heeft Aronofsky er een niet alledaagse Hollywoodfilm van gemaakt, ook slaagde hij er in om wereldwijd talrijke pilaarbijters de gordijnen in te jagen. Iedereen kent het verhaaltje van de brave Noah die met zijn ark en talloze dieren de wereld ging rondvaren, maar Aronofsky maakte er een (vegetarische!) godsdienstwaanzinnige van die geen tikkeltje medelijden voor zijn medemens had. Een gedurfde zet, maar als Noah ooit heeft bestaan, dan zal hij wellicht meer op de Aronofsky-versie lijken dan deze waarover de kinderjuf je vertelde.


Alsof dat allemaal niet genoeg is gooide Darren Aronofsky er een heleboel fantasyelementen bij waardoor Noah meer op The Lord Of The Rings lijkt. Voor mensen die met de Bijbel gaan slapen nog een reden te meer dus om te protesteren. Het verhaal is ondertussen bekend en iedereen kent de afloop, want tja...moest Noah niet in zijn missie zijn geslaagd dan was er gewoon geen mensheid meer, niet? En toch hoe onnozel voorspelbaar het script ook is, heeft Darren Aronofsky van Noah een bijzondere film gemaakt. De film is gitzwart en toont een allesbehalve lief beeld van onze schepper. Het personage van Noah wordt degelijk vertolkt door Russel Crowe, maar het zijn vooral de vrouwtjes die het acteerwerk boven de middelmaat halen. Jennifer Connelly is zoals altijd subliem, en ook Emma Watson speelt als geadopteerde (rebelse) dochter de pannen van het dak. Misschien had Darren Aronofsky beter af en toe een schaar gebruikt, want 140 minuten is echt wel te lang voor een Bijbelfilm, desalniettemin zal zelfs de grootste atheïst zich zonder twijfel amuseren met deze zondvloed.


Noah is zowel op dvd als Blu-ray (ook in 3D-versie) door Universal uitgebracht. Wij kregen van de maatschappij een Blu-ray waarop je ruim een uur extra materiaal kan vinden, die dus niet op de dvd staan. Allereerst is er Iceland: Extreme Beauty. Je zou misschien wel eens durven denken dat de vreemde landschappen door een computer zijn gecreëerd, maar ze bestaan wel degelijk: in Ijsland! Verder is er nog de featurette The Ark Exterior die is opgedeeld in A Battle for 300 Cubits en Animals Two by Two. Alhoewel de informatie wat oppervlakkig is, zijn de extra's meer dan interessant genoeg om je een uur aan de beeldbuis te kluisteren.


Noah is nu uit op Universal.
Didier BECU
05/08/2014
---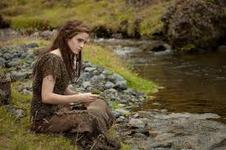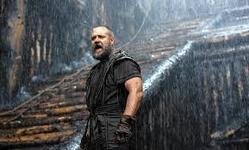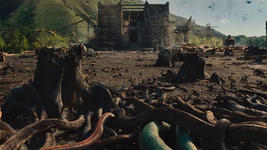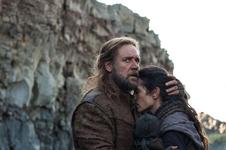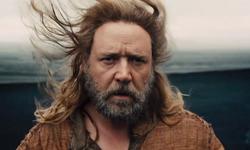 ---