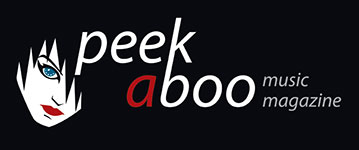 like this concert review
---
ROSA†CRVX
Live in Thoix (Dark Ritual Night IV) & Lisse (Castlefest)
Concert
[90/100]

02/08/2014, Ward DE PRINS
---
If I tell people who do not know Rosa Crux what this band is about, I always think of their unique performance including the BAM (their automatic drums), the fantastic bells on stage, the stunning "Danse de la Terre" or their Latin lyrics. Entirely unjustified, I only refer secondly to their magisterial, incantatory compositions.
This past week there were two opportunities to see this wonderful group on stage.
© photos in Thoix by kind permission of Christelle Devilred
---
The first performance was at the "Dark Ritual Night IV" in Thoix (FR), organized by Rosa Crux itself.
After a drive of a few hours we arrived in the desolate Thoix, where the open-air concert of RC would be held within the garden of the castle. For days, the group had prepared this complete spectacle and also the day itself, Claude & Olivier were working hard to make everything perfect. The spectators came in dribs and drabs (and in too small numbers) and were able to enjoy the environment in anticipation of the concert. The castle, the beautiful garden, extended by a cemetery created by RC, the macabre decorated great hall of the castle or even the pig on the spit - all made ​​that gothic yet peaceful, relaxing atmosphere.
Only around a quarter to eleven the gig finally began. On a (relatively) small stage, Olivier, Claude & Mickael started the concert with "Adorasti". With minimal lighting but maximal sound and clear projections, the concert deployed amazingly. The whole set contained for me quite some songs that I hadn't heard (that often) within their performances, and the entire setlist was chosen perfectly. Of course, their "hit" songs are not lacking. "Invocation" was carried out with the majestic dual flag waving on black barrels in the audience, and "Eli-Elo" got the traditional performance "Danse de la Terre", but this time on a stretcher on which the dancers were paraded slowly through the crowd.
My absolute favorite, "Proficere" was also played, but especially the masterful versions of "Terribilis" (Claude on glockenspiel and piano is truly masterly), "Morituri" and "Omnes Qui Descundent" led to the surprising, enchanting atmosphere and kept us one hour and a half in trance.
After the concert "la Performance de la Cage" was staged, one of the many constructions of Olivier Tarabo, with a repetitive, deafening sound of a human bullet against a large metal plate.
And then the last act, "Le Cercle des Sorcières" (the circle of witches), was activated. Hung on an 8 meter high carousel, four witches on broomstick, all revolving, catch fire and thanks to the hypnotic music of The Moon Lay Hidden Beneath A Cloud and Aghast the public enjoyed this spectacle during twenty minutes. Marvelous !
A marvelous grand spectacle in a beautiful area had been our part. Too bad there were not more visitors, but probably coinciding with the Amphi Festival, the late notice and the desolate location of Thoix were the reasons for this. Next year, hopefully a fifth edition of the Dark Ritual Night, with a lot more visitors!
---
The second appearance in a week took place at the beautiful Castfest in Lisse. A greater contrast could not be there. Thousands of people compared to several hundred in Thoix or the grand stage & extensive lighting versus the minimal staging in France. But within the thousands of people in Lisse, there were surprisingly many people who did not knew RC ("Rosa Crux, is that an alias of Corvus Corax" was one of the better comments I could hear). And despite some sound problems RC also played a brilliant concert over here, with a very similar setlist to the previous gig.
And even though the concert in Thoix left a better impression, probably due to the small scale and the charisma of Rosa Crux who self-organized everything, we should be happy with the few times we can see this beautiful band performing live.
Next appointment on Black Easter 2015 !
Ward DE PRINS
02/08/2014
---
Als ik Rosa Crux voorstel aan mensen die hun niet kennen denk ik altijd aan hun unieke uitstraling met onder andere de BAM (hun automatische drums), de fantastische klokken op het podium, de verbluffende "Danse de la Terre" of hun Latijnse teksten. Geheel onterecht verwijs ik pas in de tweede plaats naar hun magistrale, bewerende composities.
De afgelopen week was er twee maal de gelegenheid om deze schitterende groep aan het werk te zien.
---
Het eerste optreden was op de "Dark Ritual Night IV" in Thoix (FR), georganiseerd door Rosa Crux zelf.
Na een autorit van enkele uren kwamen we aan in het desolate Thoix, waar het openlucht concert van RC zou doorgaan nabij het kasteel. Dagenlang had de groep het optreden voorbereid & ook de dag zelf waren Claude & Olivier de hele dag bezig om de omkadering perfect te maken. De toeschouwers kwamen met mondjesmaat (en in veel te kleine getale) toe en konden in afwachting van het concert genieten van de omkadering. Het kasteel, de prachtige tuin, het door RC aangelegde kerkhof, de macaber ingerichte grote zaal van het kasteel of zelfs het varken aan het spit – alles zorgde voor een rustige sfeer.
Pas omstreeks kwart voor elf begon dan eindelijk het optreden, waarbij op een (relatief) klein podium Olivier, Claude & Mickael het concert begonnen met "Adorasti". Met minimale verlichting doch maximaal geluid & duidelijke projecties werd het concert verbluffend ingezet. De hele set bevatte voor mij best wel wat nummers die ik nog niet of niet zo vaak live had mogen meemaken & ik kon hun setlist dan ook meer dan smaken. Uiteraard mochten de "hit" nummers niet ontbreken. "Invocation" werd uitgevoerd met de vaandelzwaaiers op zwarte vaten in het publiek, en "Eli-Elo" kreeg naar gewoonte de performance "Danse de la Terre", doch ditmaal op een draagberrie waarbij de dansers langzaam werden rondgedragen doorheen het publiek.
Mijn eeuwige favoriet "Proficere" werd vertolkt, doch vooral de magistrale versies van "Terribilis" (Claude op klokkenspel & piano is werkelijk magistraal), "Morituri" en "Omnes Qui Descundent" zorgden voor de bevreemdende, betoverende sfeer & hielden ons anderhalf uur in trance.
Na het concert werd "la Performance de la Cage" opgevoerd, één van de vele constructies van Olivier Tarabo, waarbij ditmaal een oorverdovend geluid van een menselijke kogel tegen een grote metalen plaat werd beoogd.
Als laatste act werd "Le Cercle des Sorcières" geactiveerd. Aan een 8 meter hoge draaimolen hingen 4 heksen op bezemsteel die, al ronddraaiend, vuur vatten en mede dankzij de bezwerende muziek van The Moon Lay Hidden Beneath A Cloud en Aghast het publiek een twintigtal minuten muisstil van dit spektakel liet genieten.
Een prachtig totaalspektakel in een schitterende omgeving was ons deel geweest. Zonde dat er niet meer bezoekers waren, maar allicht waren het samenvallen met Amphi festival, de late aankondiging & desolate ligging van Thoix de redenen daartoe. Volgend jaar hopelijk met meer bezoekers !
---
Het tweede optreden in één week tijd vond plaats op het schitterende Castefest in Lisse. Een groter contrast kon er niet zijn. Duizenden mensen in vergelijking met enkele honderden in Thoix of een groots podium & uitgebreide verlichting versus de minimale staging in Frankrijk. Maar van de duizenden mensen in Lisse waren er verbazingwekkend veel mensen die RC nog niet kenden ("Rosa Crux, is dat een alias van Corvus Corax" was één van de betere opmerkingen die ik mocht opvangen). En ondanks enige geluidsproblemen mocht RC ook hier een schitterend concert spelen, overigens zeer gelijkaardig aan dat aan Frankrijk.
En ook al heeft het concert in Thoix een veel meer beklijvende indruk achtergelaten, allicht door de kleinschaligheid & het charisma van Rosa Crux die daar alles zelf organiseerden, toch mogen we blij zijn met de weinige keren dat we deze prachtige band aan het werk kunnen zien.
Volgende afspraak op Black Easter 2015 !
© photos in Thoix by kind permission of Christelle Devilred
Ward DE PRINS
02/08/2014
---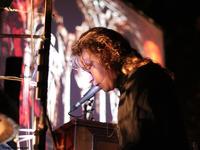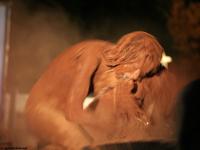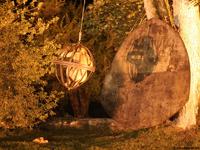 ---