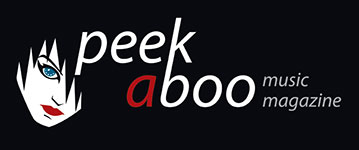 like this movie review
---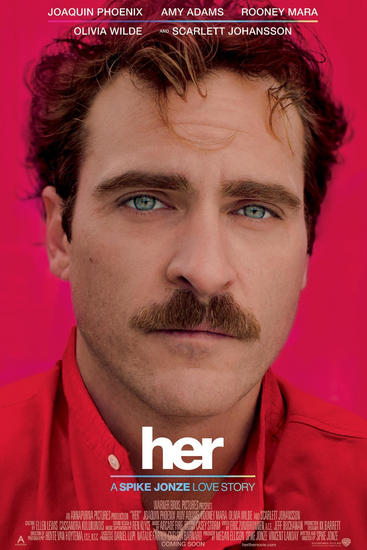 SPIKE JONZE
Her
Movie
Drama
•
Science Fiction
[82/100]

Paradiso
01/08/2014, Didier BECU
---
Winning a film award for best actress without people seeing you one second? It happened to Scarlett Johansson. The gorgeous blonde won at the Filmfestival from Rome the price for Best Actress for performing a computer voice. There was even talk to nominate her for an Oscar, but in the end the people from the Academy Awards played on safe, even if director Spike Jonze got one for Best Script!
People who know something about movies will definitely know that Spike Jonze is not the kind of director who makes it himself that easy, even if you could describe Her as a romantic (horror) tale.
The videoclip maker who became in 1999 famous with Being John Malkovich asks in this futuristic vision of life if mankind can fall in love with a computer voice or not. Before you say no, you better think of all those loners you know who have thousands of friends on Facebook.
Theodore Twombly (Joaquin Phoenix) is such a type. He is recently divorced and everything looks like he will be alone for the rest of his life. A contrast with his daily job for the company beautifulhandwrittenletters.com where he pens down day in day out ultimate romantic letters for others. And then it happens. He buys a new advanced computer system and falls head over heels in love with the operating system voice Samantha (yeah, a splendid Scarlett Johansson). He takes "her" everywhere with: from a dinner to a restaurant to a visit at the beach with colleagues. His best friend Amy (Amy Adams) completely understands that this is not normal, but at least Theodore is happy.
At first sight you'd say that this movie doesn't sound intriguing, but of course you're in the safe hands from Spike Jonze who turns every movie into a strange own world. The world is totally digitalized and everyone has lost contact with mankind itself, they only life for their computer! A tragic life vision that gets an extra dimension with the amazing soundtrack by The Arcade Fire and Karen 0.
Every image works and in a way it feels like all protagonists want to end, at some point, their life. So no, Her might be categorized as a romantic movie, but you surely won't feel pretty afterwards. Add to that stunning performances by Joaquin Phoenix, Scarlett Johansson and Amy Adams and you know that Her is one of the film experiences of the moment you might not miss. Great script, a subject to think about, eye blinding decors, a genius soundtrack….to say it much shorter: Her is one of the tips of the moment!
Her is out on DVD on Paradiso Entertainment.
Didier BECU
01/08/2014
---
Een filmprijs winnen voor beste actrice zonder dat je ook maar één seconde in beeld komt? Scarlett Johansson deed het. De knappe blondine veroverde op het Filmfestival van Rome immers (en verdiend!) de prijs van beste actrice door een computerstem te vertolken. Eventjes werd zelfs geopperd dat ze ook in aanmerking zou komen voor een eventuele Oscar, maar de heren van de Academy Awards speelden alsnog op veilig, ofschoon regisseur Spike Jonze een Oscar voor beste scenario in de wacht sleepte.


Wie iets afweet van film is vanzelfsprekend ook op de hoogte van het feite dat Spike Jonze niet meteen de meest toegankelijke filmmaker is, ook al kun je Her eigenlijk gewoon als een romantisch (horror)sprookje bestempelen.


De videoclipmaker die in 1999 definitief doorbrak met Being John Malkovich stelt in deze futuristische visie op het leven de vraag of een mens wel of niet verliefd kan worden op een computerstem. Alvorens je neen antwoordt, denk eerst eens na of over je computeractiviteiten. Je kent wellicht meer dan genoeg eenzaten die via Facebook duizenden "vrienden" hebben, niet?


Theodore Twombly (Joaquin Phoenix) is ook zo'n vreemde vogel. Zijn huwelijk is stukgelopen en alles ziet er naar uit dat hij verder eenzaam door het leven zal moeten gaan. Een sterk contrast met zijn job. Bij het bedrijf beautifulhandwrittenletters.com schrijft hij immers dagelijks massa's liefdesbrieven voor anderen. En dan gebeurt het. Theodore schaft zich een nieuw geavanceerd computersysteem aan en valt voor de computerstem Samantha (een, jawel, schitterende Scarlett Johansson). Hij neemt "haar" overal mee: van een restaurantbezoekje tot een weekendje aan zee met vrienden. Zijn hartsvriendin Amy (Amy Adams) snapt dat dit helemaal niet klopt, maar haar vriend is gelukkig.


Op het eerste gezicht lijkt dit een allesbehalve interessant concept, maar je mag niet vergeten dat je in handen bent van Spike Jonze die wederom via de pellicule een heel apart wereldbeeld schept. De maatschappij is volledig gedigitaliseerd en van menselijke emoties is er nauwelijks sprake. Mensen lopen elkaar voorbij en zijn alleen maar geïnteresseerd in hun computer, de muziek van The Arcade Fire en Karen 0 benadrukt deze desolate sfeer extra.


Ieder beeld is raak en soms lijkt het alsof de protagonisten op ieder moment een einde aan hun leven willen maken. Neen, Her is misschien volgens de letter wel een romantische film, vrolijk word je er evenwel niet van! Voeg daar nog bij de excellente vertolkingen van Joaquin Phoenix, Scarlett Johansson of Amy Adams en je weet dat Her een filmbelevenis is die aan je broek blijft plakken. Knap scenario, een onderwerp om over na te denken, verbluffende futuristische decors, een briljante soundtrack, excellente fotografie…kortom: Her is één van de tips van het moment!


Her is nu uit op dvd via Paradiso Entertainment.
Didier BECU
01/08/2014
---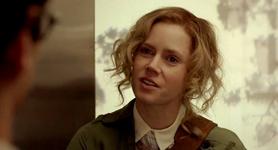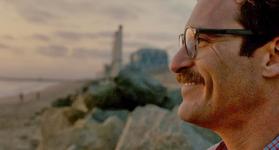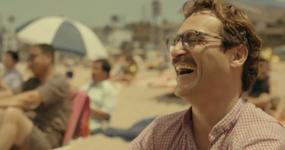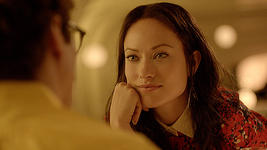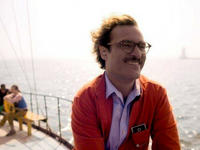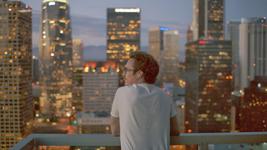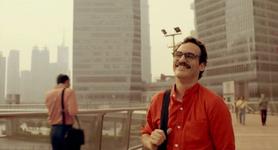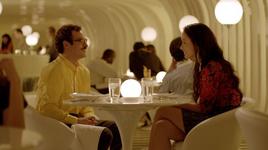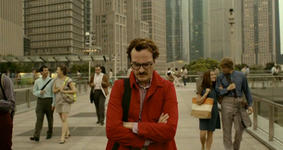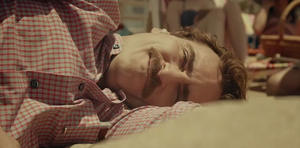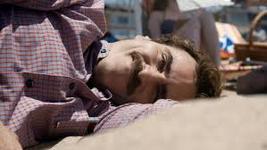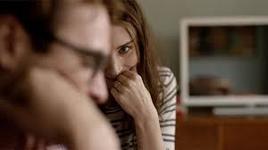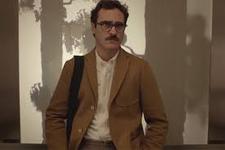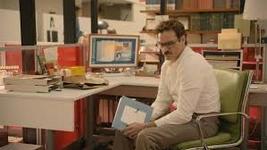 ---