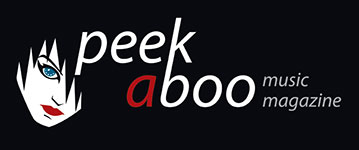 like this movie review
---
JOHN FORD
The grapes of wrath
Movie
Drama
[85/100]

20th Century Fox
24/07/2014, Didier BECU
---
With 145 (yes!) films (including short movies), you can say that John Ford is one of the few directors who has survived the development from silent movies to sound cinema. The cinematographer with the eye lap is of course the absolute master of the western. He is also the person who made John Wayne a star, but among his heroic westerns like Stagecoach, The Searchers, My Darling Clementine, Fort Apache or The Man Who Shot Liberty Valance you could also find The Grapes Of Wrath.


This film from 1940 is based on the famous book by John Steinbeck that won the Pulitzer Prize and was a left fist against the poverty during The Great Depression. A success, as not only the movie won two Oscars (Beste Female Supporting Role for Jane Darwell and Best Director), but today the movie is also a vast element in prestigious lists that gather the best movies of all time. Also quite important is Henry Fonda who became one of the loyal faces from 20th Century Fox during the 40's and so a worldwide superstar.


The story is not one of the most beautiful pages in American history. Tom Joad (Henry Fonda) has just been released from prison and visits his family in Oklahoma where everything has become one big mess. The farm from his family has been taken by the bank. Without any hope the 12 family members go to California as according to rumors, people need workers on fruit fields over there.


The Grapes Of Wrath is a roadmovie shot in magnificent black and white photography that you won't forget. The situations in where the family lands are quite hard, even if the movie makers made a story that consists of stereotypes: the rich are always the bad ones. Ford wasn't that pleased with the left direction this movie had and so he changed from time to time some pages from the Steinbeck-novel.


The acting is a bit stiff, but good. The dialogues are great, but that's probably because poverty is a timeless thing. Perhaps some readers will classify The Grapes Of Wrath as too traditional for their taste, but at the same time you can say that this Hollywoodesque Eisenstein-like movie is still worth seeing now!

The Grapes Of Wrath is out on DVD on 20th Century Fox, without any extra material.
Didier BECU
24/07/2014
---
Met zijn 145 (jawel!) films (inclusief enkele kortfilms) is John Ford één van de weinige cineasten die de overgang van de stomme naar de geluidsfilm goed wist te verteren. De cineast met het ooglapje is natuurlijk de onbetwiste grootmeester van de western, evenals de man die John Wayne groot maakte, toch vind je tussen heroïsche cowboyverhalen als Stagecoach, The Searchers, My Darling Clementine, Fort Apache of The Man Who Shot Liberty Valance ook The Grapes Of Wrath in zijn filmografie terug. Deze film uit 1940 is gebaseerd op het beroemde boek van John Steinbeck dat de Pulitzer Prize in de wacht sleepte en de armoede tijdens de Grote Depressie hekelde. Een succes, niet alleen wegens de twee Oscars (Beste Vrouwelijke Bijrol voor Jane Darwell en Beste Regie), ook omdat de prent tegenwoordig in talloze prestigieuze lijstjes is terug te vinden. Ook niet onbelangrijk: Henry Fonda werd niet alleen één van de trouwe gezichten van 20th Century Fox tijdens de jaren 40, hij werd ook een wereldster.


Het verhaal toont een allesbehalve fraai beeld van het toenmalige Amerika. Tom Joad (Henry Fonda) is net uit de gevangenis ontslagen en trekt onmiddellijk naar zijn familie in Oklahoma waar alles één grote miserie is geworden. De boerderij van zijn familie is door de bank in beslag genomen. Ten einde raad trekken de 12 familieleden naar Californië omdat men, zo ziet het er toch naar uit, daar massaal fruitplukkers zoekt.


The Grapes Of Wrath is een roadmovie in magistrale wit-zwartfotografie om nooit te vergeten. De situaties waarin de familie terechtkomt zijn tegelijkertijd schrijnend en bikkelhard. De film heeft wel een zeer stereotiep beeld, zo zijn het altijd de rijken die in de fout gaan. Ford had het behoorlijk moeilijk met deze linkse aanpak, hij haalde geregeld enkele bladzijden uit Steinbecks boek om zo zijn eigen stempel op het verhaal te drukken.


De acteerprestaties zijn wat houterig, alhoewel oerdegelijk. De dialogen zijn meer dan treffend, waarschijnlijk omdat armoe nu eenmaal een tijdloos gegeven is. Misschien zal The Grapes Of Wrath voor sommige lezers net iets te oubollig zijn om te bekoren, dat belet ons niet om te zeggen dat deze Hollywoodiaanse Eisenstein-achtige film anno 2014 nog meer dan de moeite waard is.

The Grapes Of Wrath vind je op dvd via 20th Century Fox, weliswaar zonder extra's.
Didier BECU
24/07/2014
---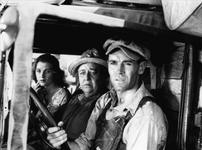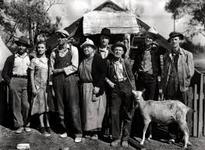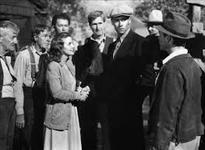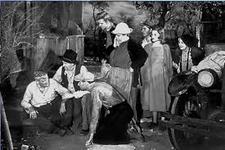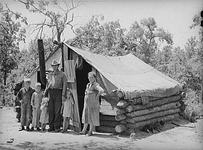 ---