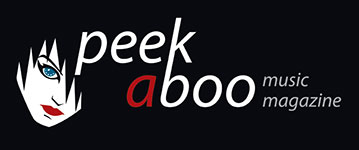 like this documentary review
---
ALEX GIBNEY
The Armstrong Lie
Movie
•
Documentary
Documentary
[76/100]

SONY SPHE
05/08/2014, Didier BECU
---
One of those questions I ask myself more than once is if it's a healthy thing to have heroes or not. I admit, I have quite some. One of them was (or maybe still is) Lance Armstrong: the Texan who won 7 times the Tour De France. These days his name has become more like a synonym for betrayal and this documentary from Alex Gibney only makes it worse, even if the original goal had been totally different.


In 2009 things were still okay with The Boss as he was called back then. The cyclist was still bigger than the sport itself, the hero who made it from cancer patient to the world's greatest athlete. 2009 also would be the year of his return. He was convinced that he could win another time the famous tour and would do anything to show the world that he conquered the mountains clean, without doping. Gibney was given authorisation to shoot a documentary, the filmmaker got a complete free entrance to everything and everyone. Gibney became Armstrong's friend, the man to who he confessed everything. But then, due to the hatred feelings from that other "sinner" Floyd Landis, Armstrong was caught in a web of lies. He was so deep in it that on one day he told during a television show from Oprah Winfrey the truth: admitting that he cheated his whole life. Masks fell down and Gibney was forced to change the tone of his documentary. What originally would have been an ode turned out to be a portrait of a cheater. The rich cyclist who had lots of admirers, suddenly was seen as dirt. So dirty that the UCI took away all his victories.


No, I'm not going to discuss the fact if this is justified or not. All I can say is simply this: why alone him? Everyone knows very well that doping in cyclism was back then a normal thing, most of the cyclists in the peloton were simply unclean. That has been proven more than once. Why is Armstrong considered as a criminal, while other "sinners" are welcome guests to television shows? Why do they tolerate the sins from others? The reason Gibney gives is a very weak one: simply because he also betrayed during his battle against cancer other patients who saw him as an example.


Another reason is also because Armstrong had an immense power. It's especially this part that makes The Armstrong Lie an intriguing (but painful) documentary. Armstrong was the master of the game (so yes, the boss). You feel every second the tension between him and his peloton mate Alberto Contador. It's incredible to see trainer Johan Bruyneel getting over the line when he once again has to notice that his pupil doesn't want to obey his decisions. Contador refuses to play the rules that guarantee Lance a place on the podium at the Champs Elysées. Gibney also shows how corrupt the game is. Deals that are made during the race to give a competitor (in this case Hincapie) the yellow shirt for a couple of days…or simply: how the fan gets betrayed.


The big question that remains is of course if The Armstrong Lie delivers something new or not. The answer is no. What you see is Armstrong like you never saw him before. Somewhere you have feelings of compassion, but then again it's not so easy to give up your heroes, not? Certainly not in my case. I even would go much further by saying that Armstrong is still the biggest cyclist in history. It's true that he took stimulating things to get better, but then again: they all did and in this generation of "sinners" he remains the biggest. No one has the right to take away his victories, at least not if Armstrong is a desolate case! If you punish one, you have to punish them all!


The Armstrong Lie is released by Sony on both DVD and Blu-ray. Apart from this two hour long documentary, you also get 43 minutes of deleted (worth seeing) scenes and a panel talk with the filmcrew during the Filmfestival from Toronto. Definitely worth seeing, but the question arises if those people have the right to judge him. So yes, Armstrong is still a hero and The Armstrong Lie a very good documentary, but the salt in the wound hurts!
Didier BECU
05/08/2014
---
Een van de vragen die ik mezelf het meest stel is of het wel gezond is om helden te hebben. Ik heb er heel wat en één van hun was (of is misschien nog) Lance Armstrong: de Texaan die zeven keer de Ronde Van Frankrijk won. Ondertussen is zijn naam bijna synoniem geworden voor verraad en deze documentaire van Alex Gibney doet daar nog een schepje bovenop, ofschoon dat eigenlijk in het begin helemaal niet de bedoeling was.


In 2009 was er immers nog geen vuiltje aan de lucht, of ten minste weinig vuil. Armstrong was nog steeds de legende die groter was dan de sport zelf, de kankerpatiënt die de ziekte overwon en de grootste atleet van zijn tijd werd. 2009 was ook het jaar waarin The Boss (ja, dat was toen nog zijn bijnaam) zijn comeback wilde maken. In 2009 zou hij opnieuw de Ronde winnen en aantonen dat hij die volledig clean zou afleggen. Gibney kreeg toestemming om er een documentaire van te maken. Armstrong werd zijn vriend aan wie hij alles eerlijk "opbiechtte", maar toen de documentaire zo goed als klaar was gebeurde er iets verschrikkelijk. Armstrong zat, mede door de nijd van die andere zondaar Floyd Landis, zo verstrikt in een web van leugens dat hij tijdens een talkshow van Oprah Winfrey toegaf dat hij zijn hele leven vals had gespeeld. De maskers vielen af en documentairemaker Gibney werd gedwongen om de ode aan de wielrenner om te bouwen tot een heel ander portret. De steenrijke wielrenner die wereldwijd honderdduizenden fans had werd plotseling volledig verguisd. Meer zelfs, de UCI besloot om hem al zijn zeges af te pakken.


Neen, ik ga mij niet in de discussie werpen of dat nu verdiend is of niet. De vraag is alleen: waarom alleen Lance? Iedereen weet verdomd zeer goed dat doping jarenlang een onderdeel van de wielersport was. Waarom is Armstrong een misdadiger en worden andere "zondaars" met de mantel der liefde bedekt? Gibney heeft daar een zeer flauw antwoord op: gewoon omdat Armstrong alle kankerpatiënten heeft bedrogen. Dat Armstrong zijn leven lang een hele boel kinderen hoop heeft gegeven telt blijkbaar niet meer.


Een andere reden is ook omdat Armstrong een ongelofelijke macht had, en dat is het mooiste deel (nou ja) uit deze ontzettend boeiende (maar o zo pijnlijke) documentaire. Armstrong was de meester (de boss dus) en de spanning tussen hem en ploegmaat Alberto Contador was iedere seconde te snijden. Het is eveneens schitterend om te zien hoe trainer Johan Bruyneel voortdurend in de clinch ligt met Contador: het "ettertje" dat weigert om zich neer te leggen bij de beslissingen om Lance een kans te geven voor een podiumplaats op de Champs Elysées. Gibney toont ook hoe corrupt de (wieler)sport wel is, zo is het bijv. onthutsend om te zien hoe Bruyneel in de volgauto deals maakt wie wat mag winnen…of gewoon hoe de wielerfan wordt bedrogen!


De vraag die bij The Armstrong Lie rijst is of er iets nieuws wordt verteld. Het antwoord is neen. Wel zie je Armstrong van een heel andere kant, het woord "medelijden" duikt zelfs op, ook al zal dat wellicht komen door het feit dat een mens zijn helden niet zo snel verloochent. Althans ik niet, want doping of geen doping: Armstrong zat in een generatie waarin iedere renner zichzelf iets inspoot. En het is in deze generatie dat hij zeven keer de meest zware wielerwedstrijd won die er is. Er is dan ook niemand die het recht heeft om hem dat af te pakken. Ofschoon The Armstrong Lie een verdomd knappe documentaire is, had men het onnodig natrappen maar beter zo gelaten.


The Armstrong Lie is uitgebracht door Sony zowel op dvd als Blu-ray. Naast deze twee uur documentaire, heb je ook nog 43 minuten weggelaten scènes en een panelgesprek met de filmcrew tijdens het Filmfestival van Toronto. Zeker het zien waard, maar de vraag is of deze heren en dames wel het recht hebben om zich uit te spreken over de prestaties van de allergrootste atleet van deze wereld. Ja, Armstrong is nog steeds een held, ook al is deze documentaire het bekende zout in de wonden.
Didier BECU
05/08/2014
---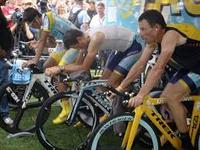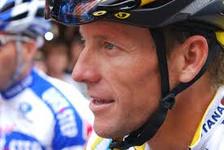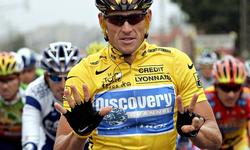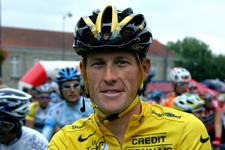 ---