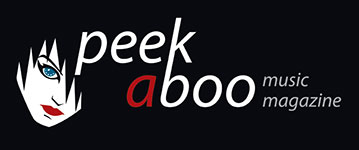 like this documentary review
---
GABE POLSKY
Red Army
Movie
•
Documentary
Documentary
•
Sport
[77/100]

Imagine Films
16/08/2015, Didier BECU
---
You are not in the mood for a documentary about hockey? Honestly, we thought that too, but once we started watching Red Army by Gabe Polsky, we changed our mind! In his debut, the filmmaker takes us back to the 70s when the Soviets were still the masters of the sport universe. Mankind should pray thousand Hail Mary's because America and Russia never used their weapons against each other, but in sports there was a little war going on every day. For the Russians, sport was not just an activity to keep your body in good condition, but more a way to show the world their supremacy. Children with sporting talent were trained in sport centres that looked like camps. Losing a contest was not only a defeat for the athlete, but also a disgrace for the nation. The same happened with the national ice hockey team that was led by Viktor Tikhonov: a brilliant trainer, but also a sick mind. Those who lost a game, were simply sent to Siberia and he thought it was normal that a player was not allowed to go to his father's deathbed on the eve of a match, the glory of the Soviet Union is larger than the personal interest of the individual.
In this documentary we follow Slava Fetisov, Sergei Makarov, Vladimir Krutov, Igor Larionov and Alexai Kasatonov. The names mean nothing to you, but in Russia they were sport giants during the 70s and worshiped by the whole nation. For coach Tikhonov it was important that every game was won, simply because the other country was humiliated that way. The coach used all means and wasn't ashamed to beat a player in front of the camera when he did not follow his instructions. Of course the ice hockey players saw that they were treated in a very different way than their colleagues from other countries. The athletes also wondered whether it made sense to sacrifice their lives for this inhuman person, especially after the painful defeat at the Olympic Games in Lake Placid, where the Russian elite team lost the game against an amateur team from American. Despite the winning numbers, everyone knew that the Russians were the best, and so the Americans were trying to persuade the players to play in the States. For us it is just a few words, but for the hockey players it was a hellish nightmare because they were constantly watched by the KGB. Eventually most of the top players managed to play in American teams, but the promised American dream never came true. Certainly not for Fetisov, who could only return to his homeland after the perestroika and became later Minister of Sport at the request of Putin. By building 300 ice hockey stadiums and getting the Olympic Winter Games to Sochi, Fetisov became again the hero of the Russian people.
Even if you know nothing about hockey (or simply have no interest in it) Red Army (the nickname of the Russian ice hockey team) remains a must. The documentary is instructive, staggering and even enormously funny, especially beacause of the arrogant Fetisov, who simply uses his middle finger when the director asks him a question. Red Army is about elite sport, but the look behind the scenes gives you a very different impression.
Didier BECU
16/08/2015
---
Je hebt echt geen behoefte om een documentaire over ijshockey te zien? Dat dachten wij eerlijkheidshalve ook, maar eens je aan Red Army van Gabe Polsky begint, zul je snel van idee veranderen! In zijn debuut voert de filmmaker je terug naar de jaren 70 toen de Sovjets het nog voor het zeggen hadden. De mensheid is Maria duizend Weesgegroetjes schuldig dat Amerika en Rusland nooit hun wapens tegen elkaar hebben ingezet, maar in de sport was het alle dagen een heel klein beetje oorlog. Voor de Russen was sport niet zo maar een bezigheid om je lichaam in goede conditie te houden, voor hen was het gewoon een middel om de wereld hun suprematie te tonen. Kinderen met sporttalent werden in centra opgeleid die eerder op kampen leken. Een wedstrijd verliezen was niet alleen een nederlaag voor de atleet, maar ook een schande voor de natie. En zo ging dat ook met het nationale ijshockeyteam dat werd geleid door Viktor Tichonov: een geniale trainer, maar ook een zieke geest. Wie verloor werd naar Siberië gestuurd en de tiran vond het al even normaal dat een speler op de vooravond van een wedstrijd niet naar het sterfbed van zijn vader mocht, de glorie van de Sovjet-Unie is immers groter dan het belang van het individu.
In deze documentaire volgen we Slava Fetisov, Sergei Makarov ,Vladimir Krutov, Igor Larionov en Alexai Kasatonov. Het zijn namen die je wellicht niet kent, maar in Rusland zijn deze heren sportmonumenten die in de jaren 70 door de hele natie werden aanbeden. Voor coach Tichonov was het belangrijk dat iedere wedstrijd werd gewonnen, want daarmee werd het andere land vernederd. De trainer gebruikte alle middelen en vond het bijv. kunnen om voor de camera een speler een pak rammel te verkopen als die zich niet aan zijn instructies hield. De ijshockeyspelers zagen natuurlijk dat zij op een heel andere manier dan hun collega's uit andere landen werden behandeld. De sporters vroegen zich dan ook af of het wel zin had om hun leven voor dit onmens op te offeren, zeker na de pijnlijke nederlaag tijdens de Olympische Spelen in Lake Placid, toen het Russische eliteteam tegen een Amerikaans amateurteam verloor. Ondanks de winnende cijfers, wist iedereen dat de Russen de besten waren, en dus probeerden de Amerikanen de spelers te overhalen om in de States te komen spelen. Voor ons zijn het maar een paar woorden, maar voor de ijshockeyspelers een helse nachtmerrie omdat zij dagelijks door de KGB werden gevolgd. Uiteindelijk slaagden de meesten van de topspelers erin om bij een Amerikaans team te spelen, maar de beloofde Amerikaanse droom bleef uit. Zeker voor Fetisov die pas na de perestrojka naar zijn moederland kon terugkeren en later op vraag van Poetin Minister van Sport werd. Door de bouw van 300 ijshockeystadions en het naar Sotsji halen van de Olympische Winterspelen, werd Fetisov opnieuw de held van het Russische volk.
Zelfs als je niets afweet van ijshockey (of er gewoon geen interesse voor hebt) blijft Red Army (de troetelnaam van het Russische ijshockeyteam) een grote aanrader. De documentaire is leerrijk, onthutsend en zelfs enorm grappig, zeker met de arrogante Fetisov, die als antwoord op een vraag van de documentairemaker gewoon zijn middelvinger gebruikt. Red Army gaat over topsport, maar de kijk achter de schermen bezorgt je een heel andere indruk.
Didier BECU
16/08/2015
---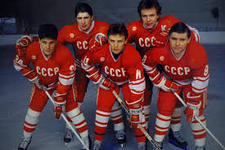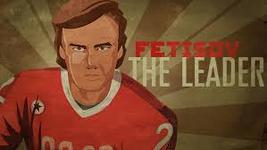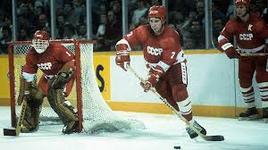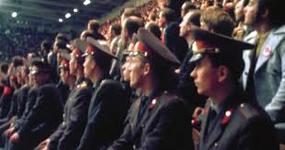 ---