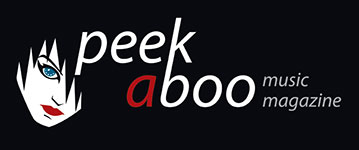 like this documentary review
---
CLARE LEWINS
I Am Ali
Movie
•
Documentary
Documentary
•
Sport
Universal Pictures
06/11/2014, Didier BECU
---
Forty years after Muhammad Ali recaptured his title of heavyweight-champion, thanks to a victory against George Foreman in The Rumble in the Jungle, Clare Lewin releases the documentary I Am Ali.
Family members and boxing legends like Mike Tyson, George Foreman and Gene Kilroy are interviewed, except Ali himself. The athlete is suffering from Parkinson's disease since the 80's. The film is a documentary, but ii is actually more a tribute to a man who sometimes was incredibly arrogant, but who is also easily intimidatedt and who dedicated himself to charity work for minorities. In I Am Ali we interviews and a lot of unreleased material, but most important we discover Cassius Marcellus Clay (he changed his name to Muhammad Ali because Clay was his slave name ) as a human being, not as a sporter.
There is of course attention paid to his sporting achievements, but the film is mainly about his protest against the Vietnam War (as a result he lost his boxer's license for four years), his sympathy for the Nation of Islam and the masterful way in which he dealt with the media. Not everyone cherished him. When he entered the boxing ring with a crown on his head, he was pelted by many supporters and his statements were clear: I Am The Greatest , I Am The King...
Question is whether I Am Ali is also interesting for people who are not a boxing fan. Yes, because even if you do not understand why anyone has the teeth knocked out of his mouth for money, this is still a fascinating portrait.
On both the DVD and the Blu-ray you find these extras :
FIGHTER - The Legendary Boxer
BROTHER - The Civil Rights Supporter
LOVER - The People's Champion
FATHER - The Family Man
THE MUSIC - Telling The Story
Technical specifications:
DVD :

Running time : 107 '
Picture: 1.78: 1
Audio : French Dolby Digital 5.1 / English Dolby Digital 5.1
Subtitles: English for the hearing impaired , French, Dutch
Blu-ray :
Running time : 111 '
Picture: 1.78: 1 - 1080p
Sound: English DTS -HD Master Audio 5.1 / French Dolby Digital 5.1
Subtitles: English for the hearing impaired , French, Dutch
Didier BECU
06/11/2014
---
Veertig jaar nadat Muhammad Ali zijn wereldtitel bij de zwaargewichten heroverde dankzij een overwinning tegen George Foreman in The Rumble in the Jungle, brengt Clare Lewins de documentaire I Am Ali op de markt. Iedereen komt aan het woord (familieleden en bokslegendes Mike Tyson, George Foreman en Gene Kilroy), behalve Ali zelf. De in 1942 geboren sporter lijdt aan de ziekte van Parkinson, een aandoening die bij hem al in de jaren 80 is geconstateerd.
De film is een documentaire, maar eigenlijk is het meer een eerbetoon aan een man die tegelijkertijd ongelooflijk arrogant was, die anderzijds een heel klein hartje had en zich heel zijn leven inzette voor minderheden. In I Am Ali krijgen we naast een heleboel interviews, ook heel wat onuitgebracht beeldmateriaal te zien, maar wat het belangrijkste is: we leren Cassius Marcellus Clay (hij veranderde z'n naam in Muhammad Ali omdat Clay zijn slavennaam was) als mens kennen.
Natuurlijk wordt er aandacht besteed aan zijn sportprestaties, maar het gaat vooral over hoe de bokser zich afzette tegen de Vietnamoorlog (en daardoor zijn bokservergunning voor vier jaar kwijt speelde), zijn sympathie voor de Nation of Islam en hoe hij meester was van de media. Niet iedereen liep hoog op met Ali. Toen hij de boksring met een kroon op zijn hoofd betrad werd hij door menig supporters bekogeld en ook zijn uitspraken logen er niet om: I Am The Greatest, I Am The King…
Vraag is nu of I Am Ali ook interessant is voor mensen die geen fan zijn van de man. Jazeker, want zelfs indien u niet begrijpt waarom iemand zijn tanden uit zijn bek laat slaan, is dit toch een fascinerend portret. De makers kozen wel een zeer veilige route, want een traditionelere aanpak is wellicht niet mogelijk, toch is deze documentaire meer dan de moeite waard.
Zowel op de dvd als de Blu-ray vind je deze extra's:
FIGHTER – The Legendary Boxer
BROTHER – The Civil Rights Supporter
LOVER – The People's Champion
FATHER – The Family Man
THE MUSIC – Telling The Story
Technische specificaties:
DVD:
Speelduur: 107′
Beeld: 1.78:1
Geluid: Frans Dolby Digital 5.1/Engels Dolby Digital 5.1
Ondertiteling: Engels voor doven en slechthorenden, Frans, Nederlands
Blu-ray:
Speelduur: 111′
Beeld: 1.78:1 – 1080p
Geluid: Engels DTS-HD Master Audio 5.1/Frans Dolby Digital 5.1
Ondertiteling: Engels voor doven en slechthorenden, Frans, Nederlands
Didier BECU
06/11/2014
---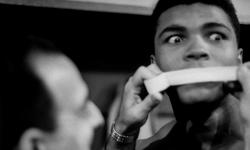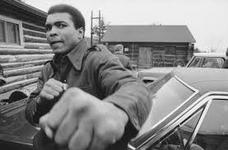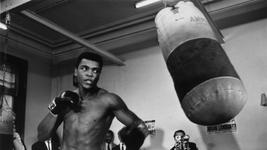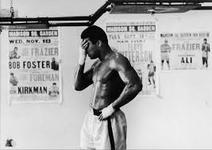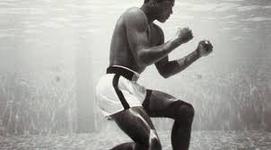 ---