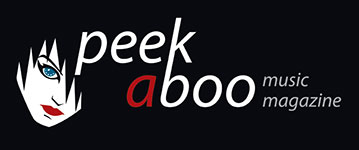 like this concert review
---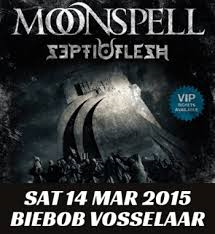 MOONSPELL & SEPTICFLESH
Biebob Vosselaar 14/3/2015
Concert
19/03/2015, Benny CALUWE
---
Septicflesh kicked off the evening with style with War in Heaven, the opening track of their latest album Titan. From the early start, the Helenic symphonic death metal band sounded great: wonderful orchestrations, crushing riffs, thunderous drums, simply impressive. Although I am not a big fan of grunts, Seth Anton's vocals didn't bore me at all. Occasionally there were some clean vocals, that were a welcome counterpart.
The Athens-based band played a solid set with only tracks of their last 3 albums. So, no songs from before their reunion in 2007. A Great Mass Of Death had a terrific double bass drumming and was a highlight. During Pyramid God there was a lot of interaction with the enthusiastic crowd. The bombastic The Vampire of Nazareth and the epic Annubis, were other highlights. The Greeks ended their set with Prometheus, a track that starts slowly, but then burst open brutally.
After the appreciated set of Septicflesh, Moonspell came on stage. The headliner started its set with Breathe (untill we are no more): the sraight-forward opening track of their new album Extinct. During the following title track with its muscular riffs, lots of fans were singing the chorus. They seemed to know the words well, although Extinct is just recently released. After those 2 new songs, the Portugese band played its first classic: Opium. The crowd was excited! Not that I expected it to be different, but Moonspell played on a high level. What a sound!
After the classics Awake and ... Of Dream and Drama (Midnight Ride), they took us to the imaginary city of Medusalem. An awesome new track with mysterious Eastern arrangements. The songs of the latest album work well on stage, even a softer and sweeter track such as The last of us. Domina was announced as a song about 'what women can do to men', and that gave Ricardo Amorim the opportunity to do a wonderful solo.
After Scorpion Flower, Moonspell played some more songs of Extinct. Malignia, with its haunting synths and impressive vocals, was another gem. Fernando Ribeiro, in fact the whole band, came up with a jaw-dropping performance. Before starting Funeral Bloom, the charismatic frontman expressed his love for The Sisters Of Mercy. The future is dark was announced as a letter to his son.
The Lissabon-based band returned to its first 2 albums Wolfheart (1995) and Irreligious (1996) to end the set. Mephisto was much applauded and during Vampiria the venue became a madhouse. During the folk metal track Aetagina, there was a lot of interaction with the excited crowd. And then it was time for the irresistible Alma Mater! As encores they played Wolfshade (A Werewolf Masquerade) and the massive Full Moon Madness. Madness indeed!
When Fernando thanked the crowd, he gave us something to look forward to as he told us that Moonspell will be back in Belgium this summer for the Alcatraz-festival. Great news to end a great evening!
Setlist Septicflesh
War in Heaven
Communion
Order of Dracul
A Great Mass of Death
Pyramid God
Titan
Prototype
The Vampire of Nazareth
Lovecraft's Death
Annubis
Prometheus
Setlist Moonspell
Breathe (untill we are no more)
Extinct
Opium
Awake
... Of Dream and Drama (Midnight ride)
Medusalem
The Last of Us
Domina
Scorpion Flower
Malignia
Funeral Bloom
The Future Is Dark
Mephisto
Vampiria
Aetagina
Alma Matter

Encores:
Wolfshade (A Werewolf Masquerade)
Full Moon Madness
Benny CALUWE
19/03/2015
---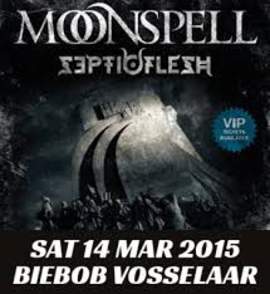 ---