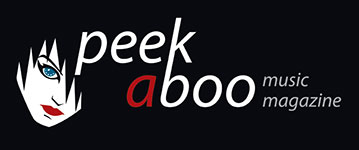 like this concert review
---
TAMAN SHUD/ACID MOTHERS TEMPLE
Ghent, De Vooruit (02/10/2015)
Concert
03/10/2015, Didier BECU
---
The streets are covered with withered leaves, the winter sweater is already within reach and the festival season is almost completed. Time to re-enter those sweaty venues, not? De Vooruit (Ghent, Belgium) opened the season with a delicious psychedelic journey that pleased the fans of the genre. Two groups were scheduled: the young London wolves Taman Shud and the veterans of Acid Mothers Temple, who celebrater their 20th anniversary this year.
If you believe the rumors on the internet, than Taman Shud (not to be confused with the Australian rock band from the early 70s) is in daily life a bunch of office clerks, escape the daily grind by recreating the sounds of their heroes (from The Buthole Surfers to Sonic Youth). In all honesty, these four don't look as pen pushers at all and they make bewitching noise music with deafening guitars, insane synth patterns, tight drums and the primal screaming of a singing (well, in a way) drummer of whom you don't understand a word, but the music sends shivers down the spine. Most of the performed songs are from the acclaimed debut Viper Smoke, that was released on the popular Trash Mouth label. It is indeed psychedelia, but these musicians are not exactly children of the sun, rather lost souls on the run for a collapsing world. If you translate anything like that into musical terms, then you get indeed something quite sublime. The four played a good concert and the half-filled venue wondered how Acid Mothers Temple would counter this sledgehammer.
The only possibility for them to do so was by doing something totally different and that was the case, and so the spectator saw two different (sublime) bands. Acid Mothers Temple is a band that is mentioned in every music encyclopedia, but no one really knows it. This Japanese cult rock bvand has so many side projects, that it is difficult to remember who plays with whom. But in Ghent, it was indeed the original core member Makoto Kawabata who stood on the stage. He has recorded over eighty records (no, this is not a typo!) and it is his intention to make the ultimate trip through the music of his heroes (Hawkind, Can, Gong).

We heard a dozen songs, but that meant anything but a short set, because an usual Acid Mothers Temple track lasts more than ten minutes. Apart from some words that no one understands, their music is completely instrumental and characterized by heavy guitars, strange sounds, experimentation, improvisation and an intoxicating atmosphere that can be situated between that of a sect and the soundtrack of a Dario Argento movie.

There was hardly any interaction with the audience as the five musicians were literally tripping on their own concoctions. Although some concertgoers gave up after a short time, most people continued watching the concert. Rightly so, because their often unstructured music might be anything but easy to digest, Acid Mothers Temple provided that night ultimate rock 'n roll.
Didier BECU
03/10/2015
---
De straten liggen vol verdorde bladeren, de wintertrui ligt al binnen handbereik en het festivalseizoen is ondertussen zo goed als afgesloten. Hoogste tijd dus om opnieuw de zweterige concertzalen op te zoeken. De Vooruit liet er alvast geen gras over groeien en opende zijn seizoen met een flinke brok psychedelica waarover de liefhebbers van het genre het nog lang zullen hebben. Er stonden twee groepen op het programma: de jonge Londense wolven Taman Shud en de oudgedienden Acid Mothers Temple, die dit jaar hun twintigjarig bestaan vieren.
Als je de geruchten op het internet mag geloven dan bestaat Taman Shud (niet te verwarren met de Australische rockband uit het begin van de jaren 70) uit Britse kantoorklerken die de dagelijkse sleur ontvluchtten door zich uit te leven op de klanken van hun helden (van The Buthole Surfers tot Sonic Youth). In alle eerlijkheid zien de vier er helemaal niet uit als pennenlikkers, en ze brengen betoverende noisemuziek met loeiharde gitaren, krankzinnige synthpatronen, strakke drums en oerkreten van een zingende (nou ja) drummer waarvan je wel geen woord begrijpt, maar die wel door merg en been gaan. De meeste nummers die dit viertal bracht kwamen uit hun gelauwerde debuut Viper Smoke dat op het hippe Trashmouth is verschenen. Het is inderdaad psychedelica, maar deze muzikanten zijn geenszins zonnekinderen, eerder verloren zielen die op de loop zijn voor een instortende wereld. Als je zoiets in muziektermen vertaalt, klinkt dat inderdaad vrij subliem in de oren. De vier gaven zich volledig en de half gevulde Balzaal vroeg zich af hoe Acid Mothers Temple op deze mokerslag een passend antwoord zou geven.
De enige mogelijkheid om dat te doen was door uit een ander muzikaal vaatje te tappen, en gelukkig was dat het geval waardoor de toeschouwer twee verschillende (sublieme) bands zag. Acid Mothers Temple is zo'n band die in iedere muziekencyclopedie een plaatsje krijgt, maar die eigenlijk geen mens kent. Er zijn ondertussen zo veel zijprojecten uit deze Japanese cultrockband ontstaan, dat het nauwelijks nog bij te houden is wie bij wie speelt. Maar in de Vooruit was het wel degelijk de oorspronkelijke bezieler Makoto Kawabata die op het podium stond. Deze muzikant heeft al meer dan tachtig platen (neen , dit is geen tikfout) uitgebracht en het is zijn bedoeling om via de muziek van zijn helden (Hawkind, Can, Gong) de ultieme trip te maken. We kregen een tiental nummers te horen, maar het resultaat was een allesbehalve korte set omdat een doorsnee track bij hun nog altijd meer dan tien minuten duurt. Op wat onverstaanbaar gewauwel na is de muziek van Acid Mothers Temple volledig instrumentaal en wordt gekenmerkt door zware gitaren, vreemde geluiden, experiment, improvisatie en een bedwelmende sfeer die ergens tussen die van een sekte en een Dario Argento-film ligt. Van interactie met het publiek was nauwelijks sprake; de vijf muzikanten stonden letterlijk te trippen op hun eigen brouwsels. Ofschoon enkele concertbezoekers het na een korte tijd reeds opgaven, bleven de meeste mensen met open mond verder gapen. Terecht, want hun vaak ongestructureerde muziek is misschien allesbehalve licht verteerbaar, toch zorgde Acid Mothers Temple voor de ultieme rock 'n rolltrip.
Didier BECU
03/10/2015
---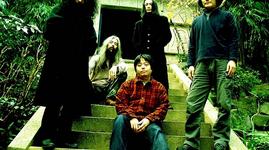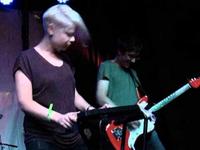 ---