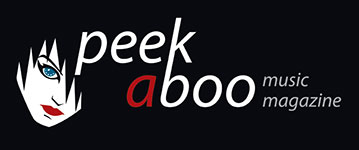 like this vinyl / digital review
---
TB FRANK AND BAUSTEIN
Tock!
Music
•
Vinyl / Digital
[85/100]

Tracks and Traces
07/04/2018, Danny QUETIN
---
What happened happened and is sometimes irreversible. The fact that The Neon Judgment has pulled the plug out of their instruments still hurts. One half of the duo had been carrying on as Neon Electronics while for some time it seemed the other half, TB Frank, had withdrawn from the unstable musical world.
But we were wrong, as there have been some rumours about a possible collaboration with Wouter Baustein. Baustein might have been under your radar so far but know he has been a busy bee that produced maybe more notes than Beethoven ever did. If you also know Baustein can virtually play every existing instrument you can imagine this collaboration with TB Frank could go in any direction.
And this is exactly what they did, the cooperation between TB Frank & Baustein has produced it's first 'egg'. A solid eclectic egg that you can digest hard or soft-boiled. The mother of that egg may be called Tock! from now on. Although there is a rooster on the cover pictured, but well … never mind.
Baustein's home studio was hermetically sealed to keep this Tock! (do not forget that exclamation mark!) production in complete silence and stealth! Plumed and veiled with pure skill. At the end of November already there was a first single, Mother Of Earth, taken from Jeffrey Lee Pierce and The Gun Club. The first signs of how two guitars dare and can compete with each other.
Tock! is the type of record that you cannot push into one certain box. Bombies, for example, is a track that manages to take on a particularly dark and mysterious path, only to escalate after 2 minutes into pure danceability, while they flirt with the ingredients of both New Beat and EBM. Only to add some punishing guitar play to it afterwards.
The unruly loops of Margarita provide the stability of dark heat and make the whole song sound like a formidable Mexican cocktail with the necessary wah-wah sounds.
It is clear that these two gentlemen have not gone over one night of ice, and have prepared everything down to the last detail. Electronic blues is the focus of attention for Snow White, while Mellow Like 39 finds refuge in the warmth of reggae, steeldrums as guidance for the modern rastafari.
Then disguised acid danceability creates the layers that I Didn't carry. With a pounding drumbeat in our imagination supported by a layer of laser lights, it goes its own way only to end in a Bacchanallian party. With the spirit of Serge Gainsbourg in mind, the song Cool Moon reveals itself with the necessary sultriness and embraces the warmth of sensual enthusiasm. Modern disco at the Hotel Called Hell, where TB Frank settles vocally for Johnny Cash on steroids. Pay particular attention to the endearing sounds of the guitar that sometimes dares to remind us of Roger Waters.
Fall In Love Now shows again something melancholy with craftsmanship and to give Tock! closure we end with the track Do It Do It, presented here in the Manic Youth remix. Manic Youth turns out to be an alter ego of Wouter Baustein himself.
This Tock! from TB Frank & Baustein cannot be classified under one style, but it surely shows the pure skill from two musicians who, with their debut album, provide a refreshing and well-thought-out sum of their parts. Available as download and on a vinyl that should belong to everyones record collection!
Danny QUETIN
07/04/2018
---
U kan de Nederlandstalige versie van dit interview lezen bij onze collega's van Dark Entries Magazine.
Danny QUETIN
07/04/2018
---