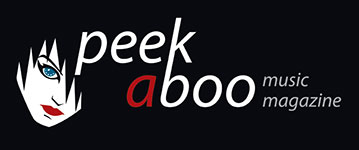 like this cd review
---
STORY OFF
Facing Forward
Music
•
CD
Darkwave
•
Electro Wave
•
Synthpop
[89/100]

Wool-E Tapes
30/03/2018, Jurgen BRAECKEVELT
---
Wool-E-Tapes has released the second album by Story Off, Facing Forward. The threesome Chesko Geert Vandekerkhof, Marco Varotta and Manu Coulier opt for the darker electronic side of New-Wavewith this project. Dark Synth-Pop with a touch of Dark-Wave.
The title song Facing Forward is a dark Synth-Pop song with a rather deep threatening voice giving this song some extra depth. There is even some minimal audible - if you try - in A Dark Romance. A danceable track with a blissful old synthwave atmosphere. The Painted City is cut from the same 'synth-wood', only sounding a bit more refined by the vocal contributions of Melissa Vandewalle. This vocalist also takes part in the Dark-Wave sounding song Humanoid that sounds wonderfully enlightening. And then it's back to the eighties! And why not? We get Synth-Pop of the better kind with Life On Other Planets. There may also be some more bombastic tunes and that's what we get with the great dark-beats that are lavishly thrown around in World Today. Do not expect a cheerful song, or let alone an up-tempo EBM hit. Yet it is danceable, even mesmerizing with the monotonous dry drum sounds. Finger licking Dark-Wave! Next one Inducing Oblivion remains as ominous. Chesko's voice sounds even deeper than before, making it the most sticky song of this great Facing Forward album.
To Let It Go is more moderate and again more in line with the dark Synth-pop style. Luxuries is a very nice pounding EBM track with, in my opinion, a very high Front 242 influence. Danceable all the way, up-tempo, it touches you. It's clear the EBM grandmasters from Belgium, who have put the genre on the map, continue to inspire contemporary bands. Anyone who wants to recover after a the previous dancefloorkiller-in-the-making, can do this on Waiting. One could almost call it a ballad.
Facing Forward is a strong record. Varied, electronics with a wide range, varied tempo, vocally and instrumentally fascinating all along the whole album. Story Off from Chesko and his followers should certainly not be regrded as inferior to the man's main project Der Klinke, which embodies more the Post-unk and Goth-Rock style. Sorry Off is an equivalent worthy electronic counterpart. And I can't wait to hear more of them!
Jurgen BRAECKEVELT
30/03/2018
---
Op Wool-E-Tapes verschijnt de tweede langspeler van Story Off: Facing Forward. Het drietal Chesko Geert Vandekerkhof, Marco Varotta en Manu Coulier kiest voor de donkerdere electronische kant van de new wave. Dark synthpop met een stapje opzij naar darkwave.
Titelsong Facing Forward is een duistere synthpop-song. Een vrij diepe dreigende stem geeft deze song extra diepte.
Er is zelfs voorzichtige minimal hoorbaar - als je dat wil - in A Dark Romance. Het blijft dansbaar met een zalig old-synthwave-karakter. The Painted City is uit hetzelfde synth-hout gesneden, alleen verfijnder door de vocale inbreng van Melissa Vandewalle. Deze vocaliste speelt ook in de darkwave song Humanoid een rol. En dat klinkt wonderwel zalig verhelderend.
En dan terug naar de eighties? Waarom ook niet: synthpop van de betere soort met Life On Other Planets. Er mag ook wat meer bombast zijn en dat krijgen we dan ook met geweldige darkbeats die weelderig in het rond worden gegooid in World Today. Verwacht niet meteen een vrolijke song, laat staan een uptempo EBM-hit. Maar toch is het dansbaar, zelfs bezwerend door het monotone kurkdroge drumwerk. Darkwave om je vingers bij af te likken. Inducing Oblivion blijft even onheilspellend. Chesko's stem klinkt nog dieper dan voorheen, waardoor dit het meest plakkende nummer is van deze geweldige Facing Forward.
To Let It Go is meer gematigd en sluit opnieuw meer aan bij de donkere synthpop. Luxuries is we een heel mooie EBM-kraker met naar mijn gevoel een heel hoog Front 242-gehalte. Dansbaar all the way, uptempo, het raakt je. De grootmeesters uit Belgenland die het genre op de kaart hebben gezet, blijven hedendaagse bands inspireren. Wie wil bekomen na een dancefloorkiller-in-wording, wordt uitgeleide gedaan door Waiting. Je zou het bijna een ballade kunnen noemen.
Facing Forward is een sterke plaat. Gevarieerd, electronica met een breed bereik, gevarieerd tempo, vocaal en instrumentaal boeiend over de ganse lijn. Story Off van Chesko en de zijnen brengen moet zeker niet onderdoen voor zijn main project Der Klinke, dat de postpunk- en gothrock belichaamt. Het is een evenwaardige electronische tegenhanger. And I'm waiting, still waiting… to hear more….
Jurgen BRAECKEVELT
30/03/2018
---