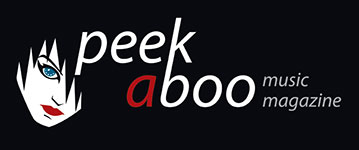 like this concert review
---
WHISPERING SONS + BLEIB MODERN
In Utero, Mechelen-Kamikaze (07/05/16)
Concert
10/12/2016, Didier BECU
---
Worldwide, government subsidies for culture are decreasing. Luckily, young people express their (unstoppable) voice by organizing concerts in DIY style. Karolien van Humbeeck, Tinne Vandersmissen and Lien Peters are examples are bitten by the infectious microbe that is called music. Together, they organize gigs by artists that the average organizer mostly overlooks.

Agreed, Whispering Sons got plenty of media attention in recent weeks, but back then the organization could not know that Whispering Sons would be the Rocky Rally winner (Belgium's greatest rock contest) this year. The bunker-like venue was far too small for the band, and it was packed for the occassion. The people clearly came to to see and hear Whispering Sons, but that was not a disadvantage for headliner Bleib Modern as the German band got the opportunity to demonstrate the Belgian public what it has to offer.

Any Belgian who is seriously involved in music knows how Whispering Sons sounds by now. Of course, not everyone had the chance to see them at work, which is quite normal, because if you do not count the gig at this year's Black Easter Festival in Antwerp, the quintet has played mainly at the alternative club scene. The heart of these musicians is still pledged to tiny underground venues, but you notice that Whispering Sons is ready for a bigger challenge, say the bigger clubs. They already have the songs and apart from the heart-breaking Insights, the best tracks are the new compositions: the invigorating White Noise, the touching Never Here or the shoegaze splendour Strange Identities with guitarist Kobe Lijnen doing some excellent work! Whispering Sons confirms what we already heard four months ago: a band with great potential that can (and will) interest a very wide audience.
And then Bleib Modern played. The biggest challenge for this band from Bamberg was to get the audience back in the venue, as due to the warm weather, lots of mostly Whispering Sons fans had gathered outside. But the guys managed to do so! In the German underground, Bleib Modern - with two records (All Is Fair In Love And War and Vale Of Tears) - is one of the bands to follow since a while. The band, started as the solo project of Phil Läufer, is still unknown over here, but those who love raw post-punk, will embrace Bleib Modern.
The band sounds a lot harder on stage than on CD, the pedals are always used, the amplifiers are in the red zone and the sound is somewhere between the early days of Wire, Josef K, and (how could it be otherwise) Joy Division. It is not just the rehashing of the past, but like Whispering Sons, the band has invented a new recipe with old ingredients. Afterwards, some people argued that Bleib Modern could use more variety in its set (that's kind of truth), but one thing is certain: this is a band to be noted down in your book!
Peek-A-Boo thanks photographer Danny Quintelier.
Didier BECU
10/12/2016
---
Terwijl wereldwijd de overheidssubsidies voor cultuur onder het hakmes gaan, manifesteren jongeren zich steeds meer in pure DIY-stijl om hun eigen stem te laten horen. Karolien van Humbeeck, Tinne Vandersmissen en Lien Peters zijn daar zeer mooie voorbeelden van. Gebeten door de besmettelijke microbe die muziek is, organiseert het trio optredens van artiesten die de doorsnee-organisator wel eens over het hoofd ziet.
Juist, Whispering Sons heeft de laatste weken geen gebrek gehad aan media-aandacht, maar toen kon de organisatie natuurlijk niet weten dat het allemaal zo'n vaart zou lopen, laat staan dat ze wist dat ze de Rocky Rally-winnaars in hun club zouden hebben. De bunkerachtige zaal was dan ook veel te klein voor de Limburgers, en het was geen sinecure om een plaatsje te bemachtigen. Het volk was duidelijk voor Whispering Sons afgezakt, maar laat dat geen nadeel zijn, want zo had de hoofdact Bleib Modern de mogelijkheid om aan het Belgische publiek te tonen wat hij in zijn mars had.
Iedereen die zich ernstig met muziek bezighoudt weet ondertussen hoe Whispering Sons klinkt, alleen heeft nog niet iedereen de band gezien. Wat zeer normaal is, want als je het iewat grotere Black Easter-festival niet meerekent, zaten de vijf volop in het alternatieve clubcircuit. Het hart van deze muzikanten is nog altijd verpand aan piepkleine undergroundzaaltjes, toch merk je dat Whispering Sons klaar is voor een grotere uitdaging, zeg maar voor de grotere clubs. De songs hebben ze, en op het hartbrekende Insights na, zijn de beste tracks de nieuwe: het oppeppende White Noise, het ontroerende Never Here of de shoegazepracht van Strange Identities, waarin we gisteren gitarist Kobe Lijnen in goeden doen zagen! Whispering Sons bevestigt gewoon wat we vier maanden geleden al zagen: een band met zeer veel potentieel die een zeer ruim publiek kan (en zal) aanspreken.

En dan was het de beurt aan Bleib Modern. Het was een grote uitdaging voor deze band uit Bamberg om de Whispering Sons-fans opnieuw in de zaal te krijgen, buiten was het immers door het warme weer een uiterst gezellig onderonsje geworden. In de Duitse undergroundscène is Bleib Modern door twee platen (All Is Fair In Love And War en Vale Of Tears) al een tijdje één van de te volgen bands. Hier is de groep, die ooit begon als een soloproject van Phil Läufer, nog onbekend, maar wie gek is op rauwe postpunk, zal zonder twijfel deze band in de armen sluiten.

Live is Bleib Modern heel wat harder dan op cd, steeds worden de pedalen ingeduwd, staan de versterkers in het rood en zetten de Duitsers een geluid neer dat zich tussen de begindagen van Wire, Josef K en (hoe kan het ook anders) Joy Division situeert. Het is echter niet het herkauwen van het verleden, wel een band die (net als Whispering Sons) met oude ingrediënten een nieuw recept bedenkt. Achteraf hoorde je wel een paar mensen zeggen dat Bleib Modern voor wat meer variatie zou kunnen zorgen (een kritiek met waarheid), maar één ding staat vast: dit is een band om in het boekje te noteren!
Peek-A-Boo bedankt fotograaf Danny Quintelier
Didier BECU
10/12/2016
---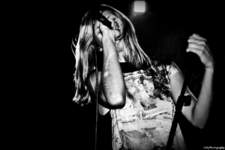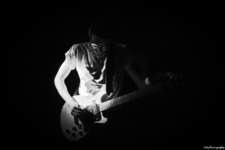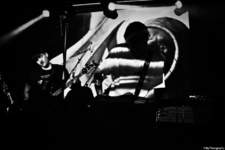 ---