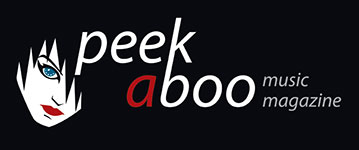 like this concert review
---
WIRE, MUM, WOLF EYES & ANNA VON HAUSSWOLFF
Review of the concert at American Theater (AB) in Brussels on 21 September 2013
Concert
[80/100]

23/09/2013, Philippe BLACKMARQUIS
---
There were at least two good reasons to attend this AB mini-festival. First of all, to discover the American Theatre, a pavillion built as a part of the Expo '58 in the Heysel and designed by the American architect Edward Durell Stone (who designed the likes of The Radio City Music Hall and the Museum of Modern Art -MoMA- in New York). AB took over this unique venue (now a TV studio) for a weekend and the second reason to be there was of course the program: an exciting and sassy program with two extremely interesting acts for me: Wire and Anna von Hausswolff, plus two acts to discover: MÚM and Wolf Eyes.

It was Anna Michaela Ebba Electra von Hausswolff (!) who started the program on the small stage (in the bar). Daughter of famous Swedish sound-artist Carl Michael von Hausswolff, she is attracting a growing following thanks to her unique style, which could be described as "Dead Can Dance with a progressive touch". On the stage, she is beautiful with her long blond hair and she starts slowly with an instrumental "Epitaph of Theodor". She is sitting at her organ, a Nord C2D that perfectly emulates different organ sounds, especially the baroque pipe organ. Her band consists of two guitarists, one drummer and one keyboardist. The sound is solemn, kind of hypnotic, with melodies that evoke King Crimson ("In The Court of the Crimson King") but also Rosa Crvx and Dernière Volonté for the ritual and dark folk aspects. On The second song, "Deathbed", we get to hear her stunning voice: a combination of Kate Bush + Lisa Gerrard + Anneke van Giersbergen: very powerful but also capable of whispering softly in your ear. On "Liturgy of Light", she switches to the acoustic guitar for a song that reminded me of The Gathering. What strikes most is the power that Anna puts in her interpretation, which contrasts with her small and fragile constitution. "Come Wander With Me" was a new song, partly a cover of Jeff Alexander's composition, as Anna told me after the concert. The set ended with the dark and tribal "Funeral For My Future Children": Check my video:



A wonderful concert, much too short but very much appreciated by the audience. Unfortunately, she didn't sing "Mountain Crave", one of my favorite songs of 2013. I wish I could see her playing in a church: that would be amazing!
Setlist: Epitaph of Theodor, Deathbed, Noise, Liturgy of Light, Come Wander With Me, Funeral For My Future Children.

The main hall had been separated into two area's: the concert area and a more relax area with seats in amphitheater style. The first band to appear on this main stage was MÚM. Founded in 1997, this band from Iceland plays a soft and icy whisper-pop music, adorned with experimental ambient/trip-hop arrangements. Of course, you think of Sigur Rós but also of Cocorosie, Björk or The Cranes. On stage, the most attractive musician is Gyða Valtysdottir, the beautiful singer and cellist: she plays the cello held on her shoulder with a sling, like a guitar. All five musician appear to be multi-instrumentists and their superb minimal music fills the air with enchantment. They played two songs from their last album: Smilewound but also older songs like "Sveitin milli sanda" and "Now There's That Fear Again". Check my video here:



One of the highlights of the concert was when Gyða Valtysdottir started a sort of ritual dance, a series of rapid movements, wrapping her arms around her head and falling on the floor – a choreography reminiscent of "La Danse de la Terre" by Rosa Crvx. All this on the music from "The Ballad of the Broken Birdie Records" and chirpy bird sounds. A remarkable and very original show, which was very warmly welcomed by the audience. It makes me want to dive deeper in this band's magical atmospheres!
Setlist: Sveitin Milli Sanda, Slow Down, Toothwheels, Weeping, Blow Your Nose, A Little Bit Sometimes, Now There's That Fear Again, The Ballad of the Broken Birdie Records, Tahiti.
The next act on the program was Wolf Eyes, who played on the small stage. Those three Americans are masters of noise production and their mission statement is "to make sounds that are painful, unlistenable and irritating music." And it was indeed a very irritating concert: imagine a wall of noise, produced by a sort of keyboard/noise generator that one of the musicians holds like a guitar, combined with pounding rhythm sounds, shrieking metal guitar riffs and on top of all this, a 'singer' screaming like hell unintelligible words. Think Throbbing Gristle meets Hate Dept.! What a contrast compared with the previous act!
A little rest and it was time for the headliners of the day: Wire, a contemporary musical legend. They were the pioneers of postpunk in 1977 and 1978 (together with Ultravox), by combining the raw energy of punk with intelligent lyrics and musical references like psychedelic rock, krautrock and electronic music. They had a major influence on numerous bands like Blur, R.E.M., Bloc Party, etc. Wire's last album, "Change Become Us" (2013), which revisits material that was initially intended for the band's fourth album in 1980, clearly shows the band's incredible vitality, 36 years after their creation! Their last visit in Belgium dates back to November 2010 (I think), in Hasselt and Diksmuide, so a lot of fans were present, among which our friend Dirk Ivens, who is a big fan!
Instead of starting with "Marooned", as in most of their recent shows, they open with "23 Years Too Late", from the EP "Read and Burn 03" (2007). Why? Could it be because of the lyrics: "Head locked in gridlock, oozing through Flanders"? Possibly... On this song, the two pivotal musicians of the band alternate on vocals: Colin Newman, bespectacled and introvert, focused on his music and Graham Lewis, all dressed in jeans and playing his bass with elegant efficiency. They immediately pursue with a true classic: "Drill" (from "Ideal Copy" in 87), a hypnotic, industrial song that must have been an influence for my dear friends of Agent Side Grinder!

In all, Wire played five song from their acclaimed last album: "Doubles and Trebles", "Magic Bullet", "Adore Your Island", "As We Go" and "Stealth of a Stork", all this with the support of Matthew Simms, a recent addition, who gives a psychedelic, noisy guitar boost to the overall sound. On "As We Go", we clearly heard the influence of Syd Barrett in the ethereal harmonies and melodies. Wire also dipped into its back catalog for favorites such as "Map Ref. 41°N 93°W, from their "154" album (1979), "Another The Letter" or "Smash". But what struck most was the four songs they played, which I had never heard before, so I presume they must be new songs (to be confirmed). The setlist paper mentioned "Blogging Like Jesus", "Swallow", "Nocturnal Koreans" and "Harpooned". It's this last song which closed the set in a hypnotic krautrock atmosphere, Newman putting an end to the noisy ending with movements of this arms.
Wire came back for their (now) usual first encore consisting of two circle pit killers: "Comet" and "Spend", both from 2003 and it worked because the first rows indulged in a crazy moshing. When Wire came back a second time, I was happy to hear their wonderful psychedelic hymn from 1978: "Marooned", followed by a hallucinating, 6 minutes instrumental outro, reminiscent of Pink Floyd (sic!).
A fantastic concert, in which Wire demonstrated its unparalleled musical mastery and unbelievable modernity! Unfortunately, they didn't play songs from their debut album "Pink Flag" and they forgot "The Fly", one of my all-time favorites! The only Fly In The Ointment...

Setlist: 23 Years Too Late, Drill, Doubles & Trebles, Blogging Like Jesus, Magic Bullet, Smash, Adore Your Island, As We Go, Another the Letter, Swallow?, Nocturnal Koreans?, Map Ref 41°N 93°W, Stealth of a Stork, Attractive Space, Harpooned? Encore: Comet, Spent. Second encore: Marooned, outro.
Philippe BLACKMARQUIS
23/09/2013
---