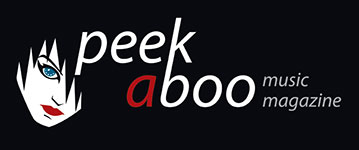 like this tv series review
---
HANNIBAL SEASON 1
Movie
•
TV series
Crime
•
TV Series
[70/100]

Dutch FilmWorks
28/01/2014, Didier BECU
---
It's not that evident to come up with a television series that's been based on one of the greatest filmicons ever. In the case of Hannibal Lecter that's even more difficult as Anthony Hopkins played his role in such a magnificent way that automatically all his successors are in his shadow. Another disadvantage is that Hannibal is a prequel, so everything that happened before Red Dragon (the first novel). No, don't get us wrong. We really want to know everything about the sick creature that's been created by Thomas Harris; but Hollywood already did this in an inferior way with Hannibal Rising. And we even haven't mentioned the fact that there's a real overkill in quality series. Televisionfans are these days suffering from a real lack of time, at least if they want to see everything. And yet, even if it's hard to beat them all, the makers succeed in making Hannibal one of the best series from last years, one that even can compete with Twin Peaks by David Lynch.
And yet, Hannibal starts rather slowly. Mind you, that's only the fault of the viewer. Automatically when you start watching the series you have that one particular question in mind: are the series better than the movie? It's not that we're choosing the easiest way, but in all honesty there's only one right answer: the series are just completely different. Of course you can see some parallels, but the makers have chosen a total different path and that graces them. Just like Mads Mikkelsen who proves again that he's one of the best European actors from this moment. You don't see any shocking scene in where the psychiatrist eats some human flesh. Nah, the devil is presented by acting, a simple (devilish) smile for instance. And for this job they couldn't find anyone better than Mads Mikkelsen. There's even more, after some episodes you forget Hopkins and that's really a tour de force from the Danish star!
Will Graham (Hugh Dancy) is an investigator at the FBI. He's the man the Feds needs when a serial killer strikes again. Graham is one of the best in his kind as he has a very special talent. He can transform himself into the mind of the butcher, just like he's the one who committed the crime. Of course this destroys his own health and his superior (Laurence Fishburne) decides it's time Will is visiting a shrink, and that's how Will gets in touch with Hannibal. As usual the two can't stand each other, but soon after they develop a bizarre relationship. Hannibal has a huge interest in his patient. He's attracted to his talents, and he wants to know everything about the way he approaches the crimes. Will just don't know that Hannibal manipulates him in a both personal and professional way. When Will comes to the point to solve a crime, Hannibal informs the murderers that the FBI has discovered them....
Nobody will be surprised by the fact that Hannibal is in the first place the series from Mads Mikkelsen. Nah good, it'd be unfair not to notice the other actors as they all perform their role in an excellent way as well. There's of course Fishburne, but also Gillian Anderson (yeah her!) and Eddie Izzard are doing a fine job. Just like in the filmtrilogy the makers have a rich imagination (or at least Harris has) if it comes to torturing the victims. We're convinced that you never saw someone being buried alive among mushrooms or someone's back being split open to make him look like an angel....
Hannibal is out on Dutch FilmWorks on both DVD and Blu-ray. The first season features 13 episodes, all with a title that refers to some dish. It's a pity for the forthcoming victims, but we're already longing for the second season. And we don't have to wait that long as in the States they already start filming it. Now, that's what I call yummy!
Didier BECU
28/01/2014
---
Een televisieserie maken die is gebouwd op één van de grootste filmiconen is zeker geen lachertje. In het geval van Hannibal Lecter is dat nog minder vanzelfsprekend, omdat de vertolking van Anthony Hopkins zo fenomenaal was dat al zijn opvolgers gedoemd zijn om in diens schaduw te staan. Een ander nadeel is ook dat deze televisiereeks een prequel is, m.a.w. alles wat zich voor de eerste roman (Red Dragon) van Thomas Harris afspeelde.
Neen, begrijp ons niet verkeerd: wij willen alles over het mysterieuze verleden van de sadistische psychiater te weten komen. Alleen had Hollywood dat al eens eerder in Hannibal Rising op een vrij ontgoochelende manier gedaan. Bovendien worden we dagelijks murw geslagen met kwaliteitsseries. De concurrentie is tegenwoordig torenhoog en hebben televisiefanaten af te rekenen met een gebrek aan tijd, ten minste als ze alles willen zien. Het zijn inderdaad omstandigheden die het de makers van Hannibal niet makkelijker op hebben gemaakt, en toch hebben ze die stuk voor stuk kunnen omzeilen. Meer zelfs, Hannibal is één van de beste televisieseries van de afgelopen jaren geworden, eentje die kan wedijveren met Twin Peaks van David Lynch.

Nochtans begint Hannibal al bij al moeizaam. Dat ligt vooral aan de kijker zelf. Want geef toe, iedereen die Hannibal bekijkt zit met diezelfde prangende vraag: is de serie nu beter dan de film? We willen niet de gemakkelijkste weg kiezen en zo de vraag ontwijken, desalniettemin is er maar één juist antwoord: de serie is gewoon anders. Uiteraard zijn er de nodige parallellen, toch siert het de makers dat ze een volslagen andere weg hebben ingeslagen. Net als Mads Mikkelsen versie van Hannibal overigens die daarmee nog maar eens bewijst dat hij de beste Europese acteur van het moment is. De makers overstelpen de kijker niet met wansmakelijke beelden. Neen, Mikkelsen vertolkt het vleesgeworden kwaad gewoon door subtiel acteerwerk. Er wordt nooit getoond hoe de krankzinnige zielenhoeder een lekker stukje mensenvlees verorbert, het wordt alleen gesuggereerd en met zijn glimlach alleen al is Mikkelsen de geknipte acteur voor deze klus. Na een paar afleveringen ben je trouwens Hopkins vergeten en dat is toch wel een zeer straffe toer!
Will Graham (Hugh Dancy) is een onderzoeker bij de FBI. Hij is de man wiens hulp wordt ingeroepen bij het onderzoek naar gruweldaden van seriemoordenaars. Meestal brengt Graham dat tot een goed einde omdat hij de vreemde gave bezit om zich volledig in te leven in de denkpatronen van de slachters. Zoiets vreet natuurlijk aan zijn psychologische toestand. Daarom besluit zijn overste (Laurence Fishburne) dat het hoog tijd is dat hij bij een psychiater gaat aankloppen. Graham komt zo bij Hannibal Lecter terecht. De twee kunnen elkaar niet luchten, maar na een tijdje (hoe kan het ook anders in Hollywood!) worden ze vrienden. Lecter heeft een grote interesse voor zijn patiënt. Wel weet Graham niet dat Lecter hem zowel op persoonlijk als op professioneel vlak manipuleert. De zielenknijper heeft er geen problemen mee om tijdens de ontknoping van een misdaad zijn "soortgenoten" te verwittigen dat de FBI hun op de hielen zit.
Het zal niemand verbazen dat Hannibal in de eerste plaats de serie van Mikkelsen is geworden. Toch betekent dat geenszins dat de andere acteurs geen pluim verdienen. Zo zijn er naast Dancy en Fishburne, ook nog opmerkelijke rollen voor Gillian Anderson en Eddie Izzard. Net zoals dat het geval was in de drie films, sparen de makers van de serie de kijker niet van choquerende beelden. Wedden dat je nog nooit een scène hebt gezien waarin een seriemoordenaar zijn slachtoffers tussen de paddenstoelen begraaft? Of wat dacht je van een opengesperde rug zodat het slachtoffer op een engel lijken?
Hannibal is uitgebracht door Dutch FilmWorks op zowel dvd en Blu-ray. Dit seizoen bestaat uit dertien afleveringen (elk voorzien van een leuke culinaire titel). Deze serie is spannend en heeft een cast om van te snoepen (nou ja!). We kijken nu al volop uit naar het tweede luik en dat zal niet eens zo lang duren, want in de VS is men al bezig aan het draaien van een tweede seizoen. Het spijt ons voor de slachtoffers, maar wij zitten alvast te likkebaarden naar meer!
Didier BECU
28/01/2014
---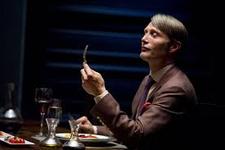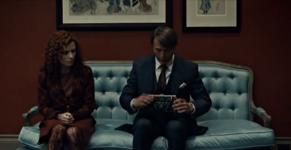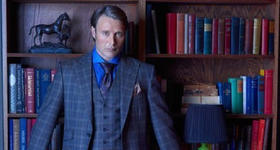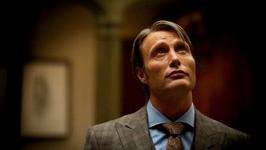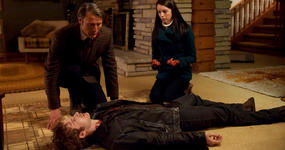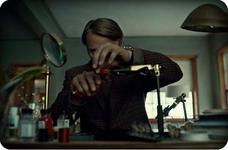 ---