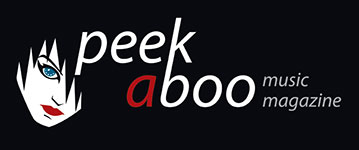 like this concert review

---
ARCANA OBSCURA, SKALUNA, JOHNNY DEATHSHADOW, EISFABRIK, PSYCLON NINE, DORSETSHIRE
maandag 5 juni
Concert
28/06/2017, Jurgen BRAECKEVELT
---
Jurgen BRAECKEVELT
28/06/2017
---
Het ochtendgloren bracht goed nieuws… de zon was van de partij. Schuifelend verschijnt een deel van de zwarte meute langzaam in het stadsbeeld. Voor anderen begint al op maandag de uittocht uit het mekka van het gothic-gebeuren richting hometown. Niet voor ons: een bezoekje aan het Heidnische Dorf om bij wijze van ontbijt een Hänf-kebab tot ons te nemen, overgoten met een fleske rabarberwijn of Holunderblut, drong zich op.
Meteen wat muziek meepikken dan maar? Arcana Obscura had de eer om 11:30 de hoogmis aan te heffen. Een klanktapijt dat je darkwave kan noemen, met tribal-elementen, maar evengoed overleveringsmuziek uit de Balkan en middeleeuwse liederen. Hun muziek combineert traditionele instrumenten met moderne synths en beatsecties. Het klinkt folky, maar is toch dansbaar. Bepaalde songs hebben zelfs een EBM-ondertoon. Ondanks het ochtendlijke uur was er toch al wat volk op de weide en terecht!
Na Arcana Obscura, mocht Skaluna de honneurs waarnemen. Zij brengen pure middeleeuwse folk, met een breed gamma aan instrumenten uit die tijd. Zangeres Jelena Roth heeft een geweldige stem, die het geheel nog sterker maakt. Dit was rokkenzwaaien geblazen, wat het publiek ook deed. Genieten.. van de muziek én de sfeer, want het Heidnische Dorf is dé plaats waar alle stijlen en subgenres samenkomen, en waar ook dagjesmensen een bezoek brengen.
Time flies when you're having fun en 4 uur zijn zo voorbij als je daar blijft hangen. Op naar Täubchental waar de industrial rockers van Johnny Deathshadow ten dans spelen. De band combineert stevig gitaarwerk met een voorzichtige dosis electronica. Het was voor de Hamburgse band hun eerste festivaloptreden na een tour van 15 shows in het voorprogramma van Stahlmann, wist de bassist ons te zeggen. Ze staan dit jaar ook op Wacken Open Air en M'Era Luna. 'Een beetje moe, want we zijn al van 6 uur deze morgen aan het sleuren om alles klaar te hebben'. Was dat aan het optreden te zien? Ja, aan de ene kant, want ze zagen er 'doods' uit met de kopjes allemaal als schedeltjes geschminkt. Een béétje erover mag nog wel toch? Waren ze 'doodop'? Totaal niet. Het was een heel strak gespeelde, energieke show. De bassist kwam halfweg het optreden met basgitaar en al even meedraaien in de circle pit, en liet na een minuut zijn basgitaar voor wat het was om volledig loos te gaan. Energie op alle fronten, genietbare muziek in een geweldige zaal om te ontdekken.
De rest van de namiddag lieten we de metal voor wat het was om af te zakken naar de Agra Halle. We konden nog net een laatste glimp opvangen van het vrij stevige EBM gebeuren van Eisfabrik. Vooral ook leuk om zien hoe de stage een ijslandschap werd waarin de heren zich meer dan amuseerden en het volk zag dat het goed was.
Maar ik ging daarheen voor de Amerikaanse razernij van Psyclon Nine. Enigszins verbazend, wetende dat de band daags voordien in New York speelde en daags na Leipzig alweer een podium in de States onveilig moest maken. De jetlag, veel shows... afwachten dus. En wat mag je verwachten? De band werd van steenharde electro weer meer gebeten door gitaarwerk en metalinvloeden. Niets op tegen, maar het is toch anders dan de Psyclon Nine die ooit startte. Iets voor 20 uur kwam het vrolijke gezelschap de bühne op. Geen gitaar te zien, dus dat beloofde. En wat dient gezegd over het optreden??? Het was niet goed, het was niet geweldig… maar overweldigend op alle fronten. De heren vertelden zelf dat ze 48 uur niet geslapen hadden, maar wel zin hadden in een feestje. De Agrahalle was driekwart vol (3500 mensen), electro die geen gitaren nodig heeft om metal te zijn en een energie van jewelste. Brulboei Nero was ook in een enorm goede doen.. 'this is my church here… and not only at Wacken there's a moshpit'…. Dat laatste werd pijnlijk duidelijk toen op de eerste rijen headbangen verwerd tot een moshpit. Ze speelden aan een hels tempo en mij leken ze gigantisch veel plezier te beleven. In elk geval was het van voor het podium echt genieten. En conclusies moeten we niet echt trekken, vergelijkingen ook niet, maar dit was nog harder dan Centhron op vrijdag…
En dan versassen (alweer) naar Kohlrabiezirkus, waar er een reünieconcert op de affiche stond van Dorsetshire. Stel dat we door te laat te komen niet meer in de zaal zouden binnen mogen wegens 'vol'. Het angstzweet parelde op mijn voorhoofd bij de gedachte alleen al. Nu zo storm liep het niet, we waren veel te vroeg en konden daardoor 'genieten' van Schneewittchen. Het theatrale duo met zangeres en toetsenist Thomas Duda, brengt dramatische, bombastische muziek die dan weer verrukt, dan weer klagend en schreeuwerig klinkt. Theatraal tot op het bot en het opgedaagde publiek dolenthousiast. Wij met 6 Belgen op een rij elke seconde aftellend om van het eindeloze gekwetter en geroep van dit duo af te geraken. Minuten duurden nooit eerder zo lang als toen.
En dan Dorsetshire und Gäste. De eerste gast die we duidelijk herkenden was Das Ich's Bruno Kramm die met zijn mobile keyboard al stond te popelen on stage. De band die begin jaren '90 van start ging en Das Letzste Gefecht, een wereldablum, volspeelde. En dan de gitaren een meer prominentere rol liet spelen ten opzichte van de electro. En die gitaren speelden ook deze avond een hoofdrol. De 'Gäste' waren niet de minste. Andy, zanger van Still Patient kwam twee songs meedoen, Thomas Lüdke van Invincible Spirit (en ja ze speelden de wereldhit Push). Bruno Kramm vroeg wie de eerste editie van WGT al meemaakte. Met dan de fijne opmerking: 'Leuk dat we op deze manier samen oud kunnen worden'.. nice one ! Oh ja, er was ook nog muziek. Die mij na al die jaren niet echt raakte. Dat zal deels te maken hebben met de abominabele klank die via de gigantische koepel terugkwam naar beneden. Maar ik had eerlijk gezegd gehoopt om een dééltje van het Dorsetshire van de eerste langspeler te zien én te horen te krijgen. Maar de gitaren wonnen en ondanks het feit dat het na al die jaren geweldig is deze band eindelijk eens te zien, was het ook niet meer dan dat. Ik heb ze gezien en gehoord. Gehoord vooral overmatige basdreunen die van alle kanten op mijn trommelvlies beukten. Het publiek bij Schneewittchen was talrijker en enthousiaster dan dat bij de afsluiter in deze zaal en als dat publiek een geloofwaardige graadmeter mag zijn, dan week die af naar de mindere kant. Er komt over een paar maanden een nieuwe Dorsetshire. Ik hoop stil dat ze naar de eerste LP teruggrijpen en beseffen wat voor een geweldige muziek ze kunnen maken en dat ze mij, en ik denk samen met mij vele anderen, dié Dorsetshire terugbrengen.
En met de uitdovende klanken, het applaus en het beeld van Dorsetshire und Gäste die vooraan het podium stonden, eindigde de muzikale kant van dit 26ste WGT. Fijne bands, véél te veel te doen om alles te zien, de sfeer was ernaar, het weer al bij al overwegend droog en warm. De zwarte medemensen fijn, de stad Leipzig ontwaakt weer in de realiteit van elke dag en wij gaan na een deugddoende en broodnodige nachtrust huiswaarts. En daar wacht een gigantische klok die zegt: nog 350 dagen naar volgende editie….
Jurgen BRAECKEVELT
28/06/2017
---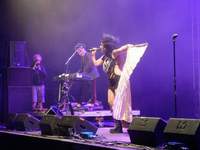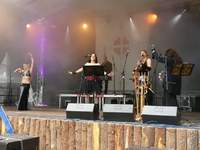 ---