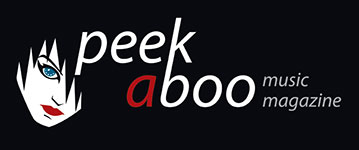 like this cd review
---
SPECTRA PARIS
Retromachine Betty
Music
•
CD
Synth Pop / Electro Pop
[100/100]

Dependent
05/07/2017, Maurizio MOSCARELLI
---
Seven years after the "Christmas Ghouls" 10-track mini album - which was preceded by the albums "Dead Models Society (Young Ladies Homicide Club, 2007)" and " License To Kill" (2010), not forgetting the 3" promo mCD "Spectra Murder Show" - Elena Alice Fossi (frontliner, composer, musician at Kirlian Camera, Alice Neve Fox and Stalingrad Valkyrie) turns her former all-female project SPECTRA*paris into a solo adventure.

Reinventing herself, aided by the fellow of a thousand battles, the robotic Hal Bergmann (better known as Angelo Bergamini of Kirlian Camera fame, Hipnosis and Stalingrad Valkyrie) and John Fryer (producer of Depeche Mode, Nine Inch Nails, Erasure and many other successful acts, with whom Elena Alice has recently co-composed and released a great song "Behind The 4th Door" and that wonderful gem titled "Naughty Girl" under the Black Needle Noise flag... the brand new adventure of Fryer, who previously produced two songs on the 2nd album of Kirlian Camera: "Eclipse – Das Schwarze Denkmal" back in early 1988) and not to forget a fancy cameo by Elvio Moratto (Italian dj, composer and producer with Ramirez, Sueño Latino feat. Ash Ra Tempel's Manuel Gottsching, Pete Burns' Dead Or Alive, etc.) on "Universal", the fifth track of the album.
Elena Alice, a real deus-ex-machina, paints on a big white sky by means of her skillful brushes and pencils, creating "Retromachine Betty" from scratch. She works with amazing intelligence and great care, so, like a raphaelite pupil she puts beauty into focus, going on to fully reach it, painting on that big white canvas with the patience of a saint. So EAF goes on to create the artwork, writes music and lyrics of such an enchantment, then jets herself into a room filled with a thousand marvellous kaleidoscopic toys and synthesizers, vocoders, electronic devices, moog, theremin, so that we hardly need to mention her wonderful voice. She breathes life into Betty, her synthetic yet human alter-ego, incredibly able to tell stories of love and romance. A futuretro Pandora's box (but calling that "Fossi's Box" would be even better) is now open, so that we find ourselves projected into idyllic synthetic atmospheres!
"Star Bubbles" is a countdown towards space, Hal-the-Robot helps driving energy and fast-paced synths to create a cosmic scenery with a fantastic reference to Mike Oldfield's "Moonlight Shadows" that makes one jump out of their chair with enthusiasm, while Elena-Betty brings sublime melodies to life. The starship has been launched, so "Alice (Geistersterne)" goes to slow down and break rhythm initially then lifts off toward a "liquid garden paradise" recalling the Covenant... "Ludovico Technique" and "Machinedream" both assault our soul with sensual gentleness. The first of the two echoes some Kirlian Camera style, while the second one is pure poetry taking you by the hand to the electronic imagery of that other genius called Goldfrapp, whose "Felt Mountain" is often mentioned rightly with admiration by Elena. Some Italian spoken word appears on "Universal", a four-handed composution with the above mentioned Elvio Moratto. This track is nothing less than a real dance-hit!! "Lux Industries" turns into darkness and the ghost of Kirlian Camera appears again.

Then that old hit of the Kinks "You really got me", comes out as magic, being covered as if the Sixties band found themselves in a kind of technologic 1964, made of glittering LEDs and pulsing sparkles; here Fossi goes on to happily juggle, shake and reinvent, while comandante Bergmann co-directs the crazier little space orchestra.

"Metrolynx" starts with firm bass drumming and low keys while the voice comes out to take flight, to sing and... well, how great she sings!!! So, we're at the end of this retrofuture-80s-pop jewel but it's not a real end yet... "E-girl song" plays with pauses, broken rhythms, direct rhythms and a more crazy cyber feel. The real end song "E-Kitsch Souvenir of Italy" brings a surprise to the surface, a kind of bewitching neo-requiem, sounding like a Morricone/Albinoni neoclassic cosmic lullaby which makes a dive into sci-fi retro-flavored soundtrack movies with its glitches, bip-bips, interferences, etc... A masterpiece. Oh well guys, let's hope this album doesn't drown in today's sea of playlists rubbish...

"Retromachine Betty" has no half measures, so you can reject it or on the contrary fully appreciate and love it. As far as my taste is concerned, I doubtlessly opt for the second option. Congratulations, S*PectrA Girl, most of all for letting down the old dress and going on to wear a brand new one, showing courage and faith. A choice that will be rewarded, no doubt.
Maurizio MOSCARELLI
05/07/2017
---
---