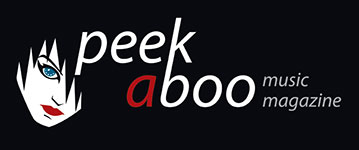 like this cd (ep) review
---
KOLFSKOP
halfMAN, halfWOLF, halfBOAR
Music
•
CD (EP)
[77/100]

21/01/2016, Mark VAN MULLEM
---
"Do you know where the sun is father? I'm in the forest my son. In the middle... of the NIGHT ". That is the opening line of Raving Knights, perhaps the most conventional song on the EP halfMAN, halfWOLF, halfBOAR by Kolfskop. According to the bio, the trio comes from Ghent, but if they told us they were from Absurdistan or some strange planet, we would believe it!
The EP features five songs: Raving Knights, Het Zwijn uit de Schaamstreek, Wolfbane's Doom, Verloren Kinderjaren and Drowned Sailor.
Kolfskop's world is build with cabaret, post rock, avant-garde punk, Dada and absolute nonsense. Musically, you can compare them to The Butthole Sufers, Slint or Perverted (By Desire)*. but you also can add Aroma Di Amore (Belgian postpunkband-ed.) and even Virgin Prunes during their most experimental days. Oh, and Frank Zappa!
Raving Knights is driven by a distorted and deep bass, frantic drums and great guitar work. It could be a B-side by Slint, but a flipside that deserves better. You can compare Wolfbane's Doom to Slint too, because of the very loud bass, powerful drums and lingering character.

Het Zwijn uit de Schaamstreek is reminiscent of Aroma Di Amore, although the acoustic guitar has a touch of Kiss The Anus Of A Black Cat. The story is about a man who fell to earth and became a wolf, the guitar and the percussion are the guide of the story. "Wolfie, wolfie, what time is it?", actually, it almost sounds like a lovely nursery rhyme. Don't come up with strange ideas now!
Verloren Kinderjaren starts with a primal scream, followed by a Dutch children's song, complemented with some tribal drums. The song has an enchanting atmosphere and you start thinking of voodoo dolls.
The drums are important in Drowing Sailor, complemented with meandering guitars and almost desperate vocals. At the end, everything explodes with a hyper-tight, hard percussion and guitar violence. Sometimes the voice is reminiscent to Nick Cave when he was with The Birthday Party.
Kolfskop is Jelle Vanderbeken, Nicolas Roose and Ruben De Waele. halfMAN, halfWOLF, halfBOAR was released on 6th November. it is the successor of the EP The Birth of a Ham. I'm sure that this is a band you have to experience on stage, and I'm also convinced that we will hear a lot more of them.
In case you don't speak any Dutch, you can skip those two Dutch songs as there are three compact post-rock moments to enjoy. These three 'conventional' songs alone are a reason to buy this EP. Enter the strange world of Kolfskop. A band with potential, and surely one to follow!
* Now Perverted formerly: Perverted By Desire
Mark VAN MULLEM
21/01/2016
---
"Do you know where the sun is father? I'm in the forest my son. In the middle... of the NIGHT". Dat is de openingszin van Raving Knights, de misschien nog meest conventionele song waarmee de ep halfMAN, halfWOLF, halfBOAR van Kolfskop opent. Het drietal komt uit Gent, zo lezen we in de bio. Maar mocht daar staan Absurdistan of een of andere vreemde planeet, hadden we dat ook geloofd!

De 5-track-ep bestaat uit songs met titels zoals: Raving Knights, Het Zwijn uit de Schaamstreek, Wolfbane's Doom, Verloren Kinderjaren en Drowned Sailor.

In de wereld van Kolfskop vinden cabaret, postrock, avant-garde punk, dadaïsme en absolute onzin elkaar moeiteloos. Muzikaal ligt het nog het meest in het straatje van The Butthole Sufers, Slint, of Perverted (By Desire)*. Maar je kan er evengoed Aroma Di Amore en zelfs Virgin Prunes in hun meest experimentele periode aan linken. Oh, en Frank Zappa!

Raving Knights wordt gedreven door een overstuurde diepe bas, hectische drums en geweldig gitaarwerk. Het zou een afleggertje van Slint kunnen zijn, of een b-kantje. Maar dan wel het soort b-kant dat beter verdient. Ook voor Wolfbane's Doom, met zijn erg luide bas, krachtige drums en zijn slepende karakter, gaat de vergelijking met Slint op.

Het Zwijn uit de Schaamstreek doet qua muzikale stijl nog het meeste denken aan Aroma Di Amore, al zou je dat akoestische gitaargeluid ook bij Kiss The Anus Of A Black Cat kunnen plaatsen. Met de begeleiding van gitaar en percussie wordt het verhaal verteld over de man die op de aarde viel en wolf werd. Of was het toch een zwijn uit de schaamstreek? "Wolfje, wolfje, hoe laat is het?". Eigenlijk klinkt het bijna als een liefelijk kinderliedje. Maar laat dit je nu niet op rare ideeën brengen!

Verloren Kinderjaren start met enkele oerkreten waarop vervolgens de melodie van 'al die willen te kaap'ren varen' weerklinkt. "Al die willen voor vader varen moeten ontaarde mannen zijn", begeleid door tribale drums heeft dit iets bezwerends en je kan je zo inbeelden dat er ergens voodoopopjes rondslingeren.

Ook in Drowing Sailor zijn de drums belangrijk, met voorts breed meanderende gitaren en haast wanhopige vocalen. op het einde ontploft het beetje bij beetje met hyperstrakke en harde percussie en een festijn van gitaargeweld. De stem op deze track doet soms aan Nick Cave ten tijde van The Birthday Party denken.

Kolfskop zijn Jelle Vanderbeken, Nicolas Roose en Ruben De Waele. halfMAN, halfWOLF, halfBOAR verscheen op 6 november en is de opvolger van de ep The Birth of a Ham. Iets laat vermoeden dat je dit drietal vooral live moet beleven. Een ander vermoeden is dat we hier nog veel van zullen horen. En dat mag!

Postrockers voor wie Absurdistan net iets te ver is, sla gerust de twee Nederlandstalige songs over en geniet van de drie compacte postrockmomenten. Deze drie 'conventionele' songs zijn alvast reden genoeg om tot de aanschaf van de ep over te gaan. Voor alle andere melomanen: dompel je onder in de vreemde wereld van Kolfskop. Veel potentieel heeft dit bandje, te volgen!

*nu Perverted, vroeger: Perverted By Desire
Mark VAN MULLEM
21/01/2016
---