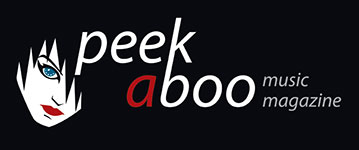 like this cd review
---
AN PIERLÉ & FULCO OTTERVANGER
Slumberland
Music
•
CD
Pop
•
Rock
•
Singer Songwriter
[80/100]

Zonzo Records
20/01/2016, William LIÉNARD
---
The album Slumberland by An Pierlé and Fulco Ottervanger is the soundtrack of an eponymous multimedia project for children about dreams and sleep. It premiered at the Flanders Theatre Festival in 2015. On five television screens fragments were shown of talking children and the music was played live. Perhaps not exactly a project that you would associate with an artist like An Pierlé, but the result will surprise you, because musically, Slumberland is much more than a collection of children's songs.
Lying in bed in the dark is not always easy for children. With Slumberland, the makers provide material to talk about sleep, but also about anxiety and insomnia and all those other things that are so difficult to explain. Sleep softly, you can dream now, this night nothing will happen to you, you lie awake, are you afraid, think of beautiful things, it sounds in the opening song, in which An Pierlé introduces the theme with simple piano accompaniment. It is a nice and simple children's song expressing what young parents may tell their offspring before they turn out the light.
But sometimes there are those Bad Dreams about spiders and perhaps even new mommies or dark fantasies, making children feel anxious and ashamed. The Moon Girl slides along the curvature of time, amazed by the strange behavior of the earthlings, the artists sing in Dutch, but the Sandman knows what is going on and as the envoy of dreamland, he is attested to sleep: beautiful songs with meaningful lyrics on an attractive melody with a contemporary musical accompaniment and small effects to hold the children's attention.
In The Professor of Sleep, Fulco Ottervanger tells the story of a successful man who has not found the perfect formula to select the most suitable dreams. We hear him yawning at the sound of a synthesizer. The dog barks, the birds sing, the cat meows: a busy and noise track that would even keep adults awake! It would surprise us if anyone could resist the quiet and beautiful melody of Moon Girl 2, and we are confident that An Pierlé can force even the strongest on his knees with her version of Yawn Song!
Whispering of the Monsters could be a track on any recent pop record, because it is a very nice composition with a modern sound and a breathtaking atmosphere. An Pierlé and Fuco Ottervanger are a perfect match in Imp of Darkness, accompanied by twinkling electro and an incredibly good sounding choir in the background. In Night Walk An Pierlé weaves an intricate and fragile lullaby with beautiful lyrics.
In the instrumental Tablawaltz, Fulco Ottervanger combines a sparkling piano with African sounding drums, quiet swirling synths and emphatic organ sounds to introduces this strange creature that hangs inverted upside down while the blood rises to its head. But Bat has a problem when he meets a human girlfriend who also sleeps reversed upside down... It really is time for a new round of the Sandman (2) to solve the problem: a track stat starts quietly, expanded into an impressive and bombastic ballad by An Pierlé afterwards. If the track was sung in English instead of Dutch, then Plush could be a very attractive track on any singer-songwriter's album, by which we mean that it is more than a children's song and that the overall quality of the material on this album is outstanding in terms of composition and interpretation.
Very nice this Slumberland and not just for kids...
William LIÉNARD
20/01/2016
---
Het album Slumberland van An Pierlé en Fulco Ottervanger is de soundtrack bij het gelijknamig multimediaal project over dromen en slaap voor kinderen. Het ging in première op het Theaterfestival 2015. Op vijf televisieschermen werden fragmenten getoond van vertellende kinderen en de muziek werd live gespeeld. Wellicht niet meteen een project dat u verbindt met een artieste als An Pierlé, maar het resultaat zal u verrassen, want muzikaal is Slumberland veel meer dan een verzameling kinderliedjes. En dat er niets mis is met dit soort repertoire, dat bewees o.a. Herman van Veen met Alfred J. Kwak en Herman van Veen Voor Kinderen.
Alleen in bed liggen in het donker is niet altijd even evident voor kinderen. In de voorstelling Slumberland reiken de makers materiaal aan om te praten over slaap, maar ook over angst en slapeloosheid en al die andere dingen die zo moeilijk uit te leggen zijn. Voor de filmprojectie werden kinderen geïnterviewd over hun dromen en nachtmerries en over dat moment dat de wereld kantelt en de droom het wint van de realiteit. Slaap maar zacht, je mag nu dromen, deze nacht zal jou niets overkomen, lig je wakker, ben je bang, denk aan mooie dingen, klinkt het in het openingsliedje Slaap maar Zacht, waarin An Pierlé met eenvoudige pianobegeleiding het thema introduceert. Het is een mooi en eenvoudig kinderliedje dat verwoordt wat wellicht alle jonge ouders tegen hun spruiten zeggen voor ze het licht uitdoen.
Maar soms zijn er die Rare Dromen over spinnen en misschien zelfs over nieuwe mama's, fantasieën waarvoor kinderen zich schamen. Het Maanmeisje glijdt langs de kromming van de tijd en het verbaast zich over het vreemde gedrag van de aardbewoners, maar het Zandmannetje weet wat er aan de hand is en als de afgezant van dromenland staat hij garant voor slaap. Het zijn drie mooie liedjes met een zinvolle en aantrekkelijke tekst op een aantrekkelijke melodie en voorzien van een eigentijdse muzikale begeleiding waarin de kleine effectjes de aandacht vasthouden.
In Slaapprofessional doet Fulco Ottervanger het verhaal over een succesvol man die er jammer genoeg nog niet in is geslaagd om de perfecte formule voor de meeste geschikte dromen onder controle te krijgen. We horen hem geeuwen op de tonen van een synthesizer. De hond blaft, de vogeltjes fluiten, de kat miauwt, het is een drukte van geweldste waarbij geen mens een oog dicht zou doen! Aan de rustige melodie van Maanmeisje 2 kan wellicht niemand weerstaan en dus is er ook ruimte voor Geeuwliedje, waarmee An Pierlé zelfs de sterkste op z'n knieën kijgt!
Fluisteren en Monsters kon op een album van Doe Maar staan. Uiteraard neemt Henny Vrienten de vocalen niet voor z'n rekening, maar de muzikale begeleiding ademt gewoon helemaal de sfeer van de Nederlandse popgroep. Een heel mooie compositie. De combinatie van An Pierlé en Fuco Ottervanger werkt perfect in Mannetje Donker op de tonen van twinkelend elektro en een onwaarschijnlijk mooi koortje op de achtergrond. En ook in dit liedje valt het op dat niet wordt gekozen voor literaire clichés, maar voor een zinvolle en poëtische tekst. In Nachtwandeling weeft An Pierlé een fragiel en fijnmazig slaapliedje, breekbaar en opnieuw heel erg mooi qua tekst.
In de instrumental Tablawals combineert Fulco Ottervanger parelend pianogeluid met Afrikaans aandoende drums, rustig dwarrelende synths en nadrukkelijke orgelklanken, en vervolgens introduceert hij dat vreemde wezen dat omgekeerd ondersteboven hangt al stijgt het bloed wel naar z'n hoofd. Maar Vleermuis heeft een probleem als hij een menselijk vriendinnetje leert kennen, want die slaapt uiteraard ook omgekeerd ondersteboven… Het is echt wel tijd voor een ronde van het Zandmannetje (2), een compositie die rustig inzet, maar die An Pierlé uitbouwt tot een indrukwekkende bombastische ballade. Mocht je een Engelse tekst onder de melodie van Knuffelvacht schuiven, dan kon die track zo op het album van een singer-songwriter, waarmee we bedoelen dat dit dan misschien wel kinderliedjes zijn, maar dat ze qua compositie niet hoeven onder de doen voor regulier songmateriaal.
Heel mooi deze Slumberland en niet alleen voor de kleintjes…
William LIÉNARD
20/01/2016
---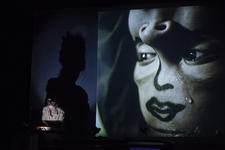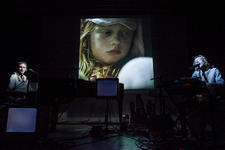 ---