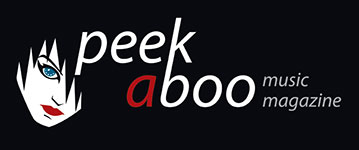 like this concert review
---
MODELE MARTIAL - AUTOPSIE D'UNE OMBRE - IAMTHESHADOW
B52 - Eernegem - 14/09/2018
Concert
24/09/2018, Jurgen BRAECKEVELT
---
On Friday 14 September the notorious B52 was the battleground of three performances in the wave scene: the French postpunkers of Modèle Martial, the French darkwave of Autopsie d'une Ombre (the one-man band of Sébastien Espi) and the Portuguese band Iamtheshadow. We were on the spot in Eernegem, surrounded by a festive atmosphere.
The postpunkers from Modèle Martial (same band members as Bunker Strasse in the 80's) took the stage first. Originally active from 1989 to 1991, the group then lost their prominence due to a very long pause. Only in 2017 they brought their musical demons back to life. Their performance was intense, powerful, and inspired. And above all, loud. At some point, the decibel meter nearly exploded. If you manage to do so when getting back on stage after so many years, it must be rooted in your soul. Were they enthusiastic? Their set lasted for a good hour…
Autopsie D'une Ombre is the one-man project of Sébastien Espi from Narbonne. His music is situated between cold and darkwave. The guy went on stage armed with only a Boss guitarpedal/loopstation. At first sight you couldn't imagine a coldwave much darker. This thought, not so promising, soon disappeared. His simple presence filled the stage effortlessly. He performed in a deep and convincing way, and his voice sometimes reminds us of Editors' Tom Smith. The music is varied. Mainly electronic, but sprinkled with beautiful guitars which subtlety embrace the ongoing synths and beats. The music wavers between Depeche Mode and Joy Division, but you will also find some modern EBM elements and a bit of industrial hidden in the mesmerising music that Autopsie d'une Ombre delivers. The spectrum ranges from very dancing to more introverted songs.
The closing act of the night was Iamtheshadow. The band is still rather young in the scene, as it started in 2015. Their dark atmospheric music takes us back to the 80's darkwave. During their relatively new existence, they have already released three albums. And their performance was definitely worth coming to see. There is so much in their songs that could be Clan of Xymox, or even Simple Minds or The Sound. The visuals are not an attraction but these three guys don't need attractive visuals; even without them, their work still absorbs you directly. The audience, not that large, started to dance. They managed to create a nice balance between modern electronic synths, samples, wonderful bass lines and a refined guitar work that sounds sometimes cold and sharp, sometimes more shoegaze. They are far from having made a breakthrough to join the big names in the scene, but they do have their own sound that they perfectly manage on stage. For me the song The Winter's Long remains one of their best tracks. It was integrated in a very nice set, where Winning from The Sound was played as a solid tribute to the band.
Around 1:30am the battle was over. I had again a great evening with bands that may not be super-famous but, in our opinion, perform at high to very high levels. A big thx goes out to all of you guys!!
Setlist Modèle Martial:
25 pieces (25 rooms) – Senso – Shakespaere – Mirror – Les amants maudits (Damned lovers) – Devil – A Feast – Crime – My own way – Folie démence (Madness dementia) – Suicide
Setlist Autopsie D'une Ombre
End of your game – Twilight – Shame – Alive Somewhere – Death – Soleil noir (Bérurier Noir cover) – Forever – Could you help me – Rester en vie – Beyond a hill – Wash my love

Setlist Iamtheshadow
Ashes – Fall Apart – Everything in this nothingness – All I know – Draw A Line – Flowers come winter – The winters long – Into your eyes – There is nothing more to see – Winning – More: Embracing the fall – Winning
Jurgen BRAECKEVELT
24/09/2018
---
Vrijdag 14 september was de beruchte B52 het strijdtoneel voor drie optredens in het wave genre: de Franse postpunkers van Modèle Martial, Franse darkwave met Autopsie d'une Ombre, het éénmansproject van Sébastien Espi en het Portugese Iamtheshadow. Wij waren ter plaatse in het in een kermissfeer badende Eernegem.
De postpunkers van Modèle Martial (zelfde bandleden als Bunker Strasse - jaren 1980) mochten als eerste het podium onveilig maken. Bij weinigen gekend, wellicht omdat ze actief waren van 1989-1991 en daarna een heel lange pauze inlasten. In 2017 brachten ze hun muzikale demonen terug tot leven. Hun optreden was intens, krachtig, bevlogen. En vooral: vrij hard. De decibelmeter had met momenten moeite om niet uit elkaar te spatten. Als je na zoveel jaren dit terug op een podium kan brengen, dan moet het heel diep in de ziel geworteld zitten. En of ze er zin in hadden? De set liep algauw uit tot ruim een uur…
Autopsie d'une Ombre is een éénmansproject van de uit Narbonne afkomstige Sébastien Espi. Het hangt tussen cold- en darkwave. De man betrad het podium, enkel gewapend met een Boss-gitaarpedaal/loopstation. Veel donkere coldwave kan je je daar op het eerste gezicht niet bij voorstellen. Deze niet zo veelbelovende gedachte werd heel snel doorprikt. Hij vulde moeiteloos alleen het podium door zichzelf te zijn. Heel diep, gelovend in wat hij brengt, een stem die bij wijlen knipoogt naar Editors' Tom Smith, gevarieerde muziek. Hoofdzakelijk elektronisch, gedoseerd doorspekt met ronkende gitaren die gratieus de beklijvende synths en beats omarmen. De muziek slingerde tussen Depeche Mode en twijgjes Joy Division, maar evengoed zitten meer hedendaagse EBM- en een snuifje industrial verscholen in de uitermate boeiende muziek van Autopsie d'Une Ombre. En het spectrum is breed van heel dansbaar tot eerder ingetogen.
Afsluiter was het Portugese Iamtheshadow. Nog relatief jong in de scène: de band sloeg in 2015 voor het eerst zijn muzikale vleugels. Hun donkere sferische muziek gaat terug op de darkwave van de jaren '80. In hun relatief jonge bestaan brachten ze al drie albums uit. En het optreden was er één om duimen en vingers bij af te likken. Er zit zoveel in, van songs die van Clan Of Xymox zouden kunnen zijn, tot Simple Minds en The Sound. Als er één band is die je moet voelen, dan is het wel deze. De longplayers klinken perfect, maar vanop het podium voelt hun donkere romantiek, bestaande uit een heel evenwichtige en uitgebalanceerde mix van muziek en diep doordringende woorden als een loodzwaar stuk beton. Visueel is het niet echt een attractie – wat deze drie heren ook niét nodig hebben om er te staan- toch komt het zo direct binnen. Het niet zo talrijke publiek kwam uiteindelijk in beweging. Ze beheersen ook de kunst om een heel mooi evenwicht te vinden tussen modern klinkende electronische synths, samples, een geweldige bas en verfijnd gitaarwerk dat nu eens kil en snijdend, dan weer shoegaze klinkt. Ze zijn allerminst een doorslag van de grote namen in het genre, maar hebben een eigen sound, die ze perfect vanop het podium de zaal in slingeren. Voor mij blijft hun song The Winter's Long één van de mijlpalen. Die zat ingebed in een heel mooie set, waar Winning van The Sound als eerbetoon op een beklijvende manier werd gebracht.
Rond 1:30 AM kon de rust terugkeren. Weer een topavond gehad met bands die misschien niet de bekendste zijn, maar wel degelijk een hoog tot heel hoog niveau haalden. Thx a lot to you all!!
Setlist Modèle Martial:
25 pieces (25 rooms) – Senso – Shakespaere – Mirror - Les amants maudits (Damned lovers) – Devil - A Feast – Crime - My own way - Folie démence (Madness dementia) - Suicide
Setlist Autopsie d'une Ombre
End of your game - Twilight - Shame - Alive Somewhere - Death - Soleil noir (Bérurier Noir cover) - Forever - Could you help me - Rester en vie - Beyond a hill - Wash my love

Setlist Iamtheshadow
Ashes - Fall Apart - Everything in this nothingness - All I know - Draw A Line - Flowers come winter -The winters long - Into your eyes - There is nothing more to see - Winning - More: Embracing the fall - Winning
Jurgen BRAECKEVELT
24/09/2018
---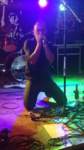 ---