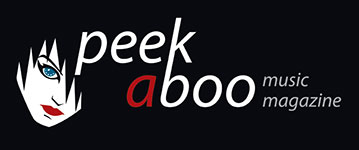 like this concert review
---
WAVETEEF
Wommelgem, 8-9 April 2016
Concert
09/12/2016, Didier BECU
---
In an interview with Dark Entries, Waveteef organizer Mat Zwart said that the alternative scene will die if you don't give new upcoming bands a chance. It's nice to see legendary names on a stage, but the music scene also needs new blood in order to attract a young audience. For us, thse are just a few words on paper, but it's a hellish job for organizers to accomplish it. Waveteef is a festival that manages this in a brilliant way. The festival doesn't seek success (after all, it all started in a squat), but it is pleased when it has reached its initial goal: satisfying two hundred music lovers of synth music during a weekend. Whether Waveteef succeeded? If you are willing to close your eyes (or better, the ears) for some hiccups like the lesser sound at times, then Waveteef deserves to be in the top of the better alternative festivals.

The location is something to remember: an old fort, just outside Antwerp's city center and the ideal place to let you wash over with talent that comes straight from the belly of the underground. Orchidée Noire was the first act, the one-man project of Xavier Soquet. A troubadour, but the acoustic guitar was replaced by an analog synthesizer. Minimal romantic synth between the experimental approach of Guerre Froide and the melancholy of Etienne Daho. Music that almost breaks your heart. However, better not, because three other bands would play this Friday night.
Connoisseurs who bought a copy at Wool-E-Shop, know the sound of Alles. The Polish duo, formed by Marcin Regucki and Paweł Strzelec, had a technical problem during the first song, but fortunately it had no effect on the rest of this fine gig. Because Alles was the unknown band of the night, it was also the relevance. This band from Łódź turned back the clock to 1982. Tight post-punk rhythms, cold wave keyboards, an icy voice and dance moves that reminded us of the guy who once sang Transmission.

Ash Code was without doubt the band the audience was most curious about. After the brilliant debut Oblivion, the three Italians managed once again to charm the post-punk audience with Posthuman. The inspiration is obvious, but this is a band with an unique sound. Powerful uptempo songs with the perfect balance of melancholy and ingenuity. This was proven in Wommelgem. Ash Code is a band that knows how the use of a stage to conquer the listener, and that is what Alessandro, Claudia and Adriano did without difficulty.
And then it was time for the last band: Parade Ground. You can have a lot of opinions about the performances of Pierre and Jean-Marc Pauly, but eventually, you will have to admit that the two brothers always provide an intense show that leaves you speechless. Meanwhile, Parade Ground made some concessions: the current shows are less chaotic and experimental than before. The former hits (well) like Gold Rush, Action Replay or Strange World, are more recognizable. Less noise, but in terms of passion and drive, Parade Ground is still one of the best acts. As a confirmed fan (and more than that), I was pleased to see how the two brothers were welcomed as heroes in Wommelgem.

A few hours of sleep and some energy drinks armed us to see another four acts the next day. The French band Dear Deer proved that Waveteef is more than a festival for synth music. The sound of Federico Iovino and Sabatel (yes, of Cheshire Cat) came pretty close to no wave. Not everyone loved it, but those who adore Swans and (especially) the early days of Wire, were fascinated.

Would anyone manage to describe the sound of Adam Usi? The German is alone on stage with his keyboards. He can't choose between clean vocals which strangely enough tend to sound like Richard Ashcroft, or screaming. Adam Usi impresses especially during the latter. A man who cries out his demons to the sound of minimal electro. Nice, not? It was so beautiful that we were dancing for an hour, far away from everyday problems.
The man behind Doric is a small legend among minimal synth fans, because he is indeed Stathis Leontiadis of the Greek band Human Puppets, and also of Exetix and Plexiglas. The side project Doric is more danceable, and the analog synth parts are never far away from those of The Neon Judgement during its heyday. A cool sound, with the only downside that the set could use some more variety.
Waveteef ended with the legendary act The Frozen Autumn. Funny when you realize that Diego Merletto and Froxeanne are around for almost 25 years. It is ten years since the Italian duo stood on a Belgian stage, and it was lovely to see that the fans had not forgotten this electro/darkwave band. All the big hits were played: danceable, but above all very melancholic and a worthy ending of a very successful third edition of this underground festival.
Didier BECU
09/12/2016
---
In een interview met Dark Entries verklaarde organisator Mat Zwart van Waveteef dat herkauwen geen zin heeft als je de alternatieve scène nog wat leven gunt. Het is leuk om oude knarren op een podium te zien, maar als muziekfan moet je beseffen dat de muziekscène nood heeft aan nieuw bloed om een jong publiek aan te spreken. Voor ons zijn het slechts een paar woorden op papier, voor organisatoren is het een helse job om dat te verwezenlijken. Waveteef is een festival dat daarin met glans slaagt. Men mikt niet op onbereikbare successen (het begon immers allemaal in een kraakpand), wel is men tevreden met het bereiken van het vooropgestelde doel: tweehonderd muziekfanaten een weekend vol synthmuziek bezorgen, dat nog lang blijft nazinderen. Of men daar in geslaagd is? Als je bereid bent om je ogen (of zijn het de oren) te sluiten voor wat minpuntjes zoals bijv. het bij momenten mindere geluid, dan verdient Waveteef het om in de top te staan van de betere alternatieve festivals.
De locatie zelf is er ook eentje om te onthouden: een oud fort, net buiten het Antwerpse stadscentrum en dus de ideale plek om je te laten overspoelen door talent dat rechtstreeks uit de buik van de underground komt. Orchidée Noire mocht de spits afbijten, het eenmansproject van Xavier Soquet. Een troebadoer, alleen is de akoestische gitaar door een analoge synthesizer vervangen. Mijmerende minimal dat zich ergens tussen het experiment van Guerre Froide en de melancholie van Etienne Daho bevindt. Muziek die je hart net niet breekt. Dat mag ook niet, want er wachtten ons nog drie bands op deze vrijdagavond.
Sommige fijnproevers die bij Wool-E-Shop reeds een kopijtje op de kop hadden getikt, weten wie Alles is. Het Poolse duo, dat wordt gevormd door Marcin Regucki en Paweł Strzelec, had tijdens het eerste lied af te rekenen met een technische panne, maar dat had geen enkel effect op de rest van dit fijne optreden. Omdat Alles de onbekende van de avondn was, was het ook zonder meer de relevatie. Met deze band uit Łódź leek het wel alsof het plots opnieuw 1982 was. Strakke post-punkritmes, coldwavekeyboards, een ijzige stem en danspasjes die ons aan de kerel herinnerden die ooit Transmission zong.
Ash Code was zonder twijfel de band waar het publiek het meest nieuwsgierig naar was. Na hun schitterende debuut Oblivion, zijn de drie Italianen er met Posthuman wederom in geslaagd om het postpunkpubliek in te palmen. De inspiratiebron is duidelijk, maar toch is dit een band met een wel zeer eigen geluid. Krachtige uptempo songs met de een ideaal evenwicht tussen melancholie en vernuft. Dat werd ook in Wommelgem bewezen, Ash Code is een band die weet waarvoor een podium dient: de luisteraar veroveren, en dat deden Alessandro, Claudia en Adriano zonder veel moeite.
En dan was het tijd voor afsluiter Parade Ground. Je kan gemengde gevoelens hebben over de optredens van Pierre en Jean-Marc Pauly, maar uiteindelijk zal je toe moeten geven dat de twee broers steeds voor een intense show zorgen die door merg en been gaat. Ondertussen is er sprake van enige toegevingen. Zo zijn de huidige shows minder chaotisch en experimenteel dan voorheen. De hits (nou ja) van weleer (Gold Rush, Action Replay, Strange World) zijn ook beter herkenbaar. Minder noise, maar qua passie en gedrevenheid blijft Parade Ground nog altijd één van de beste acts. Als overtuigde fan (en meer dan dat) deed het dan ook deugd dat deze twee verwaarloosde zonen uit de Belgische muziekscène door Wommelgem met volle lof werden ontvangen en tot twee keer toe opnieuw op het podium werden geroepen.
Een paar uurtjes slapen en met de nodige energiedrankjes in het lijf, waren we daags nadien gewapend voor alweer vier acts. Het Franse Dear Deer bewees dat het op Waveteef niet noodzakelijk synthmuziek moet zijn. Het geluid van Federico Iovino en Sabatel (jawel, van Cheshire Cat) kwam behoorlijk dicht in de buurt van no wave. Niet iedereen hield ervan, maar wie gek is op Swans en (vooral) op de begindagen van Wire bleef, gefascineerd kijken.
Zou er iemand inslagen om het geluid van Adam Usi te omschrijven? De Duitser staat alleen achter zijn keyboards en kan maar niet kiezen tussen cleane vocals, die vreemd genoeg enorm op die van Richard Ashcroft lijken, en krijsen. Het is vooral tijdens dat laatste, dat Adam Usi imponeert. Een man die zijn demonen uitschreeuwt op de tonen van minimale elektropop. Mooi toch? En zelfs zo mooi dat we een uurtje stonden te dansen, ver weg van de dagelijkse problematiek.
De man achter Doric is een kleine legende bij de minimal synthfans, want het gaat inderdaad om Stathis Leontiadis van de Griekse Human Puppets, en ook Exetix en Plexiglas. Het nevenproject Doric is meer dansbaar, en de analoge synthpartijen liggen nooit ver van die van The Neon Judgement tijdens zijn hoogdagen. Een gaaf geluid, met als enig minpuntje dat de set best wat meer variatie kon gebruiken.
Waveteef werd afgesloten met de legendarische act The Frozen Autumn. Gek eigenlijk als je bedenkt dat Diego Merletto en Froxeanne al bijna 25 jaar bezig zijn. Het was tien jaar geleden dat dit Italiaanse duo nog eens op een Belgisch podium stond, en het was heerlijk om te zien dat de fans deze elektro/darkwaveband nog niet zijn vergeten. Alle grote hits werden gespeeld, afwisselend met Diego en Froxeanne achter de microfoon. Dansbaar, maar vooral ontzettend melancholisch en een waardige afsluiter voor een uiterst geslaagde derde editie van dit undergroundfestival.
Didier BECU
09/12/2016
---