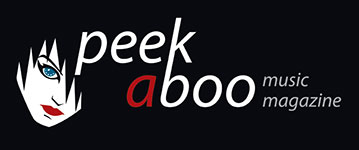 like this tv series review
---
BLACKLIST SEASON 1
Movie
•
TV series
SONY SPHE
08/10/2014, Didier BECU
---
There seems to be a new revolution in showbiz going on today. Movie stars are no longer holding their breath to take part in television series. There's even more, everyone wants to star in one these days. Due to the power of Netflix, television series never were so popular as now. As expected, America seems to have every week a candy of the week: you know a series you may not miss if you respect your television life! The Blacklist is such an example. In the states Netflix was ready to pay two million dollars for broadcasting one episode and NBC was after two episodes so overwhelmed that they immediately gave green light to make a second one. So yes, you definitely can say that Raymond 'Red' Reddington (James Spader) conquered the American television hearts.
The blacklist is a so called list on where all the names are gathered from criminals the FBI never could get hold of. It all seems a bit too unbelievable (and in fact it is), but out of the blue comes America's most wanted criminal (Raymond Reddington that is) offering his services to the FBI. In return for a complete immunity, the crook is ready to help the FBI catching all criminals. The sole condition he makes is that he only reports to Elizabeth 'Liz' Keen (Megan Boone). The FBI doesn't believe him, but they're so desperate that they decided to take the offer. Has Raymond really decided to better his life or is it just done for his own profits? And what role does Elizabeth play? Agreed, it seems all a bit unreal and we really do hope for the FBI that in reality they'll never put their trust in one man only!
It's strange to see (and in a way it is courageous) that The Blacklist throws away all the modern rules in television series-making. There's no cliffhanger, and just like in those good old days (are they good anyway?) in every episode a criminal is caught. It's not a crime if you miss an episode, as in a way they're all the same. And yet, despite all this, The Blacklist is a more than decent. Of course James Spader steals the show, but you never feel afterwards that you have wasted some hours of your life, even if there are a lot of competitors around.
The Blacklist is out on Sony SPHE on both DVD and Blu-ray.
Didier BECU
08/10/2014
---
Mede door de wereldwijde doorbraak van Netflix is de opmars van televisiereeksen niet te stuiten. Het is zelfs zo ver gekomen dat ze een bedreiging voor de film beginnen te vormen waardoor tegenwoordig meer en meer grote filmsterren zich tot de televisiewereld laten verleiden. Zoals te verwachten viel heeft tegenwoordig Amerika iedere week zijn snoepje van de week, The Blacklist is daar zo eentje van. Netflix was bereid om twee miljoen dollar per aflevering aan uitzendrechten te betalen (jawel!) en meteen na twee afleveringen van het eerste seizoen besloot NBC om groen licht te geven voor een tweede. Dit maar om te zeggen dat de Amerikanen warm lopen voor de avonturen van Raymond 'Red' Reddington (James Spader).
De blacklist is een zogenaamde lijst waarop alle zware criminelen staan die de FBI nooit te pakken heeft kunnen krijgen. Het lijkt allemaal ver gezocht (en dat is het ook), maar plotseling komt uit het niets de meest gezochte boef (Raymond Reddington dus) bij de FBI aankloppen om zichzelf aan te geven. In ruil voor immuniteit wil hij samenwerken met de Amerikaanse inlichtingendienst. Hij is zelfs bereid om volledig mee te werken zodat alle grote boeven kunnen worden geklist. Maar ook hier is er een adertje onder het gras: Reddington wil alleen maar samenwerken met de piepjonge Elizabeth 'Liz' Keen (Megan Boone). De FBI twijfelt er wel grondig aan of Reddington te vertrouwen is of niet, maar besluit toch om met hem in zee te gaan. De hamvraag in heel deze serie is natuurlijk waarom Raymond dit allemaal doet. Is het puur uit eigen belang of wil hij daadwerkelijk zijn leven beteren? En waarom vertrouwt hij Elizabeth wel? Over de geloofwaardigheid van de verhalen zwijgen we in alle talen, maar toch hopen we dat de FBI zich in werkelijkheid niet laat leiden door één man!
The Blacklist lapt alle moderne regels van de serie aan zijn laars. Er is geen cliffhanger aanwezig, maar in iedere aflevering wordt gewoon een crimineel bij de lurven gevat. De makers komen nog aardig weg met dit ouderwetse concept, alhoewel de grootste verdienste natuurlijk naar James Spader uitgaat. Misschien is The Blacklist al bij al niet het hoogtepunt wat sommige ervan gemaakt hebben, maar beslist de moeite waard als je in je leven een paar uurtjes niet weet wat te doen.
The Blacklist is nu uit op Sony SPHE en dit op dvd en Blu-ray.
Didier BECU
08/10/2014
---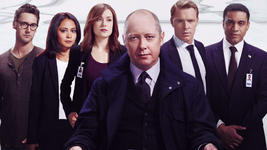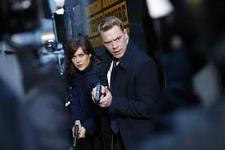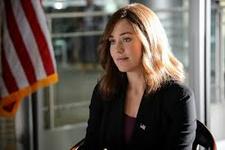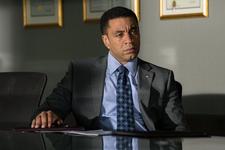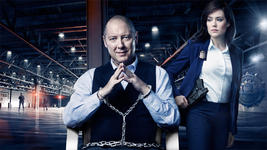 ---