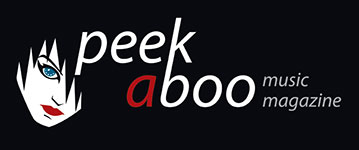 like this concert review
---
PAVLOV'S DOG
Leuven, Het Depot (30/10/2015)
Concert
01/11/2015, Didier BECU
---
Music lovers better read the concert agenda in detail. Those who saw Pavlov's Dog at Het Depot in Leuven (venue in Belgium-ed.) were deeply impressed by the set that lasted nearly 140 minutes (yes!), but they also knew that this might have been the last chance to see this band on stage. The core members are indeed quite old, and inspirer David Surkamp often disappeared in silence for many years.

But yesterday they were more than alive. But first we saw the German hard rock band Sunny Vegas. According to singer Matthi Birkmeyer, there are two reasons: they are a good band and two band members work for Pavlov's Dog (the merchandising). The band succeeded in entertaining the half-empty hall (the other half still was at the bar) with their old school hard rock. The trio offers nothing new, but it does it in a professional manner. And if you don't like their traditional blues-hard rock, then you can always drink, as according to Birkmeyer, drinking in life is important. It is indeed a wisdom like any other.

And then the moment came that everyone was waiting for: Pavlov's Dog. David Surkamp looked happy, but the career of this great musician is anything but that. Their two first records (Pampered Menial and At The Sound Of The Bell) were praised by countless critics (according to Mojo they even belong to the 100 best ever), but they were released in an era when the public no longer was interested in symphonic progrock, and so the records ended without mercy in the sales region. Their third album (The St. Louis Hounds) only appeared as a bootleg. For a moment people even thought that Surkamp was dead (the man could still laugh about it at The Depot) and his solo records with Ian Matthews of the hippie combo Fairport Convention found no buyers.

But just like the dog of Pavlov always returns when the bell rings, the group also comes back. For ten years the band is back on stage (well, actually it is only Surkamp and drummer Mike Safron, because the rest left the band or died). But no worries, as Surkamp has assembled a new band and it sounds just as energetic as in 1975, and they even look more fresh!

Surkamp himself is aware of the fact that most of his fans just know the first two records and that they only want to hear those, and he offers them the full set of Pampered Menial, and the classics from the second one, including the (beautiful) and almost forgotten compositions of his solo records that he wrote for his wife Sarah. The woman in his life is for ten years with him on stage and her voice, which resembles that of Marianne Faithfull, is a wonderful addition to the beautiful, almost tragic sound of Pavlov's Dog.

But the voice of this band is of course David Surkamp, ​​a voice that also made some people think that Pavlov's Dog is the most ghastly band ever, but the fans who are fond of his nasal voice that burst of deep emotions, are deeply in love.The band immediately started with Late November as the second track from the set. The voice grabbed you by the throat, it is a cry of someone who has seen everything in life (the fun, but especially the worst things). But in 2015, Pavlov's Dog is more than just Surkamp. During tracks like Episode, Theme From Subway Sue, Did You See Him Cry?, or the almost classical Preludin, we see excellent musicians at work. The leader is also proud of them. Amanda McCoy's guitar talent leaves everyone open-mouthed, just like the violin sound of Abbie Hainz Steiling. The audience willingly waited 140 minutes for the grand final Julia, not their best song, but unfortunately their only hit. The waiting time was over in a second, because you don't hear beauty like this very often. Teach us a song and we'll dance for you, David!
Peek-A-Boo likes to thanks JP Daniels for the photo session he was willing to share with us. Take a look at their website Concert Monkey.
Didier BECU
01/11/2015
---
Muziekliefhebbers doen er maar beter aan om de concertagenda tot in de details uit te pluizen. Wie gisteren Het Depot verliet was weliswaar diep onder de indruk van de set die bijna 140 minuten duurde (jawel!), maar ze wisten ook dat dit misschien wel de laatste kans was om deze formatie op een podium aan het werk te zien. De kernleden zijn niet alleen stokoud, het is ook niet de eerste keer dat bezieler David Surkamp plotseling niets meer van zich liet horen.
Maar gisteren stonden ze er weer, en nog wel in de Vlaamse studentenstad, maar eerst kregen we een zestal nummertjes van de Duitse hardrockformatie Sunny Vegas. Volgens zanger Matthi Birkmeyer waren daar twee redenen voor: ze zijn een goede band en twee bandsleden werken achter de schermen voor Pavlov's Dog, zoals bij de merchandising. De band slaagde erin om de halfvolle zaal (de andere helft stond nog in de bar) op te warmen met hun old school hardrock. Het drietal biedt niks nieuws, maar ze doen het op een professionele en degelijke manier. En wat zou het als je niet van hun traditionele, brave blues-hardrock houdt? Zolang je volgens Birkmeyer maar niet vergeet dat drinken in het leven belangrijk is. Het is inderdaad een levenswijsheid zoals een andere.
En dan was het moment gekomen waarop iedereen wachtte: Pavlov's Dog. David Surkamp zag er dolgelukkig uit, maar de carrière van deze geniale muzikant is dat allesbehalve. Hun twee eerste platen (Pampered Menial en At The Sound Of The Bell) worden door talloze critici terecht de hemel in geprezen (volgens Mojo behoren ze zelfs tot de 100 beste ooit), alleen werden ze uitgebracht in een tijdperk waarin het publiek niets meer wilde weten van symfonische progrock, waardoor de platen zonder genade in een recordtempo in de uitverkoopbakken belandden. Hun derde plaat (The St. Louis Hounds) verscheen zelfs alleen als bootleg. Eventjes werd zelfs het bericht de wereld ingestuurd dat Surkamp was overleden (de man kon er in Het Depot nog om lachen) en de soloplaten die hij nadien met Ian Matthews van het hippiecombo Fairport Convention opnam, werden door geen kat gekocht.
Maar net zoals de hond van Pavlov steeds terugkeert als het belletje rinkelt, doet ook de groep dat. Sinds tien jaar staat de band weer op het podium (nou ja, eigenlijk is het alleen maar Surkamp en drummer Mike Safron, want de rest verliet de band of ligt al ettelijke jaren onder de groene zoden). Maar geen nood, Surkamp heeft een nieuwe band samengesteld en die klinkt net zo energiek als in 1975, en ze zien er zelfs frisser uit!
Surkamp is zich zeer goed bewust van het feit dat de meeste van zijn fans alleen maar de klassiekers uit de twee eerste platen kennen en willen horen, en hij schenkt hun met plezier de volledige set van Pampered Menial, aangevuld met de klassiekers uit de tweede plaat en vergeten (mooie) nummertjes uit zijn soloplaten die hij blijkbaar steeds voor zijn vrouw Sara schreef. De vrouw van zijn leven staat al tien jaar met hem op het podium, en haar stem, die veel op die van Marianne Faithfull lijkt, is een prachtige aanvulling op het wondermooie, bijna tragische geluid van Pavlov's Dog. Maar de stem van deze band is natuurlijk die van David Surkamp, een stem die er tevens voor zorgt dat sommige mensen Pavlov's Dog de afgrijselijkste groep aller tijden vinden, maar de fans zijn verzot op zijn nasale stem, die steeds in het rood dreigt te raken, maar die uitbarst van diepe emoties.
De band laat er geen gras over groeien, en Late November wordt het tweede nummer uit de set en meteen staan de haren bij iedereen recht. De stem grijpt je bij de keel, het is een kreet van iemand die alles in het leven heeft gezien (het leuke, maar vooral het trieste). Maar Pavlov's Dog is anno 2015 meer dan Surkamp; op talloze nummers (Episode, Theme From Subway Sue, Did You See Him Cry? of het bijna klassieke Preludin) zien we topmuzikanten aan het werk. De leider is er dan ook apetrots op. Amanda McCoys gitaartalent laat iedereen met open mond achter, net als het vioolgeluid van Abbie Hainz Steiling. Het publiek wacht gewillig 140 minuten op de grote finale (Julia, en in de verste verte niet hun beste song, wel jammer genoeg hun enige hit). De wachttijd vloog in een seconde voorbij, want schoonheid zoals dit, krijg je maar zelden te zien. Teach us a song and we'll dance for you, David!
Peek-A-Boo dankt JP Daniels voor de foto's die hij beschikbaar stelde voor ons, neemgerust een kijkje op hun zine Concert Monkey.
Didier BECU
01/11/2015
---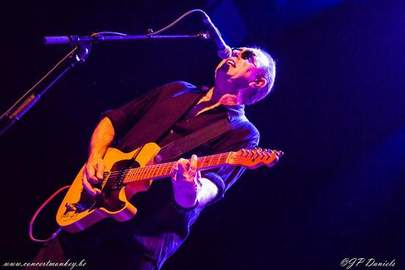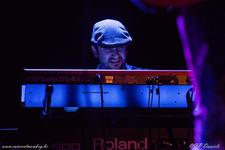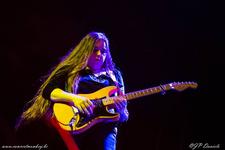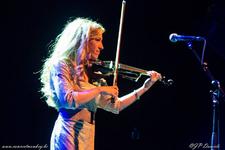 ---