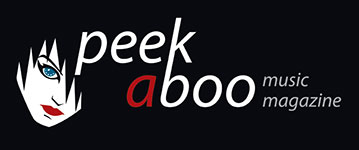 like this concert review
---
THE KVB
Brussel, Beursschouwburg (12/04/2016)
Concert
09/12/2016, Didier BECU
---
A new concert hall in Brussels is doing well: the top floor of the Beursschouwburg. Usually, is very hot (even in winter) and after just a few minutes sweat beads appear on your forehead, but with such a beautiful programming, no one cares.
Four days ago, Dear Deer from France played at Waveteef. The set of Federico Iovino and Sabatel was almost the same in The Beursschouwburg, but this time the band got a decent sound system (which was not the case in Antwerp) and that gave the gig some extra energy. This duo from Lille is inspired by the 80s (from Killing Joke to Swans), but with a contemporary(noisy) sound. Not everyone is enthusiastic about Dear Deer's No Wave-sound, but we are firmly convinced that this is not the band's intention. Perhaps the music is a bit too monotonous, or the hard guitars dominate too much, anyway, Dear Deer remains a band to remember and it will always have its supporters and opponents. Just as we saw yesterday...
Time for the British duo The KVB. In a short time a lot has changed for Nicolas Wood and Kat Day. A few years ago The KVB just was a small (talented) shoegaze band that played at tiny clubs, but today it is a band that went to the studio with legends like Sonic Boom and Geoff Barrow of Portishead.
I admit that I never saw them before, but several people told me afterwards that The KVB has grown incredibly in a short time. The two came up with a clever sound between modern shoegaze, krautrock and psychedelics.
Most tracks were taken (how could it be otherwise) from the recent album Of Desire. Kat barely moved and she stood motionless behind her keyboards, while Nicolas made acrobatic tricks with his guitar. Even if it takes some serious efforts, Nicolas regularly gets off the stage to showcase his genius guitar playing among the crowd. A gigantic sound, and the number of buttons and pedals used is enormous.

It makes no sense to compare The KVB with any other band, The KVB is The KVB and perhaps this venue is too small when the band visits Belgium the next time!
Didier BECU
09/12/2016
---
Sinds een tijdje doet de hoogste etage van de Brusselse Beurssschouwburg dienst als een volwaardige concertzaal. Het is er meestal snikheet en al na een paar minuten glinsteren de zweetparels op je voorhoofd, maar met zo'n mooie programmering heeft een muziekfan dat er graag voor over.
Het was pas vier dagen geleden dat het Franse Dear Deer tijdens Waveteef op Belgische bodem stond. De set van Federico Iovino en Sabatel was wel dezelfde, maar dankzij een degelijke geluidinstallatie (wat in Antwerpen niet het geval was) toch van een veel (hoger) kaliber. Dit duo uit Lille graait uit de jaren 80 (van Killing Joke tot Swans), maar brouwt daar uiteindelijk toch iets hedendaags mee. Niet iedereen is dolenthousiast over deze No Wave, maar we zijn er rotsvast van overtuigd dat dit ook niet de bedoeling is van deze twee. De muziek van Dear Deer klinkt op het eerste gehoor misschien net wat te monotoon, de harde gitaren domineren wellicht iets te veel, toch blijft Dear Deer een te onthouden band die altijd zijn voor- en tegenstanders zal hebben. En dat zagen we gisteren…
Tijd dan voor het Britse duo The KVB. Op korte tijd is er veel veranderd voor Nicolas Wood en Kat Day. Waren ze een paar jaar geleden nog het shoegazebandje dat in een piepkleine club als de Gentse Kinky Star speelde, dan zijn ze vandaag een band die met grootheden als Sonic Boom en Geoff Barrow van Portishead de studio ingaat.

Zelf moet ik eerlijk bekennen dat ik de groep nog nooit eerder zag, maar diverse mensen vertelden me achteraf dat The KVB op korte tijd ontzettend is gegroeid. De twee brengen een geluid dat zich tussen moderne shoegaze, Krautrock en psychedelica situeert.

De meeste tracks kwamen (hoe kon het ook anders) uit het recente album Of Desire. Kat beweegt zich nauwelijks en staat stokstijf achter de keyboards, terwijl Nicolas allerlei acrobatische trucs met zijn gitaar uithaalt. Ook al kost het hem enige moeite, stapt hij toch geregeld van het podium om tussen de menigte zijn gitaarspel te tonen. Een gigantisch geluid, het aantal knopjes en pedalen dat hij benut is nauwelijks bij te houden.

Anno 2016 heeft het dan ook geen zin om The KVB met een andere band te vergelijken, The KVB is The KVB en wellicht is deze zaal te klein voor het volgende bezoek aan België!
Didier BECU
09/12/2016
---