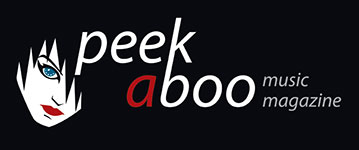 like this concert review
---
AMBASSADOR 21
Brussels, Magasin 4 (03/06/2016)
Concert
10/12/2016, Didier BECU
---
Time passes fast. It was twelve years ago since Alexey Protasov and Natasha A Twentyone played at Magasin 4 in Brussels. Meanwhile, a lot has happened. The duo from Belarus captured the heart of many industrial fans, was at Hands, and what probably is the icing on the cake: played a memorable gig at Maschinenfest 2014. Of course we were enthusiastic to see these two sound terrorists again after all these years. But first Ghetto Blastard and Mammoutt.
Ghetto Blastard is the solo project of Jean-Marcel Busson. On a table in the middle of the venue, a ghetto blaster (one with many lights) has been connected to all kinds of devices and it produces all kinds of strange noise sounds. There's barely any song structure, just harsh noise: distorted voices, bleeps and - again - a lot of noise. Not an easy act at all. Some went out in the fresh air, others were fascinated by this remarkable sound collage. Is it music? Yes, everything is music. Is it good? We leave that in the middle.

Obscure, but already around for (gasp) fifteen years, is the duo Mammoutt that originated in the Brussels dance scene. The recipe: mixing commercial hard techno beats with distorted brutal voices. The melodies of the Roland 303 have a 90s sound, but the indus voice makes it different. The audience was quite keen on it, and in no time the Magasin 4 was transformed into a dance shack on the edge of Purgatory. Mammoutt played quite good, but too long, because the songs all sound a bit the same.
It was nearly midnight when the headliner appeared on stage. Need we introduce Ambassador 21? Maybe so... unless you're a connoisseur of the better industrial work. Since 2001, Natasha and Alexey created their own (unconventional) indus-punk with a political left attitude.When in 2010 the released Riot Death (Face your future dealers), the revolution started. Their sound has been mostly related to Atari Teenage Riot, but at the end of the day, this whirlwind sounded as Ambassador 21 in the first place. In real life, the two were pure anarchists: doing what they liked to do and if that was against the wishes of the label, then so be it!
Just like always, Ambassador 21 started thes show with loud (rather deafening) beats. To describe Natasha and Alexey as energy is an understatement. Without one break, the two ran from one corner of the stage to the other. Every few minutes they showed their middle finger or stuck out their tongue, and of course the target was always the capitalist society we're living in. The inscription on their laptop says enough: fuck all systems, a slogan that was shouted more than once. The alternative? Industrial punk that controls your body. Ambassador 21 is energetic, sexy, and doesn't bore for a second. Ambassador 21 is pure punk with industrial thunder beats. The audience at the Magasin 4 was totally sucked in the Ambassador 21 world, and it was as described by the band on Facebook: awesome! One of the main reasons is that Alexey and Natasha enjoy being on stage! Fuck all systems, just leave Ambassador 21 alone!
Click here for the pictures of Xavier
Didier BECU
10/12/2016
---
De tijd gaat ontzettend snel. Het was twaalf jaar geleden dat Alexey Protasov en Natasha A Twentyone in de Brusselse Magasin 4 stonden. Ondertussen is er veel gebeurd. Het duo uit Wit-Rusland veroverde menig industrialfanhart, zat op Hands en wat wellicht de kers op de taart is: het gaf een memorabel optreden tijdens Maschinenfest in 2014. We waren dan ook laaiend enthousiast omdat deze twee geluidsterroristen na al die jaren opnieuw op een Belgische bodem te zien zouden zijn. Maar eerst nog even Ghetto Blastard en Mammoutt.
Ghetto Blastard is het eenmansproject van Jean-Marcel Busson. Middenin de zaal staat een tafel met daarop een ghettoblaster (eentje vol met lampjes) die aangesloten is op allerlei apparaten die voor vreemde noisegeluiden zorgen. Van songstructuur is amper sprake, gewoon harshnoise die de luisteraar moet ondergaan. Vervormde stemmen, bleeps en vooral veel noise. Een allesbehalve gemakkelijke act. De ene zocht de frisse lucht op, de ander bleef gefascineerd luisteren naar deze opmerkelijke collage. Is het muziek? Ja, want alles is muziek. Is het goed? Dat laten we in het midden.
Al even obscuur, maar wel al (slik) vijftien jaar bezig, is het duo Mammoutt dat in de Brusselse dansscène ontstond. Het recept: commerciële hardtechno-beats, vermengd met vervormde brutale stemmen. De melodietjes die uit de Roland 303 worden getoverd hebben een onmiskenbaar 90s-geluid, maar de indusstem maakt er toch iets apart van. Het publiek lustte er wel pap van en binnen de kortste keren was de Magasin 4 omgevormd tot een danskeet die aan de rand van het vagevuur staat. Mammoutt speelde een verdienstelijk optreden, ook al mocht het wat korter, want daarvoor lijken de songs toch net iets te veel op elkaar.
Het was ondertussen bijna middernacht toen de hoofdact op het podium verscheen. Moeten we Ambassador 21 eigenlijk nog voorstellen? Waarschijnlijk wel, tenzij je een kenner van het betere industrial werk bent. Sinds 2001 maken Natasha en Alexey op hun eigen (onconventionele) manier indus-punk met een uiterst links karakter. Toen het duo in 2010 in eigen beheer Riot Death (Face your future dealers) uitbracht, gingen de poppen definitief aan het dansen. Hun geluid werd tot vervelens toe aan Atari Teenage Riot gelinkt, toch klonk deze wervelwind vooral als Ambassador 21. Ook al mens gedroegen de twee zich als pure anarchisten. Alleen maar doen waar ze zelf zin in hadden en als dat tegen de zin van één of ander label was, dan was dat maar zo!
Naar oude gewoonte startte ook dit optreden met luide (zeg maar oorverdovende) beats. Natasha en Alexey als energie omschrijven is een understatement. Zonder ook maar één seconde rust, lopen de twee van de ene hoek van het podium naar de andere. Om de minuut wordt de middelvinger of de tong uitgestoken en de pineut (nou ja) is altijd de kapitalistische maatschappij. Het opschrift op hun laptop liegt er dan ook niet om: Fuck all systems, een slogan die meer dan eens wordt uitgeschreeuwd. Het alternatief? Induspunk die je lijf laat daveren. Ambassador 21 is energiek, sexy en verveelt geen seconde (een podiumact die meer uit de bol gaat dan deze twee zal je moeilijk vinden). Nooit is er enige toegeving, Ambassador 21 is pure punk verpakt in industriële donderslagen. Net als altijd werd het publiek van de Magasin 4 in de Ambassador 21-wereld gezogen, en dat komt vooral omdat er een band op het podium stond die er zelf ontzettend veel zin in had. Fuck all systems, maar laat Ambassador 21 heel!
Klik hier voor de foto's van Xavier.
Didier BECU
10/12/2016
---