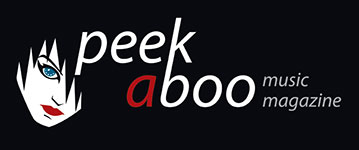 like this cd review
---
GRAUSAME TOCHTER
Vagina Dentata
Music
•
CD
EBM
•
Electropunk
[72/100]

Dark Dimensions
10/12/2016, Benny CALUWE
---
The new Grausame Töchter album is called Vagina Dentata. Sigmund Freud came up with that term. Vagina Dentata or toothed the vagina is related to the male fear for attractive women and is connected with the castration complex. Vagina Dentata also represents the mouth of hell or the gate to hell. It fits perfectly with the erotic themes of Aranea Peel's electropunk band.
Like the previous album Glaube, Liebe, Hoffnung, the new Vagina Dentata is an eclectic album. But I wasn't impressed after the first listen. How was it possible that I rewarded Glaube, Liebe, Hoffnung with 84 points out of 100? Was I easily packed by the erotic music videos? Was I blinded by the bold and provocative lyrics? No, I wasn't. Glaube, Liebe, Hoffnung was an entertaining album with atmosphere, menace and variation. An album with a strong beginning that combined industrial sounds with cellos. But on Vagina Dentata the industrial sounds are rather scarce, they only appear in Fleish Für Die Hyänen and Angst Entstellt Den Menschen. The cellos make room for guitars and even for brass instruments. As a whole, Vagina Dentata is less ominous and less vivacious than its predecessor, but it surely is a varied album.
Vagina Dentata opens with the eponymous and minimally instrumentated title track, in which we hear a threatening Aranea Peel. She continues with the same flair in Liebe Will Beweise. You don't mess with this lady. Aranea still sounds commanding, dangerous, tempting and insane. She uses her voice as a versatile instrument.
Ich Liebe Meine Vagina doesn't captivate me. To me it seems a too obvious attempt to write a sing-along. After a reluctant start, Wie Eine Krake impresses: Grausame Töchter sounds delightfully compelling. The highlights of the album are Annika Ist Tot and Tor Zur Hölle with its twinkling piano lines, propulsive electronics and chunky guitars.
The second half of the album consists mainly of upbeat tracks for the dance floor, except the strange circus song Die Ganze Welt Ist Ein Zirkus and the surprising Nordsee Tango, both dominated by brass instruments. In Nordsee Tango, you can hear Aranea Peel's love for chanson. The lyrics of Los Schlampe, Ficken Geht Immer, Fette Katzen, Perverse Mädchen and Sisyphos Will Vögeln are a little provocative and contain a lot of humour. In Vagina Dentata (Xotox Remix) you hear the abundant distorted industrial sounds that are missing elsewhere on the album.
Vagina Dentata might not be as captivating as Glaube, Liebe, Hoffnung, but Aranea Peel is an idiosyncratic phenomenon that keeps on surprising.
Benny CALUWE
10/12/2016
---
Het nieuwe album van Grausame Töchter is Vagina Dentata gedoopt. De term is geleend bij Sigmund Freud. Vagina Dentata of getande vagina staat voor de angst van mannen voor de verleidelijke vrouw en wordt in verband gebracht met het castratiecomplex. De Vagina Dentata stelt soms ook de toegangspoort tot de hel voor. Dit alles past helemaal in de erotische thema's die bij de electropunkband omtrent de charismatische frontvrouw Aranea Peel aan bod komen
Net als het eerdere album Glaube, Liebe, Hoffnung is Vagina Dentata een eclectische plaat. Na de eerste luisterbeurt was ik echter weinig onder de indruk. Hoe was het mogelijk dat ik Glaube, Liebe, Hoffnung had beloond met 84 op 100? Had ik me als een adolescent laten inpakken door enkele erotisch getinte YouTube-video's? Had ik me een rad voor de ogen laten draaien door gedurfde soms wat provocerende songteksten? Nee. Glaube, Liebe, Hoffnung was een onderhoudende plaat met de nodige atmosfeer, dreiging en variatie. Een plaat met een enorm sterk begin, waarop industriële klanken en cello's duelleren. Maar op Vagina Dentata zijn de industrial elementen schaarser, die duiken alleen op in Fleisch Für Die Hyänen en Angst Entstellt Den Menschen. De cello's maakten met wisselend succes plaats voor gitaren en zelfs blazers. Als geheel is Vagina Dentata minder dreigend en minder beklijvend als der voorganger, maar gevarieerd is het album zeker.
Het album opent met de gelijknamige en minimaal geïnstrumenteerde titeltrack, waarin Aranea dreigend klinkt. Ze gaat op haar elan door in Liebe Will Beweise. Met deze dame sol je niet. Als vanouds klinkt Aranea Peel afwisselend gebiedend, gevaarlijk of (al dan niet prettig) gestoord. Ze gebruikt haar kenmerkende stem als een veelzijdig instrument.
Ich Liebe Meine Vagina kan me minder bekoren. Hier hengelt men te nadrukkelijk naar een meezinger. Na een aarzelende start, imponeert Wie Eine Krake wel. Grausame Töchter klinkt heerlijk dwingend. Hoogtepunten op het album zijn Annika Ist Tot en Tor Zur Hölle met de rinkelende pianomelodieën, voortstuwende electronica en de stevige gitaren.
De tweede helft van het album bestaat hoofdzakelijk uit uptempo tracks, bedoeld voor de dansvloer, op 2 songs na. Die Ganze Welt Ist Ein Zirkus, een vreemd cirkusliedje en de verrassende Nordsee Tango worden gedomineerd door blaasinstrumenten. In laatstgenoemde hoor je Aranea's liefde voor chansons. De lyrics van Los Schlampe (= stoephoer), Ficken Geht Immer; Fette Katzen, Perverse Mädchen en Sisyphos Will Vögeln zijn een tikkeltje aangebrand en bevatten de nodige humor. De Vagina Dentata (Xotox Remix) is rijkelijk bestrooid met de distorted industrial sounds die het album ontbeert.
Hoewel deze Vagina Dentata minder geslaagd is dan de voorganger, is Aranea Peel een eigenzinnig fenomeen dat blijft boeien en verbazen.
Benny CALUWE
10/12/2016
---