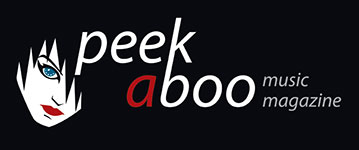 like this concert review
---
CLAN OF XYMOX
Frankfurt, Das Bett (13/02/2016)
Concert
15/02/2016, Didier BECU
---
The venue Das Bett is located near the Frankfurt Airport. It is a place where you pass by easily when your thoughts aren't focused on the GPS. Many big names in the underground scene played there. Tonight the inventors of the dark wave, or simply Clan Of Xymox, were the guests. But before that, we heard two new bands.

With a name like Paranoid Android you rather think of a cybergoth band, but this duo from Frankfurt plays synth wave, however with a dark edge. Guido Vortex and Andy N-Droid still have to refine their stage presence, but at least they have the right songs. Classical structures with a chorus that stays in your head. They won't conquer the world with it, but then again who does.

However, we are sure that Rroyce soon will conquer the heart of the synthpop lovers. This trio from Dortmund worked three years to harvest triumph in the underground scene and thanks to hard work (and especially by writing good songs) it became clear yesterday that Casi, Kay and Al already have a loyal host of fans. The musical reference surely is And One. Simple, but effective synth pop and from the very first second we witnessed how these three men control the stage. A little bit of patience and soon Rroyce will become a headliner itself.

And then it was time for Clan Of Xymox. I agree, this is not an objective review, because if someone drives 600 kilometers to see a band, then it can only be his favorite band, right?

The band was formed in 1981, but while most of their contemporaries just became a nostalgic jukebox, Ronny Moorings refuses to be one. Of course you hear a few classics during the gigs, but the set list reveals that in 2016 Clan Of Xymox is a band that does not rely on old (sublime) hits, but that it still makes fantastic albums today.

Matters Of My Mind, Body And Soul probably is the most intimate album Clan Of Xymox ever made, not to say the finest. The set began with I Close My Eyes from that album. Probably a song can't be more melancholic than this. The first highlight was followed by more beautiful gems from this CD (She's Falling In Love, The Climate Changed and the sublime sing-a-long Love 's On Diet).

While in the audience someone called for Muscoviet Mosquito, Ronny Moorings asked for some patience, because first we heard a (superb) selection of In Love We Trust. The first classic (even though all Clan Of Xymox-songs are classics) is Louise. Although I heard this track many times in my life, it always brings tears to my eyes. Tears of emotion, but also of happiness, because there's a band like Clan Of Xymox that gives music another dimension.

If for a moment Clan Of Xymox sounded as a true goth rock band, then it was on Jasmine And Rose. It also is the ideal song for Mario Usai to show what a great guitarist he is and for Mojca to show her abilities as a bass player.

After all these years, the indus-goth song Farewell is one of their greatest tracks ever, and when Ronny announced in German "Auf Wiedersehen", we knew that with A Day the concert was coming to an end (but do not worry, because six more songs would follow!). Time for the final songs.

The band chose Muscoviet Mosquito, the track that really started it all, followed by This World, the song which gave Clan Of Xymox a second life. Venus by Shocking Blue was announced by Ronny as a "real Dutch song". Right, Ronny, but we will forever associate The Netherlands with Clan Of Xymox!
Clan Of Xymox returned on stage with Back Door which is perhaps the most beautiful and emotional song on Medusa. It was followed by Obsession of Twist Of Shadows, and no one will stop us for saying that this is one of the best synthpop tracks of all time. And dear reader , let me end with something very personal. The best group of all time ended their set with a cover of the greatest artist of all time: David Bowie's Heroes. The smile on my face said the circle is round now...
Tracklist:
I Close My Eyes
She's Falling In Love
The Climate Changed
Love's On Diet
In Love We Trust
Hail Mary
Emily
Louise
Jasmine And Rose
Farewell
A Day
Muscoviet Mosquito
This World
Venus
Back Door
Obsession
Heroes
Didier BECU
15/02/2016
---
In de buurt van de luchthaven van Frankfurt ligt de zaal Das Bett. Het is een gebouw waar je zo voorbijrijdt als je gedachten niet op de gps zijn gericht. Allerlei grote namen uit de undergroundscène speelden er al. Vanavond was het de beurt aan de uitvinders van de dark wave, of gewoon Clan Of Xymox voor de vrienden. Maar vooraleer het zo ver was, konden we eerst twee nieuwe bands ontdekken.
Bij een naam als Paranoid Android denk je misschien eerder aan een cybergothband, maar dit duo uit Frankfurt maakt wel degelijk synthwave, weliswaar met een donker kantje. Guido Vortex en Andy N-Droid moeten beslist hun podiumprésence nog wat bijschaven, maar in ieder geval hebben ze de juiste songs. Klassieke structuren met een refrein dat in je hoofd blijft hangen. De wereld zullen ze er wellicht niet mee veroveren, maar wie doet dat wel.
Waar we wel zeker van zijn, is dat Rroyce weldra het hart van de synthpopliefhebbers zal veroveren. Dit trio uit Dortmund is al drie jaar bezig aan z'n triomftocht in de undergroundscène en dankzij hard werken (en vooral door het schrijven van goede songs) was het gisteren overduidelijk dat Casi, Kay en Al nu al over een trouwe resem fans beschikken. De muzikale referentie bij uitstek is wellicht And One. Simpele, maar effectieve synthpop en vanaf de eerste seconde bleken de drie heren het podium te beheersen. Een beetje geduld en binnenkort wordt Rroyce zonder twijfel zelf een hoofdact.

En dan was het tijd voor Clan Of Xymox. Toegegeven, een echte objectieve bespreking is dit niet, want als iemand 600 kilometer rijdt om een groep te zien, dan kan het alleen maar een lievelingsband zijn, niet?
De band werd in 1981 opgericht, maar terwijl de meeste van hun tijdgenoten niet meer dan een nostalgische jukebox zijn geworden, weigert Ronny Moorings dat steevast te zijn. Tijdens de optredens hoor je natuurlijk wel een paar klassiekers, maar door de keuze van de setlist wordt het ook alsmaar duidelijker dat Clan Of Xymox in 2016 een band is die niet louter hoeft te teren op oude (sublieme) hits, maar ook vandaag nog altijd fantastische albums uitbrengt.
Matters Of My Mind, Body And Soul is waarschijnlijk het meest intieme album dat Clan Of Xymox ooit heeft gemaakt, hun beste eigenlijk. De set begon met I Close My Eyes uit dat album en wellicht kan een song niet melancholischer klinken. Het eerste hoogtepunt werd gevolgd door meer mooie pareltjes van deze cd (She's Falling In Love, The Climate Changed en het sublieme sing-a-long Love 's On Diet).
Terwijl in het publiek iemand ongeduldig om Muscoviet Mosquito roept, vraagt Ronny Moorings om geduld, want eerst volgt een (heerlijke) greep uit In Love We Trust. De eerste klassieker (ook al zijn alle Clan Of Xymox-songs dat) wordt Louise. Hoewel ondergetekende dit nummer al ontelbare keren in zijn leven heeft gehoord, brengt het steeds tranen in zijn ogen. Tranen van ontroering, maar ook van geluk dat er een band als Clan Of Xymox bestaat die muziek een andere dimensie geeft.
Als Clan Of Xymox ooit klonk als een echte gothrockband, dan was het wel in Jasmine And Rose. Het is ook de ideale song voor Mario Usai om te laten horen wat een geweldige gitarist hij is, en voor Mojca om haar capaciteiten te laten horen als basspeler.
Ook de indus-gothsong Farewell blijft na al die jaren overeind, en toen Ronny in het Duits "Auf Wiedersehen" mompelde, wisten we dat met A Day het einde nabij is (maar geen nood, want er zouden nog zes nummers volgen!).
Tijd voor de afsluitertjes. De band koos voor Muscoviet Mosquito, de track waarmee eigenlijk alles begon, gevolgd door This World, de track waarmee Clan Of Xymox een tweede adem kreeg. Venus van Shocking Blue werd door Ronny aangekondigd als een "echte Hollandse song". Juist, Ronny, maar wij zullen Nederland voor eeuwig associëren met Clan Of Xymox!
Clan Of Xymox kwam nog een keer terug met Back Door, wellicht het mooiste nummer uit Medusa. Het werd gevolgd door Obsession uit Twist Of Shadows, en niemand zal ons tegenhouden om dit als één van de mooiste synthpoptracks aller tijden te bekronen. En beste lezer, laat me eventjes toe om zeer persoonlijk te eindigen. De beste groep aller tijden sloot af met een cover van de allergrootste artiest aller tijden: Heroes van David Bowie. Na afloop toverde er zich een glimlach om mijn mond die me vertelde dat de cirkel rond was…
Tracklist:
I Close My Eyes
She's Falling In Love
The Climate Changed
Love's On Diet
In Love We Trust
Hail Mary
Emily
Louise
Jasmine And Rose
Farewell
A Day
Muscoviet Mosquito
This World
Venus
Back Door
Obsession
Heroes
Didier BECU
15/02/2016
---