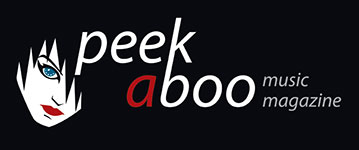 like this concert review
---
SHE PAST AWAY
B52, Eernegem (11/10/2015)
Concert
14/10/2015, Ruben SAEY
---
In 2012 the Turkish Band She Past Away surprised the wave and goth audience with its debut Belirdi Gece. The dark wave was sung in Turkish, caused a wave of fresh air in the genre and showed that there is still room for innovation.
Lots of concerts later, the band released its new album Narin Yalnizlik in the spring of 2015, followed by a live concert in Music Club B52 in Eernegem, Belgium. Despite the choice of a Sunday night,and a not so obvious concert, the interest for this Turkish band turned out to be quite high.
The small venue soon was crowded with lovers of the dark genre. There was no support act, so all eyes were targeted at She Past Away. But the wait for them proved to be quite long, the performance was scheduled at half past nine and despite the fact that all the material was on stage, no one had an idea where the band actually was.
Around 21:45, the two members finally appeared. After tuning their guitars, the first dark tones filled the venue. The former bassist is replaced by a drummer. An unfortunate decision, because their live bassist was a real force, and you can never replace the sound of a real bass guitar.

The meanwhile classic compositions Sanri, Monoton, Insanlar and Kasvetli Kutlama were warmly welcomed by the audience. These songs were interspersed with some tracks from the new album. But we were missing unity, this was just a case of playing some songs, probably caused by a lack of preparation.
There were also all sorts of small errors that could have been avoided, and everyone could see that the two members were not attuned to each other. There was no enthusiasm on stage. For those who saw them earlier, it certainly was a lovely evening, but this could have been more!
Ruben SAEY
14/10/2015
---
In 2012 verbaasde de Turkse Band She Past Away het Vlaamse wave- en gothicpubliek met z'n debuut Belirdi Gece. Darkwave, gezongen in de Turkse moedertaal. De plaat veroorzaakte een ware schokgolf en voor een frisse wind in het wavegenre, en toonde aandat er nog plaats is voor vernieuwing.
Een heleboel concerten later, brachten ze in de lente van 2015 hun nieuwe album Narin Yalnizlik uit dat nu ook in Music Club B52 in het West-Vlaamse Eernegem werd voorgesteld. Ondanks de keuze voor een zondagavond en een niet zo voor de hand liggend concert, bleek de interesse voor deze Turkse band toch groot te zijn.

De kleine zaal vulde zich met liefhebbers van het donkere genre zodat gauw een gezellige drukte ontstond. Er was geen voorprogramma, dus alle ogen waren meteen op She Past Away gericht. De wachttijd bleek echter lang, het optreden was voorzien voor half tien en ondanks het feit dat al het materiaal op het podium stond, had niemand er een idee van waar de band was.
Rond 21.45 wurmden de twee leden zich eindelijk door het publiek. Na het stemmen van de gitaar en wat gedraai aan allerlei knoppen, was het dan eindelijk zover. Het publiek werd wat rustiger en stiller en de eerste duistere tonen vulden de zaal. De voormalige bassist is ondertussen vervangen door een drummer. Een spijtige zaak, omdat die livebassist een meerwaarde was en de klank van een echte basgitaar nu eenmaal moeilijk te vervangen is.
De ondertussen al klassiekers geworden composities Sanri, Monoton, Insanlar en Kasveti Kutlama passeerden vlotjes de revue en werden door het publiek hartelijk ontvangen. Ze werden afgewisseld met een aantal nummers uit het nieuwe album. Alleen ontbrak er een echt geheel en ging het eerder om het spelen van wat nummers, iets wat volgens mij gewoon is te wijten aan een gebrek aan voorbereiding.

Er waren ook allerlei kleine mankementjes die men had kunnen vermijden, en iedereen zag dat de twee leden nog niet echt op elkaar zijn ingespeeld. Er was weinig bezieling op het podium of toch niet zoals in Dentergem tijdens hun eerste bezetting. Voor wie dit een eerste kennismaking met de band was, zal het zeker een mooie avond zijn geweest, maar hier zat meer in!
Ruben SAEY
14/10/2015
---