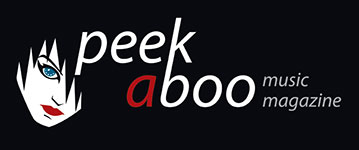 like this cd review
---
DANIEL BARBIERO & CRISTIANO BOCCI
Vόστος
Music
•
CD
Drone
•
Experimental
•
Neoclassical
[70/100]

Acustronica
13/10/2015, William LIÉNARD
---
Nόστος, Greek for "back home", is a collection of eight electro-acoustic compositions for six-stringed cello (Daniel Barbiero, USA) and electronics (Bocci Cristiano, Italy). The collaboration between the two musicians came about via the internet. Each composition starts with a solo cello, of which the sound is distorted and deconstructed and supplemented with electronic accents. That results in experimental and atonal tracks with deep bass sounds, over which dark drones are spread: ambient soundscapes in which the bass often dominates and the electronics create an industrial feel.
The first three songs on Nόστος sound more like sound collages than as musical compositions, although occasionally there are indeed melodic fragments, but Contrabbassi in Marcia, in which Barbiero's double bass and Bocci's six-string bass enter into an interesting dialogue, is in fact the first composition in which experiment is coupled to accessible sound patterns, with a balance between atonality and harmony. The material gets neoclassical traits from then onwards, as in Bordeaux su Nero Sopra il Grigio, in which the bass is given priority and the electronics only put subtle touches; a dreamy and introspective track. Se fosse il tempo di un Branco Pesci is again an interesting confrontation between double bass and six-string bass, with carefully dosed electronic keys of light and dark. Rientri Casuali (take 2) is a reprise of track 3, and L'Ultimo Treno per Follonica starts with field recordings of curdling and metallic noise, between which dep and warm cello sounds are woven. The track grows into a beautiful duet for double bass and six-string bass, with only occasional noise in the background to support. A very nice track.
Nόστος by Daniel Barbiero and Cristiano Bocci, is a very diverse album, but unfortunately, the more experimental tracks are not of the same quality as the rest of the material, that makes a much better and more exciting impression. Time to make choices, and then the sequel will definitely be a perfect album.
Tracklist:
1. Gli Alberi, a Gennaio
2. Quando il Pubblico Incontra le Frequenze Basse
3. Rientri Casuali
4. Contrabbassi in Marcia
5. Bordeaux su Nero Sopra il Grigio
6. Se il Tempo Fosse un Branco di Pesci
7. Rientri Casuali (take2)
8. L'Ultimo Treno per Follonica
William LIÉNARD
13/10/2015
---
Nόστος, Grieks voor "terug naar huis", is een collectie van acht elektroakoestische composities voor zessnarige cello (Daniel Barbiero, USA) en electronics (Cristiano Bocci, Italië). De samenwerking tussen beide muzikanten kwam tot stand via het internet. Elke compositie vertrekt van een solo voor cello, waarvan het geluid is vervormd en gedeconstrueerd en aangevuld met elektronische accenten. Het resultaat is een verzameling experimentele en atonale tracks met diepe basgeluiden waarover meestal donkere drones zijn gelegd, ambiente soundscapes waarin de bas vaak domineert, maar de elektronica minstens even nadrukkelijk aanwezig is om een industriële sfeer te creëren.
De eerste drie composities op Nόστος klinken eerder als geluidscollages dan als muzikale composities, zij het dat er wel degelijk af en toe sprake is van melodieuze fragmenten, maar pas vanaf Contrabbassi in Marcia, waarin Barbiero's dubbele bas en Bocci's zessnarige bas een interessante dialoog aangaan, is er sprake van composities waarin experiment gekoppeld wordt aan toegankelijke geluidspatronen en er een evenwicht gevonden wordt tussen atonaliteit en harmonie. Vanaf dat moment krijgt het materiaal ook duidelijk neoklassieke trekjes, zoals in Bordeaux su Nero Sopra il Grigio, waarin de bas voorrang krijgt en de elektronica niet meer dan subtiele accenten legt: een dromerige en introspectieve track die ons heel erg kan bekoren. Se il tempo fosse un Branco di Pesci is andermaal een interessante confrontatie tussen dubbele bas en zessnarige bas met zorgvuldig gedoseerde elektronische toetsen van licht en donker. Rientri Casuali (take 2) is een herneming van track 3 en L'Ultimo Treno per Follonica begint met field recordings van stemmen en metaalachtige noise, waartussen uiteindelijk diepe en warme celloklanken worden geweven en dat uitgroeit tot een prachtig duet voor dubbele bas en zessnarige bas, met nog maar af en toe wat noise op de achtergrond ter ondersteuning. Een heel erg mooie track.
Daniel Barbiero en Cristiano Bocci maken van Nόστος een zeer gevarieerd album, waarin de eerder experimentele tracks jammer genoeg niet het niveau hebben van de rest van het materiaal, dat een veel duidelijker neoklassiek indruk maakt. Er moeten dus keuzes worden gemaakt en dan wordt de opvolger beslist een perfect album.
William LIÉNARD
13/10/2015
---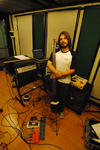 ---