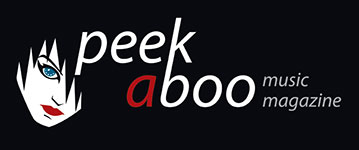 like this cinema review
---
WOODY ALLEN
Irrational Man
Movie
•
Cinema
[64/100]

Paradiso
09/08/2015, Didier BECU
---
He probably stays busy until his death, and Woody Allen will treat his cinema fans on a new movie every year. Irrational Man is his 46th film. A huge number, and the truth requires us to say that he also directed some real blunders. Those who do not believe it, watch last year's Magic In The Moonlight. Emma Stone is still Allen's current muse, and the redheaded actress may once again fall in the arms of an old intellectual. It is indeed a beloved theme of Allen, and those who read the gossip magazines, know that the filmmaker is not afraid of that himself.
The male character is Abe Lucas (Joaquin Phoenix, with a beer belly), a philosophy professor who even needs a sip of whiskey to function during class. Lucashas a philosophical explanation for all things in life, but his own life is a mess. When he arrives at a new university, he tries to start again, but the urge to drink is too big. His colleague Rita (Parker Posey) tries to get him on the right path by forging a relationship with him, but he feels better in the company of the much younger student Jill (Emma Stone). But Abe tries to use (at least in the beginning) his mind and doesn't pop into Jill's bed immediately, but a crime changes that.
Irrational Man is a schizophrenic film, which eventually comes to a more or less coherent conclusion The first part is a typical romantic drama as Allen usually makes them, and of course with an anthology of quotations from the works of Kant, Kierkegaard and Sartre. The second part is a thriller that seems at the beginning a bit too ordinary, but becomesx interesting thanks to an unexpected plot twist. Irrational Man remains a moderate Allen film which reaches a much higher lever because of the actors (especially Phoenix). It is not a classic, but while we write this,
the New Yorker may be preparing his 47th film!
Didier BECU
09/08/2015
---
Hij blijft er wellicht mee doorgaan tot aan zijn dood, want op jaarbasis trakteert Woody Allen de filmliefhebber op een nieuwe prent. Irrational Man is zijn 46e film. Een immens aantal, en de waarheid verplicht ons om eraan toe te voegen dat hij toch ook heel wat miskleunen op pellicule heeft gezet. Wie dat niet gelooft, kijkt gewoon naar Magic In The Moonlight van vorig jaar. Emma Stone is nog steeds Allens muze van dienst, en de roodharige actrice mag nog maar eens in de armen van een oude intellectueel vallen. Het is inderdaad een thema dat bij Allen meer dan regelmatig aan bod komt, en wie de roddelblaadjes leest, weet dat de cineast daar ook niet bepaald vies van is.
Het mannelijke personage is deze keer Abe Lucas (Joaquin Phoenix met bierbuik), een filosofieprofessor die zelfs tijdens de les een slok whisky nodig heeft om te kunnen functioneren. Hij geeft aan alle dingen in het leven een filosofische uitleg, maar met zichzelf ligt hij hopeloos in de knoop. Als hij op een nieuwe universiteit terechtkomt, tracht hij met een nieuwe lei te beginnen, maar de drang naar de drank is te groot. Zijn collega Rita (Parker Posey) probeert hem op het rechte pad te krijgen door een relatie met hem aan te knopen, maar hij voelt zich beter in zijn vel als hij met zijn veel jongere studente Jill (Emma Stone) aanpapt. Abe gebruikt echter (althans in het begin toch) zijn verstand door niet meteen in Jills bed te wippen, maar een misdaad brengt daar verandering in.
Irrational Man een schizofrene film die uiteindelijk tot een min of meer samenhangende conclusie komt. Het eerste deel is een typisch romantisch drama zoals Allen ze aan de lopende band maakt, en de thematiek wordt zoals steeds aangevuld met een veelheid van citaten uit het werk van Kant, Kierkegaard of Sartre. Het tweede deel is dan weer een thriller die in het begin ontzettend ordinair lijkt, maar die dankzij een onverwachte plotwending toch nog interessant wordt. Toch blijft Irrational Man een matige Allen-film, die dankzij de acteurs (vooral Phoenix) een hoger niveau bereikt. Een klassieker is het niet, maar terwijl we dit schrijven is de New Yorker wellicht al aan zijn 47e bezig.
Didier BECU
09/08/2015
---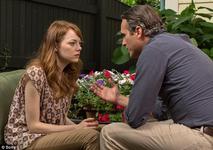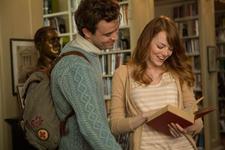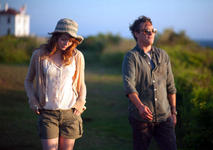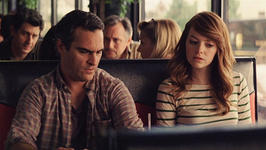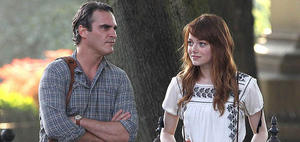 ---