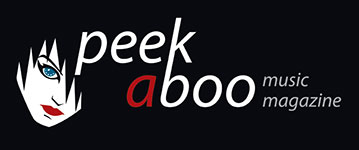 like this cd review
---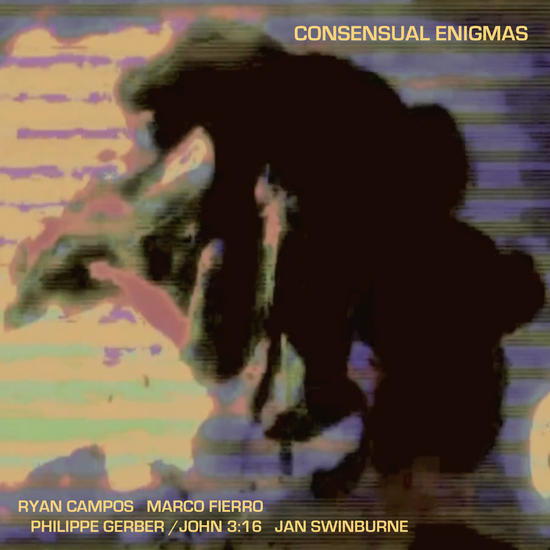 JAN SWINBURNE
Consensual Enigmas
Music
•
CD
Ambient
•
Electronics
•
Experimental
[75/100]

Alrealon Musique
07/08/2015, William LIÉNARD
---
John Swinburne is a Canadian video artist from Ontario (Canada). For his project Consensual Enigmas, he was inspired by the life and paintings of British painter Francis Bacon. The music associated with the video is now released as a remix CD in collaboration with Ryan Campos, Marco Fierro and Philippe Gerber/John 3:16. The result is a collection of four compositions.
First you hear the original mix of Consensual Enigmas by Jan Swinburne himself. It's a dreamy and atmospheric track with buzzing drones, cautiously added noise and short electro shocks, similar to the sound of trotting horses, complemented by fragile thunder-like drones, bells, tingling synths and little sounds, as the soundtrack for a video clip in which beige, blue and black dominate, with occasionally human forms between the bizarre shapes.

The Marco Fierro Remix sounds more emphatic, because the drones are mixed in the foreground and the synths sound like far-grinders and circular saws, always cautious and restrained. Noise, bells, and electro shocks are gone. The Ryan Campos Remix sounds more atmospheric. The drones sound close and even go crescendo, with the circular saw-like synths and the sparse percussion on the background. Halfway new synths are introduced and the track gets an almost religious character. We hear leftovers of noise and then silence.
The John 3:16 Remix puts a dark drone on the background and builds the track with good sounding metallic synths, pulsing electro shocks and abrasive noise. We hear bells and the sound of crows, piano and tingling synths. In terms of atmosphere, the track sounds a lot more cheerful and less dark than the original mix and the two remixes.
Tracklisting:
1. Consensual Enigmas (Original Mix) 4:36
2. Consensual Enigmas (Ryan Campos Remix) 4:40
3. Consensual Enigmas (Marco Fierro Remix) 4:37
4. Consensual Enigmas (Philippe Gerber/JOHN 3:16 Remix) 4:40
http://janswinburne.com/pages/consensual-enigmas-remix-project
William LIÉNARD
07/08/2015
---
Jan Swinburne is een Canadese videokunstenaar uit Ontario (Canada). Voor z'n project Consensual Enigmas liet hij zich inspireren door het leven en de doeken van de Britse schilder Francis Bacon. De muziek die bij die video hoort is nu als remix-CD uitgebracht. Ryan Campos, Marco Fierro en Philippe Gerber/John 3:16 namen de track onderhanden en het resultaat is een verzameling van vier composities.
Eerst hoort u de originele mix van Consensual Enigmas door Jan Swinburne zelf. Het is een dromerige en atmosferische track met zoemende drones, voorzichtige noise en korte elektroplofjes die soms lijken op het geluid van dravende paarden, aangevuld met fragiele donderachtige drones, bellen, tintelende synths en kleine geluidjes als de soundtrack voor een videofragment waarin beige, blauw en zwart overheersen en tussen de bizarre vormen af en toe menselijke gedaanten waarneembaar zijn.
De Marco Fierro Remix klinkt nadrukkelijker, want de drones zijn soms meer op de voorgrond gemixt en de synths klinken als verre slijpmachines en cirkelzagen, altijd voorzichtig en ingetogen. Noise, bellen, elektroplofjes en de kleine geluidjes zijn verdwenen. De Ryan Campos Remix klinkt in vergelijking atmosferischer. De drones zitten vooraan en gaan zelfs een beetje crescendo, met cirkelzaagachtige synths en af en toe spaarzame percussie op de achtergrond. Halfweg worden hoger klinkende drones toegevoegd en krijgt de track zowaar een bijna religieus karakter. We horen nog overschotjes van noise en dan stilte.
De John 3:16 Remix gebruikt een donkere drone als achtergrond en bouwt de track op met goed klinkende, metaalachtige synths, pulserende elektroshockjes en schurende noisegeluidjes. We horen bellen en het geluid van kraaien, piano en tintelende synths tussendoor. Qua sfeer klinkt de track een stuk opgewekter en minder donker dan de originele mix en de beide remixen.
William LIÉNARD
07/08/2015
---