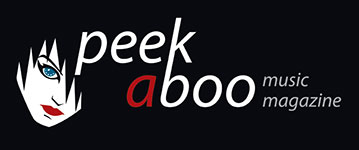 like this interview

---
THE BREATH OF LIFE
We try to present a good mix of new, old, sweet and bouncy songs.
22/02/2015, Wim GUILLEMYN
photos: © (2) Marquis(pi)X ; (3) Francois Bauwens
---
I guess you can say that The Breath Of Life are an instution in the Belgian Goth scene. During decades they were, without any doubt, the sole Belgian band who was able to blend ethereal darkwave (think Cocteau Twins), gothrock (think The Cure) and post-punk (well think of Siouxsie & The Banshees). Or perhaps it is better just to think of The Breath Of Life as they created a very personal sound. Such bands are of course are needed on a festival like Black Easter and again another excuse for Peek-A-Boo to invite them for an interview.
You are around for decades. What has changed, you think?
Isabelle: Ha, ha ,ha , yes, more wrinkles here and there, more white hair (but this is actually great for me), etc.....Lots of things have changed throughout the years. Better and worse things ;-)
Phil: For sure, we all know that a lot of things have changed during the last 30 years. This revolution is mainly in the music market and media, but a lot less in the music itself. What I found very disappointing is the lack of real desire and fighting spirit. I don't say it doesn't exist anymore, but it is rare. Music is more a game for a lot of young guys...Maybe that is what it is, finaly. Let us go for a new round.
What would you like to do with the band if you could have carte blanche?
Isabelle: I would love to play much more live shows all over the world.
Didier Cz: I would buy a private jet, that would be easier to go on tour abroad.
You already have an extensive repertoire from which you can choose to make a setlist. How do you do that?
Isabelle: Well, we do have to make compromises about all the songs everyone in the band wants to play live.There are songs we have to play like «Nasty cloud» & «Noamina», just because the audience wants to hear them. Then we try to have a good mix of new, old, sweet and bouncy songs.
You bassist left recently. How come? And will he be replaced?
Isabelle: Yes, Benoit didn't have any pleasure anymore when playing live, so he decided to leave the band. Few weeks later we asked Phil, the former Breath Of Life guitarist, if he wanted to come back and we are very happy that he did. So when Phil plays the guitar on the songs he wrote, Didier the second guitarist, plays the bass and vice versa.
Phil: It is sad for Benoît, but he had some health problems and that is why it was unpleasant for him to travel and play live. Now it will be a big challenge for Didier and me, because we have never played the bass on stage before. I don't think I will be the best technical bass player, but I'm not the best guitar player either (laughs). However I give a lot of attention to the atmosphere I put in the songs. And anyway, I realise that I have a lot of pleasure playing the bass.
Can we expect new work from you in 2015?
Phil: After all these changes we will need a little bit of extra time to create new songs, so it is not easy to answer that question now.
Isabelle: A new album is not for this year, but it doesn't mean we can't play new songs live sometimes.
What can we expect of The Breath Of Life on Black Easter?
Isabelle: A great mix of old and new songs, full of emotion. But also a very special show because Phil Mauroy, the former TBOL guitarist, is playing with us again, so it is going to be a very special show.
Are there any other bands at the festival that you would like to see?
Isabelle: Yes, the line up of this festival is wonderful. I hope to be able to see all the bands. It is always a great pleasure to see Sieben, Qntal and Rosa Crvx again.
Didier: I really like Rosa Crvx. Still an amazing show … A kind of mystical experience.
Do you have a favourite album or artist? And which contemporary artist/band would you recommend?
Phil: Favourite ? I've been in London in December to see The Cure. Maybe they are my favourite, but it is not easy to answer that question. The last gig I saw was the "The Belgians" show of The Experimental Tropic Blues Band last Saturday, and the last CD's I've bought were The Twilight Sad and Fuck Buttons...
Isabelle: My favourite artists ever remain Cocteau Twins and Dead Can Dance. Some of my new interesting discoveries are The Twillight Sad and Anna Calvi.
Didier Cz: It depends of the mood I'm in. For the moment, I feel more like listening to "heavy stuff". A few weeks ago, I've been to Antwerp to see Monster Magnet, the legendary American "stoner rock" band. It was really great. I also discovered an Italian band recently: Ash Code, and an English one: Esben And The Witch. Both are very good, I think. But I am also addicted to classics like And Also The Trees, Joy Division or Depeche Mode…
Thank you for the interview!
Wim GUILLEMYN
22/02/2015
---