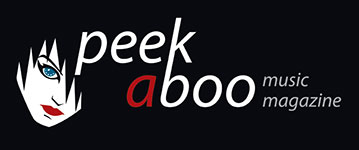 like this cult movies review
---
PATRICK SYVERSEN
Rovdyr/Manhunt
Movie
•
Cult movies
Horror
[40/100]

02/01/2015, Didier BECU
---
Why do certain films have an international title? Rovdyr sounds indeed better than the hackneyed Manhunt, not? Of course we know the answer, but still...
Rovdyr is a Norwegian film directed by Patrik Syversen and by a lot of people compared to Wrong Turn. With a small budget and a great love for cinema he makes a film that hopefully yields some money.
Syversen's film takes place in 1974, which not coincidentally is the year in which The Texas Chainsaw Massacre was released. Even the minivan is of the same mark and just like in Tobe Hooper's classic this film begins at the moment when one of the four young travelers has the need to pee. And the comparison goes further, because these four youngsters take along a hitchhiker. A stupid decision, because quickly they must run away from a gang of redneck lunatics. We reveal nothing if we tell you that the hitchhiker is first slain, because the poor woman is out of sight after only five minutes. What follows is nice, but completely unnecessary.
The intentions are good, but there is a lack of a real story. Who are these men? What do they want? What did that poor hitchhiker do wrong? Questions without answers. That is a pity, because despite the tight budget the film has a claustrophobic atmosphere like Deliverance, and that is strongly accentuated by means of the retro soundtrack. But when there is no story, then you only have images of young people running through the Norwegian woods, hoping that they will reach the end titles.
Didier BECU
02/01/2015
---
Waarom krijgen sommige films een internationale titel? Rovdyr klinkt toch pakken beter dan het afgezaagde Manhunt, niet? Natuurlijk kennen we het antwoord, maar toch…
Rovdyr is een Noorse film die werd bedacht door Patrik Syversen en die door heel wat mensen wordt vergeleken met Wrong Turn. Dus met een klein budget en een grote liefde voor cinema een film maken waarvan je hoopt dat hij een flinke stuiver opbrengt.
Syversen maakte een film die zich afspeelt in 1974 en dat is niet geheel toevallig het jaar waarin The Texas Chainsaw Massacre uitkwam. Zelfs het minibusje is van dezelfde makelij en net als Tobe Hoopers klassieker begint ook deze film op het moment dat één van de vier jonge reizigers nood heeft om wat lichaamsvocht te lozen. En de vergelijking gaat nog door, want ook deze vier jongelui nemen een liftster mee. Een debiele beslissing, want voor ze het weten moeten ze op de vlucht slaan voor een bende losgeslagen gekken. We verklappen niks als we je vertellen dat de liftster als eerste wordt gedood, want de arme vrouw komt amper vijf minuten in beeld. Wat daarna volgt is leuk, maar geheel overbodig.
De intenties zijn goed, toch ontbreekt er een verhaal. Wie zijn die mannen? Wat willen ze? Wat heeft die arme liftster in godsnaam misdaan? Nooit gedacht dat we als Paul Jambers zouden klinken, maar toch zijn het allemaal vragen waarop geen antwoord komt. Dat is bijzonder jammer, want ondanks het krappe budget bezit de film de claustrofobische sfeer van Deliverance, die extra geaccentueerd wordt door de retro-soundtrack. Maar zonder verhaal blijft het natuurlijk niet meer dan beeldjes kijken van een paar jongelui die door de Noorse wouden lopen en hopen dat zij de eindtitels zullen halen. Echt slecht is Rovdyr niet, alleen zat er heel wat meer in deze prent uit 2008.
In de Benelux vind je deze titel op het Bright Vision-label, alleen op dvd.
Didier BECU
02/01/2015
---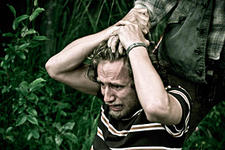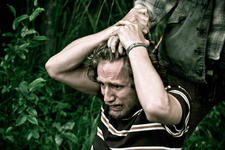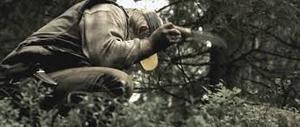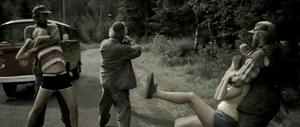 ---