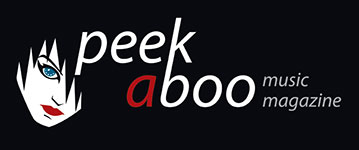 like this digital review
---
STRIKKLAND
Predatorial Right
Music
•
Digital
EBM
[85/100]

Self-released
30/04/2020, Peter DOLPHEN
---
Sweden may have become one of the most EBM-producing countries, hence the multitude of projects the country has (not that long ago, our friends of Body Beats organised the International EBM-day 2019 with only Swedish bands).
It may not come as a surprise that over there new bands come out of the ground like mushrooms...
One of these new bands is Strikkland. Although, new... The band already exists for 5 years (since 2015), but has finally released their first single: Predatorial Right.
The track, normally followed by a second single in May (Dance like a god) and a still unnamed EP later on, shows clearly the influence of the bands the 2 members (Hendric Ceder, programming and Hendrik Johansson, lyrics) call their idols: DAF, Nitzer Ebb and SA42. I cannot put my finger on the fact that Depeche Mode is also an influence on this, but maybe that will be more clear in future releases.
At this point the single is only available through Bandcamp, but give it a try, you might like it!
Peter DOLPHEN
30/04/2020
---
Zweden mag een van de meest EBM-producerende landen genoemd worden, getuige de vele projecten die het land rijk is (niet zo lang geleden organiseerden onze vrienden van Body Beats nog een volledig Zweedse avond op International EBM Day 2019).
Dat nieuwe bands er als champignons uit de grond schieten, is dan ook geen verrassing.
Een van die nieuwe bands is Strikkland. Nu ja, nieuw... De band zelf bestaat al 5 jaar (sinds 2015) maar heeft nu eindelijk zijn eerste exploot ook effectief uitgebracht: de single Predatorial Right.
Het nummer, dat normaliter in mei gevolgd zal worden door een tweede single (Dance like a god) en een nu nog naamloze EP, laat niets aan de verbeelding over: het is duidelijk dat de 2 (Henric Ceder, programming en Hendrik Johansson, lyrics) stevig beïnvloed zijn door dun idolen van DAF, Nitzer Ebb en SA42. Zelf haalt de band ook Depeche Mode aan als invloed, hoewel ik die nu niet direct hoor (misschien wel in wat nog volgt).
Voorlopig enkel digitaal te koop via Bandcamp, maar probeer het: you might like it!
Peter DOLPHEN
30/04/2020
---