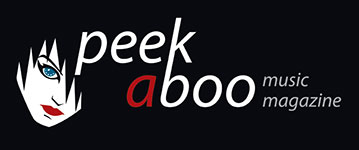 like this cd review
---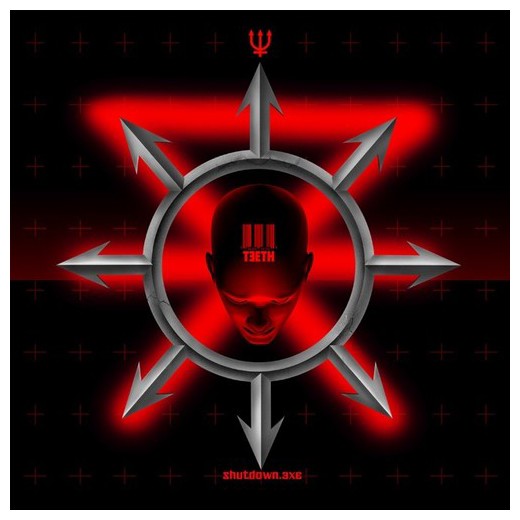 3TEETH
Shutdown.exe
Music
•
CD
Industrial
Self-released
28/08/2017, Clémence MESNIER
---
Alexis Mincolla (voice), Xavier Swafford (keybords), Andrew Means (drums) and Chase Brawner (guitar) the four members of the industrial band 3Teeth, appeared four years ago. Their visual identity could be confused with retrowave, which was in fashion in 2013 : infographics, numeral figures, algorithms and source-codes are regular in their video-music. But 3Teeth's music is very far from « synthwave ». They are part of the L.A's industrial scene, popularised by OMF and Daïs Records, Das Bunker parties, Amanda Jones and Sarah Toon Djs or bands such as Youth Code, Kanga, All Your Sisters or High Functionning Flesh. Less analogic and more produced than them, 3Teeth shares with them their classic influences, Ministry and Skinny Puppy. They are also exploring other genres – having opened for Tool and Primus.
Even if 3Teeth seems to be a classical industrial band because of their appearance – military dress-code, leather, black sunglasses, shaved heads and muscles – and because of the first sounds we can hear –violent kick, aggressive voice, twisted synths-, you need to get rid of that and concentrate on the entire Shutdown.exe.
Instead of starting brutally, there is the ascendant 'Divine Weapon' which opens with a solemn chorus. This creates a deep and symbolic atmosphere to justify their name, 3Teeth, the trident, Poseidon's divine weapon. If we look at the lyrics, the driving force is religious symbols : « This world's a sham / Fuck your tower of babel / Crucify your eyes / For what you see » ('Slavegod'). Even though Alexis Mincolla was previously used to singing without modulations, new registers are now used (on 'Pit of Fire') and some spoken-word (on 'Tabula Umbra''s low tempo). The whole work is enhanced by sick-sounds –'Tower of Disease's muffled voices - and we find the oldest but most effective on 'Atrophy' and 'Final Product'. 'B.O.A.' has the same powerful beats. 'Oblivion' and 'Shutdown' seem to be the same song, a continuity which is due to the rythmn work. The « industrial métal » category can be applied to 'Pit of Fire' and 'Degrade', but this album is not only made of blood and steel.
'Insubstancia' is one of the most original songs. Maintaining a noisy background, soft waves come to the forefront while Mincolla speaks about simulacrums : « Thinking that your plan is so ideal / losing true sight of what is real ». 3Teeth manage to brighten industrial tradition with their modern production, leaving a strong impression.
Clémence MESNIER
28/08/2017
---
3Teeth, quatuor industriel réuni autour d'Alexis Mincolla (voix), Xavier Swafford (claviers), Andrew Means (batterie) et de Chase Brawner (guitare), a fait son apparition en 2013. D'emblée, les codes de leur identité visuelle étaient posés, pouvant prêter confusion avec les univers rétro-futuristes revenant en force à cette période : infographie faite de données chiffrées, algorithmes et codes sources font partie des éléments récurrents de leurs clips. Presque chaque morceau de ce deuxième album est d'ailleurs pourvu de son penchant audiovisuel, mais nous sommes ici très loin de la synthwave que pouvait laisser présager cette iconographie numérique un peu datée.
3Teeth fait partie de la scène industrielle de Los Angeles en plein essor, dont les labels OMF, Daïs Records ; les soirées Das Bunker ; les figures nocturnes comme Amanda Jones ou Sarah Toon et les groupes tels que Youth Code, Kanga, All Your Sisters ou encore High Functionning Flesh ont contribué à populariser. Moins analogique et plus produit que ces derniers, 3Teeth partage pourtant avec eux l'invocation des fondamentaux Ministry et Skinny Puppy, tout en explorant d'autres genres – ils ont notamment assuré les premières parties de Tool et Primus.
Si, à première vue, 3Teeth ne semble pas avancer dans la dentelle voire même écumer les poncifs du genre, autant par les premiers sons –force de frappe, voix agressive et trafiquée, synthés tordus – que par l'apparence –dress-code militaire, blousons de cuir, lunettes noires, crânes rasés et musculature apparente –, il faut pourtant s'en dégager pour se concentrer sur ce Shutdown.exe qui s'impose comme une excellente mouture dans cette scène. Contre toute attente, au lieu de rentrer directement dans le vif du sujet, c'est un 'Divine Weapon' tout en gradation qui fait ouverture sur des chœurs solennels, instaurant un climat grave et symbolique autour de ce morceau qui justifie leur nom, 3Teeth, le trident, arme mythologique de Poséidon et outil de destruction. Sur le plan des paroles, la symbolique religieuse sert de catalyseur « This world's a sham / Fuck your tower of babel / Crucify your eyes / For what you see » (Slavegod)
Alors qu'Alexis Mincolla nous avait précédemment habitués à un chant sans modulation, de nouveaux registres entrent en jeu (sur 'Pit of Fire') et du spoken-word sur 'Tabula Umbra' et son tempo ralenti. L'ensemble est rehaussé par des sons malades –voix assourdies et passées au filtre de 'Tower of Disease'. On retrouve 'Atrophy', un des titres les plus accrocheurs avec 'Final Product', dont les frappes sèches sont reprises sur 'B.O.A.'
'Oblivion Coil' précède 'Shutdown', formant une continuité par leur travail des rythmes ; tandis que 'Pit of Fire' et 'Degrade' dégagent clairement leur classification de métal industriel. Mais ce Shutdown.exe n'est pas taillé que dans le sang et l'acier. 'Insubstancia' est l'un des plus beaux morceaux par l 'originalité qu'il propose. Conservant un horizon hachuré, il déroule pourtant en premier plan des nappes synthétiques douces dans une annonce de simulacres : « Thinking that your plan is so ideal / losing true sight of what is real ». 3Teeth parvient à patiner les moyens de production actuels pour s'imprimer solidement dans une tradition anxieuse laissant forte impression.
Clémence MESNIER
28/08/2017
---