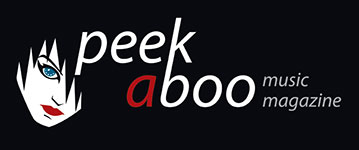 like this article review

---

DAVID BOWIE
DAVID BOWIE WAS
Article
11/01/2016, Didier BECU
---
A nasty coincidence. Other words do not exist. A few days before his sudden death, Peek-A-Boo decided to honour David Bowie. In the context of what we enthusiastically called our David Bowie month, we asked some musicians what David Bowie meant for them. It had to be a celebration, the fate of death made it a tribute to the greatest musician of all time who is now a black star in heaven.
FRANCOIS DUCARN (FACTICE FACTORY)
David Bowie is one of the major artists and visionaries of our century, he made many milestones in the history of rock 'n roll and its evolution. We all grew up with songs like Let's Dance, China Girl and Modern Love as they were the first video clips that appeared on TV. Bowie has been an indirect influence for many reasons, his style, his image, his performing and his musical achievement. His Ziggy Stardust period and his Berlin trilogy are a true reference for our band. Movies like The Hunger or Furyo are simply cult. My favourite song, it's hard to mention one song, but definitely Station to Station, Heroes and the Ziggy songs.
KRISTOF SOUVAGIE (THE MARY HART ATTACK)
David Bowie influenced me in the way that a musician has to be open minded. He worked with Brian Eno, but also with Nile Rodgers. All these different influences make him probably one of the most interesting artists ever. Bowie knew how to write a song. Just listen to Changes, Heroes of Suffragette City, there's a kind of rare melancholy/familiarity in his voice. I always read Bowie's texts. Strange, because usually lyrics aren't that important to me. My favourite song is Heroes. A few years ago I saw the movie Christiane F., and I got goose bumps when that song played. The Berlin period is the most important. The coolness of that period is entirely present in that song. It has the most iconic guitar riff ever.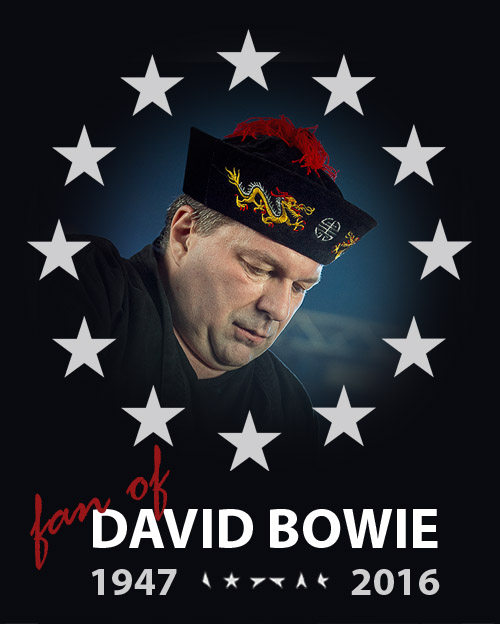 LUC VAN ACKER
Bowie made three albums (Low, Lodger and Scary Monsters And Super Creeps) which surely were the soundtrack for a certain period of my life. Bowie is the first artist who dared to switch to a totally different sound and image, and he did it in a credible way, even though his previous period was successful too. It's something nobody did before. His leading position in terms of image and music never were equalled. I look forward to visit the exhibition in Groningen and to listen to his new album. My favourite song is Fashion.


LUC WAEGEMAN (THE NEEDLE & THE PAIN REACTION)
Christiane F. really opened my Bowie-ears. I already noticed Heroes on the radio, as well as the B-side V2-Schneider which was a perfect soundtrack for my experimental days. But I was completely sold when I heard Boys Keep Swinging and Lodger. From then on, I listened to everything! On 18th May 1983, I finally saw him live during the Serious Moonlight tour in Brussels where the tour started. Unfortunately, in the same year, on 6th August, one of his backing vocalists and best friend Klaus Nomi died. Even though he was popular with Let's Dance, it was a great concert with mostly songs from the Ziggy Stardust and Station to Station period. Bowie keeps on fascinating me. His last exhibition (London, V & A) was stunning with his various egos and the matching costumes. Also Lazarus impresses me. See you later Starman! Scary Monsters (and Super Creeps) is my favourite song.
SANDER HERMANS (WHISPERING SONS)
I think it's hard to find a musician who is not influenced by David Bowie, the man with so many musical lives. My personal favourite is the Berlin period. The collaboration with Brian Eno led to a trilogy with Heroes, Lodger and my most played record ever Low. A fusion of funk, krautrock and dissonant atmospheric synthesizers. Something better is impossible for me. Thanks to Bowie I created an irresistible fascination for krautrock (Can, Neu!) and ambient (Brian Eno!). Because of him, I also discovered Philip Glass, because he wrote symphonies that are based on Low and Heroes. Bowie is an undeniable influence on my (young) life. I like to listen to full albums, but if I have to choose one favourite song, then it might be Station To Station: a masterpiece that is inspired by Kraftwerk. 10 minutes and 14 seconds, and not boring! The biggest goose bumps moment is when Bowie yells: It's not the side-effects of the cocaine I'm thinking that it must be love." For me, this is the best lyrics ever.
ALAIN DELTENRE (SOUL EMBRACE)
What I like most about David Bowie is his everlasting desire to change. He tried almost every musical genre and with great success too. That is maybe his greatest legacy, apart from his amazing music of course. Much to the dislike of many Bowie fans I choose Fame although the discussion on who was first, James Brown (Hot) or Bowie, is still going on. They're both made in 1975.



CHRIS KIPS (VITA NOCTIS)
David Bowie has something magical, he almost was an alien. I was young when I was impressed by his typical voice and quirky looks. Is he a musical influence? Maybe, but unconsciously. Heroes is my favourite Bowie song. The song has something minimal because of the few chords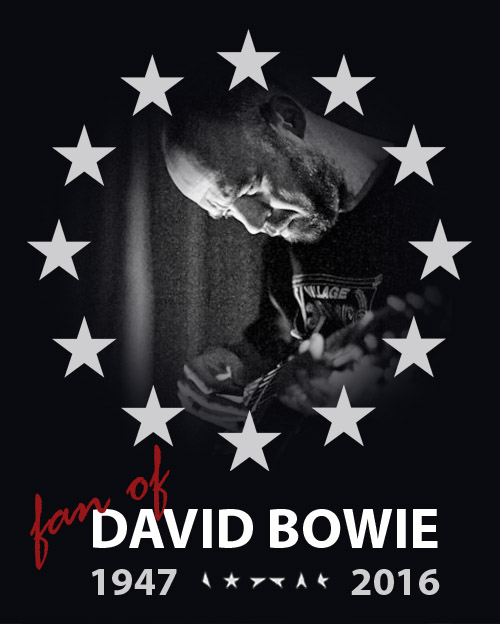 DIRK SERRIES
Bowie fascinates me since I was a kid and through aging the admiration just increased. Bowie was not only an excellent songwriter and performer, he also was a visionary who always knew how to keep the perfect balance between mainstream harmony and art. I can't consider him as a musical inspiration, except maybe those instrumentals during his Berlin period. However, his music always had a prominent place in my music collection. I do not have idols, but I always wanted to sit at a table with him. David Bowie is an enigma, I'm sure you could make wonderful conversation with him about all genres, cross-fertilization and experimentation. It's hard to choose any favourites from his immense catalogue, but right now, I would choose Scary Monsters And Super Creeps and 01.Outside.
DIRK DA DAVO (THE NEON JUDGEMENT, NEON ELECTRONICS)
I was very young when I started listening to Bowie. I bought his albums back then, but he wasn't really an influence on my musical work. Of course, I have a lot of respect for this man. With his new album he surprised us once again! My favourite track is Fame.





RONNY MOORINGS (CLAN OF XYMOX)
I grew up with the music of David Bowie. Especially Space Oddity, Heroes and Low made a big impression on me as a kid. I think I had all his albums. He was groundbreaking and he always changed, and that appealed to me. The use of Rick Wakeman's melotron and Brian Eno's synths made me want to have synthesizers as well. There are so many good songs, maybe Space Oddity is my all time favorite.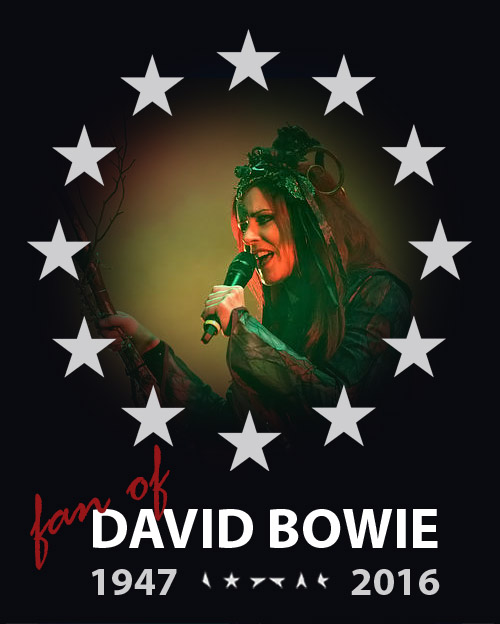 MONICA RICHARDS
David Bowie has always been the "complete artist" in my eyes. He creates, transforms, becomes introspective, emerges and moves along in his vision and music. No matter how popular he has been, he has always been true to himself. He has undergone so many changes, and as we ourselves grow and get older, we mirror those transformations. Our view of our own path changes as we ourselves gain more self-knowledge - and Bowie was able to express all of this. His influence has been for me to be myself, to not worry about critics and reviews, we move on - change is all we can truly count on. Favorite song... Can't choose one... Five Years or Scary Monsters (And Super Creeps) or I Would be Your Slave.
ASHLEY DAYOUR (WHISPERS IN THE SHADOW)
I still remember when I heard Low for the very first time. I was blown away. I'm not just talking about the infamous instrumental B-side with Warszawa and all this other bleak almost soundtrack songs. The thing I admire most about him, and the new album Blackstar proves that again, is that he's always challenging himself and his audience. He still does that after almost 50 years and 26 albums. Bowie, for me, will always be one of the most, if not THE most, influential pop/rock artist of all time. He influenced thousands, if not millions of musicians and artists from any kind of genre all over the world. Monday 11th was a mournful day.Thank you for the music! My favorite song depends on the mood and day. There are so many great ones. I could name almost any song from 01.Outside. But if you think about it, it just has to be Heroes. It's so much more than just a song and it never gets old, not a bit.
MARTIN BOWES (ATTRITION)
I remember the first time I heard Bowie. I was at a friend's house party in 1972 and his older brother put Ziggy Stardust on the record player. It sounded like something from another world to the young teenage me. I bought the album a year later and I always felt I was slow off the mark for that... I still play that vinyl album 43 years later. That whole early 70s serious glam sound I loved. Bowie, but also Roxy Music, Marc Bolan, Cockney Rebel... They were all a big influence on me and the major one before punk came along and ignited the spark that would ultimately result in my own works. Almost impossible to choose a favourite Bowie track, but today I shall choose Five Years, the opening track from Ziggy Stardust.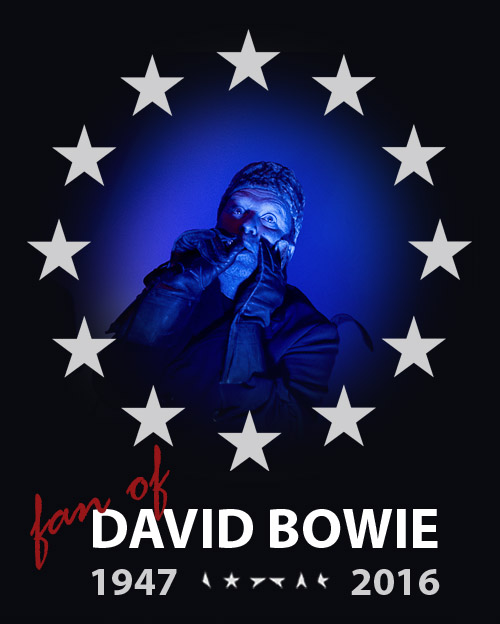 PETER SLABBYNCK (RED ZEBRA, EX-RZ)
I have a great admiration for David Bowie, but I am not really influenced by him. For Red Zebra we used Warszawa of Low as our intro. Back then, this track fitted well with the atmosphere of our music. I recently had the book of the exhibition on Bowie in my hands. All those characters he created, that's incredible! Unfortunately, I can't afford his stylists, but he gave me some ideas. I haven't heard his new record, but I am very curious. On his last one, there were some great songs too. Heroes is without any doubt one of the most iconic rock songs ever, but I prefer The Jean Genie and Rebel Rebel. Choosing between the two is difficult, but I prefer Rebel Rebel, because of the guitar riff and of course the title.
SIMI NAH
I'm not sure if David Bowie directly influenced me, but he definitely guided my emotions in several moments of my life. I can say that I shared my biggest sorrows with him... The beauty and magic of Bowie is that he is able to make you travel from one dimension to another in a second! Fear, happiness, sadness, anger, an "all in one" artist, for me THE biggest ever, together with Serge Gainsbourg! And don't forget his phenomenal acting in The Man Who Fell To Earth! No wonder that it is my favorite movie of all time! My favorite Bowie-track is Warszawa.

DAVE BALL (SOFT CELL, THE GRID)
I first saw David Bowie in 1972 on a UK TV show called Top of The Pops - he was performing Starman and the way he looked blew me away, it was the first time I encountered an androgenous performer that played with the concept of gender without appearing overtly gay. I think a lot of my friends at that time got into dyeing their hair, wearing earrings and a bit of eyeliner after seeing this performance. Musically, I think his strangeness or other worldliness was an influence and probably lead to my collaborations with Robert Fripp, Brian Eno and my other band, The Grid. A few years ago I even did a remix for Bowie's track Hello Spaceboy (Double Click Mix). My favorite Bowie song has to be Life On Mars - I love Mick Ronson's string arrangement and Rick Wakeman's piano playing, oh and the phone ringing at the end of the track is a magical moment!
Didier BECU
11/01/2016
---
Een akelig toeval. Andere woorden bestaan er niet voor. Een paar dagen voor zijn plotse dood besloot Peek-A-Boo om David Bowie te eren. In het kader van wat wij vol enthousiasme onze David Bowie-maand noemden, vroegen wij aan een aantal muzikanten wat David Bowie in hun leven betekende. Het moest een feest worden voor de allergrootste, het lot bepaalde echter dat het uiteindelijk een eerbetoon is voor een muzikant die nu in de hemel een zwarte ster is geworden.
FRANCOIS DUCARN (FACTICE FACTORY)
David Bowie is een van de belangrijkste kunstenaars en visionairs van onze eeuw die veel mijlpalen in de geschiedenis van de rock 'n roll creëerde. We groeiden op met nummers als Let's Dance, China Girl en Modern Love en ze waren de eerste videoclips die op tv verschenen. Bowie heeft een indirecte invloed op mij gehad om heel wat redenen: zijn stijl, zijn imago en natuurlijk zijn muziek. Zijn Ziggy Stardust-periode en zijn Berlijn-trilogie is voor onze band een referentie. Films als The Hunger of Furyo zijn gewoon cult. Mijn favoriete nummer? Tja, het is moeilijk om één nummer te kiezen, maar zeker Station To Station, Heroes en de Ziggy-liedjes.
KRISTOF SOUVAGIE (THE MARY HART ATTACK)
David Bowie heeft me muzikaal beïnvloed in die zin dat je als muzikant best een open blik hebt op de verschillende stromingen binnen de muziek. Zo werkte hij samen met Brian Eno, maar ook met Nile Rodgers. Al die verschillende invloeden maken van hem allicht één van de meest interessante artiesten ooit. Bowie weet hoe je een nummer schrijft. Luister maar eens naar Changes, Heroes of Suffragette City, Er zit een soort van melancholie/herkenbaarheid in zijn stem die je niet vaak tegenkomt. Bij Bowie zoek ik meestal de teksten op, om de betekenis ervan te doorgronden. Vreemd, want meestal is tekst voor mij niet eens zo belangrijk. Mijn favoriete nummer is Heroes. Toen ik een aantal jaar geleden de film Christiane F. zag, stond het haar op mijn armen automatisch overeind. De periode van Bowie in Berlijn spreekt me nog het meest aan. De koelte van die periode zit volledig in die song. Gewoon steengoed met de meest iconische gitaarlijn ooit.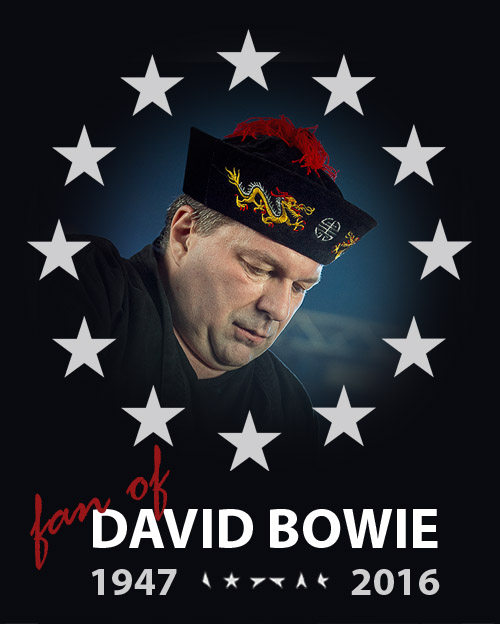 LUC VAN ACKER
Bowie heeft 3 platen (Low, Lodger en Scary Monsters And Super Creeps) gemaakt die toch wel de soundtrack van een bepaalde periode van mijn leven zijn. Bowie zelf is de eerste artiest die durfde overstappen naar een totaal ander geluid en imago, en dat ook op een geloofwaardige manier deed, ook al was het vorige succesvol. Het is iets wat niemand eerder deed. Zijn leidinggevende positie op gebied van imago en muziek zijn nooit geëvenaard. Ik kijk uit om zijn tentoonstelling in Groningen te bezoeken en zijn nieuw album te beluisteren. Mijn favoriete nummer is Fashion.

LUC WAEGEMAN (THE NEEDLE & THE PAIN REACTION)
Voor mij heeft de film Christiane F. mijn Bowie-oortjes echt geopend. Heroes was mij wel al op de radio opgevallen, alsook de B-kant. V2-Schneider was een perfecte soundtrack voor mijn experimentele momenten, maar met Lodger en de single Boys Keep Swinging raakte ik compleet verkocht en ben ik alles gaan beluisteren. Op 18 mei 1983 zag ik hem eindelijk live met het concert in Vorst tijdens de Serious Moonlight-tournee die daar toen startte. Helaas stierf in datzelfde jaar op 6 augustus één van z'n backingzangers en vriend Klaus Nomi. Niettegenstaande hij toen populair was met Let's Dance, was dit een superconcert met vooral songs uit de Ziggy Stardust- en Station to Station-periode. Bowie blijft me fascineren. Zijn laatste tentoonstelling (in Londen, V & A) was prachtig met zijn verschillende ego's en de bijpassende kostuums als rode draad. Ook van Lazarus ben ik weer onder de indruk. See you later Starman! Scary Monsters (and Super Creeps) is mijn lievelingsnummer.
SANDER HERMANS (WHISPERING SONS)
Ik denk dat het moeilijk is om een muzikant te vinden die niet is beïnvloed door David Bowie, de man met talloze muzikale levens. Mijn persoonlijke favoriete periode is Berlijn. De samenwerking met Brian Eno leidde tot een straffe trilogie met Heroes, Lodger en mijn meest grijsgedraaide plaat Low. Een fusie van funk, krautrock en dissonante atmosferische synthesizers. Beter wordt het niet voor mij. Dankzij Bowie kreeg ik een onweerstaanbare fascinatie voor krautrock (Can, Neu!) en ambient (Brian Eno!). Door hem heb ik ook Philip Glass leren kennen doordat hij symfonieën schreef die gebaseerd zijn op Low en Heroes. Een onmiskenbare invloed op mijn (nog jonge) leven dus. Zelf luister ik meer naar albums, maar als ik één favoriet nummer moet kiezen is het misschien Station To Station van de gelijknamige plaat, een mede door Kraftwerk geïnspireerd meesterwerk van 10 minuten en 14 seconden dat geen moment verveelt. Het grootste kippenvelmoment is als Bowie schreeuwt: It's not the side-effects of the cocaïne, I'm thinking that it must be love". Ik nomineer dit persoonlijk als de beste songtekst ooit.
ALAIN DELTENRE (SOUL EMBRACE)
Wat ik het meest aan David Bowie bewonder is zijn eeuwig verlangen om steeds te veranderen. Hij probeerde bijna elk muzikaal genre uit en met succes. Dat is misschien wel zijn grootste erfenis, naast de geweldige muziek natuurlijk. Veel fans zullen het me niet vergeven, maar ik kies voor Fame. Hoewel, de discussie of James Brown (Hot) of Bowie de eerste was, duurt nog steeds voort. De nummers zijn beide in 1975 gemaakt.



CHRIS KIPS (VITA NOCTIS)
David Bowie heeft iets magisch, misschien zelfs buitenaards. Ik was nog jong toen ik onder de indruk was van zijn typische stemgeluid en zijn eigenzinnige looks. Muzikale beïnvloeding? Misschien wel, maar dan onbewust. Heroes is mijn favoriete Bowie-nummer. Het nummer heeft iets minimal vanwege de weinige akkoorden.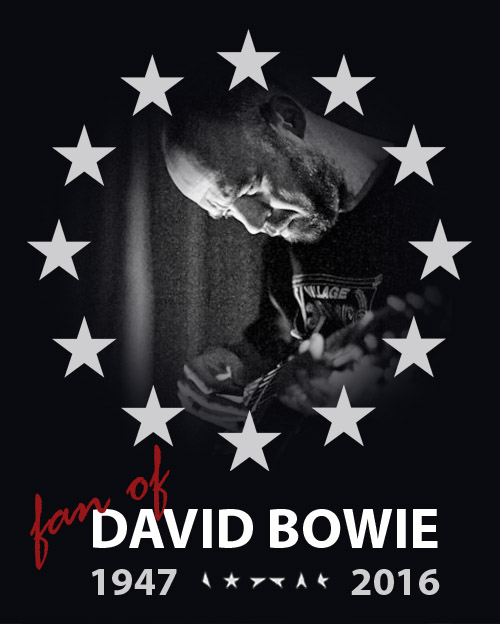 DIRK SERRIES
Bowie heeft mij sinds mijn jeugdjaren gefascineerd en met ouder worden van zowel hem als mijzelf is die waardering alleen maar toegenomen. Niet alleen was Bowie een uitstekend songschrijver en performer, maar ook een visionair die telkens de perfecte hamonie wist te bewaren tussen mainstream en het artistieke. Zijn muziek kan ik niet als inspirerend beschouwen, behalve misschien de instrumentals tijdens zijn Berlijnse periode, maar zijn muziek heeft altijd wel een prominentere plaats gehad in mijn muziekcollectie. Idolen heb ik niet, maar met Bowie heb ik altijd wel eens aan de tafel willen zitten. David Bowie blijft een enigma, maar ik ben zeker dat je met hem prachtige conversaties kon voeren over alle genres, kruisbestuivingen en experimenten. Het is moeilijk om favorieten uit zijn waanzinnig oeuvre te selecteren, maar op dit ogenblik zou ik kiezen voor Scary Monsters And Super Creeps en 01.Outside.
DIRK DA DAVO (THE NEON JUDGEMENT, NEON ELECTRONICS)
Ik was piepjong toen ik naar Bowie begon te luisteren. Ik kocht toen zijn albums wel, maar een invloed heeft hij op mijn muzikale werk niet echt gehad. Wel enorm veel respect voor deze man natuurlijk die met zijn nieuw album alweer pakkend uit de hoek komt! Mijn favoriete track is Fame.




RONNY MOORINGS (CLAN OF XYMOX)
Ik ben opgegroeid met de muziek van David Bowie. Vooral Space Oddity, Heroes en Low maakten een grote indruk op mij als kind. Ik denk dat ik al zijn albums had. Hij was baanbrekend en veranderde altijd, en dat sprak me enorm aan. Het gebruik van Rick Wakemans melotron en de synthesizers van Brian Eno zorgden ervoor dat ik ook synthesizers wilde hebben. Er zijn zo veel goede nummers van hem, misschien is Space Oddity mijn favoriet.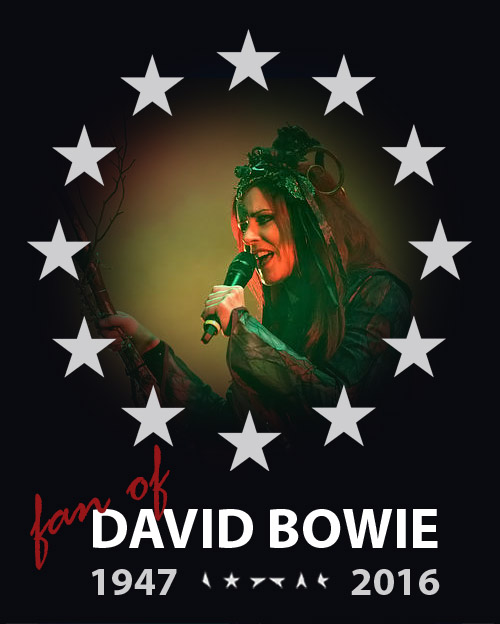 MONICA RICHARDS
In mijn ogen was David Bowie altijd de "complete kunstenaar ". Hij creëert, transformeert, wordt introspectief en beweegt zich mee in zowel zijn visie als zijn muziek. Het maakt niet uit hoe populair hij was, hij bleef altijd trouw aan zichzelf. Hij heeft zo veel veranderingen ondergaan, en als we zelf groeien en ouder worden, dan spiegelen we ons aan deze transformaties. Onze kijk op onze eigen weg verandert als we meer zelfkennis vergaren en Bowie was in staat om dit allemaal uit te drukken. Zijn invloed was dat ik mezelf kon zijn, me geen zorgen moet maken om critici of reviews. Mijn favoriete liedje... ik kan niet kiezen... Five Years of Scary Monsters (And Super Creeps ) of I Would Be Your Slave.
ASHLEY DAYOUR (WHISPERS IN THE SHADOW)
Ik herinner me nog toen ik Low voor de eerste keer hoorde. Ik werd weggeblazen. Ik heb het niet alleen over de beruchte instrumentale B-kant met Warszawa en al die andere sombere bijna soundtrackachtige nummers. Wat ik het meest bewonder aan hem, en dat bewijst hij opnieuw met Blackstar, is dat hij zichzelf en zijn publiek altijd uitdaagde. Hij doet dat na bijna 50 jaar en 26 albums nog steeds. Bowie is en zal altijd ééen van de meest, zo niet de meest invloedrijke rockartiest aller tijden voor mij zijn. Hij beïnvloedde duizenden, zo niet miljoenen musici en kunstenaars in elke vorm, in elk genre en over de hele wereld. Maandag 11 januari was een treurige dag. Bedankt voor de muziek! Mijn favoriete nummer is afhankelijk van mijn stemming. Er zijn zo veel sublieme nummers. Ik kan bijna elk nummer uit 01.Outside aanhalen. Maar als je erover nadenkt, dan kan het alleen maar Heroes zijn. Het is zo veel meer dan alleen maar een nummer en het wordt nooit oud, zelfs geen beetje.
MARTIN BOWES (ATTRITION)
Ik herinner me de eerste keer dat ik Bowie hoorde. In 1972 was ik op een feestje bij een vriend en zijn oudere broer zette Ziggy Stardust op. Ik was een jonge tiener en het klonk als iets uit een andere wereld. Ik kocht het album een jaar later, en 43 jaar later speel ik het nog steeds. Ik hield enorm veel van de glamrock uit de vroege jaren 70. Niet alleen van Bowie, maar ook Roxy Music, Marc Bolan, Cockney Rebel... Ze hadden allemaal een grote invloed op mij, daarna kwam de grote vonk met de punk en dat zou leiden naar mijn eigen werk. Het is bijna onmogelijk om een ​​favoriet Bowie-nummer te kiezen, maar vandaag wordt het Five Years, de openingstrack van Ziggy Stardust.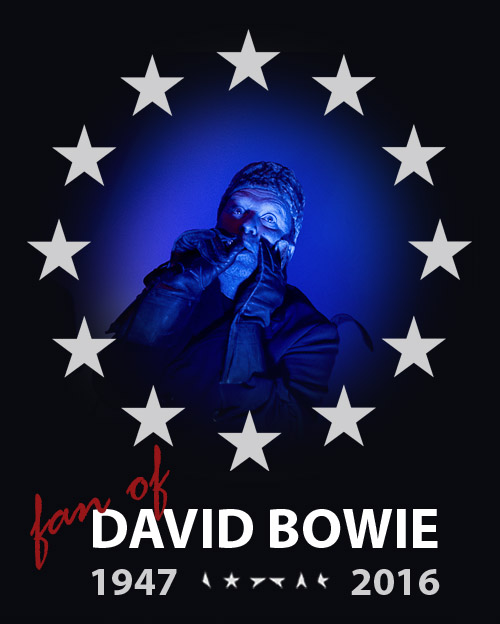 PETER SLABBYNCK (RED ZEBRA, EX-RZ)
Ik heb grote bewondering voor David Bowie, maar ik voel mij niet echt beïnvloed door hem. We hebben wel ooit met Red Zebra een instrumentaal nummer van hem als intro gebruikt, Warszawa van het album Low. Dat sloot mooi aan bij de sfeer van onze muziek toen. Ik heb onlangs het boek van de expo over Bowie in mijn handen gehad. Al die personages die hij gecreëerd heeft, dat is straf! Jammer genoeg kan ik zijn stylisten niet betalen, maar het bracht me wel op ideeën. Zijn nieuwe plaat heb ik nog niet gehoord maar ik ben wel zeer benieuwd. Op zijn vorige stonden in elk geval enkele knappe songs. Heroes is zonder meer één van de meest iconische rocksongs ooit geschreven, maar mijn voorkeur gaat toch naar The Jean Genie en Rebel Rebel. Kiezen tussen de twee is moeilijk, maar doe mij toch maar Rebel Rebel, vanwege de gitaarriff en uiteraard de titel.
SIMI NAH
Ik weet niet zeker of David Bowie me direct heeft beïnvloed, maar hij heeft zeker mijn emoties op verschillende momenten van mijn leven geleid. Ik kan zeggen dat ik mijn grootste verdriet met hem heb gedeeld. De schoonheid en magie van Bowie, hij is in staat om je in een seconde tijd van de ene naar de andere dimensie te brengen! Angst, geluk, verdriet, boosheid, een kunstenaar die alles kon en voor mij is hij samen met Serge Gainsbourg de allergrootste! En niet te vergeten zijn fenomenale acteerprestaties in The Man Who Fell to Earth! Geen wonder dat het mijn favoriete film aller tijden is! Mijn favoriete Bowie-track is Warszawa.
DAVE BALL (SOFT CELL, THE GRID)
Ik zag David Bowie voor het eerst in 1972 in Top of The Pops - hij speelde Starman en de manier waarop hij eruitzag blies me weg, het was de eerste keer dat ik een androgene artiest zag die met het genderconcept speelde zonder dat hij er als een homo uitzag. Ik denk dat veel van mijn vrienden in die tijd hun haar verfden. Na zijn verschijning op tv droegen mijn vrienden plots oorbellen en ze gebruikten een beetje eyeliner. Muzikaal denk ik dat zijn vreemdheid of onaards karakter een invloed op me had en waarschijnlijk leidde dat tot mijn samenwerking met Robert Fripp, Brian Eno en mijn andere band The Grid. Een paar jaar geleden heb ik zelfs een remix voor Bowie gedaan: Hallo Spaceboy ( Double Klik Mix). Mijn favoriete Bowie-nummer is Life On Mars - ik hou van Mick Ronson strijkersarrangement en ook het pianospel van Rick Wakeman. Oh, en die telefoon op het einde van de track is gewoon een magisch moment!
Didier BECU
11/01/2016
---