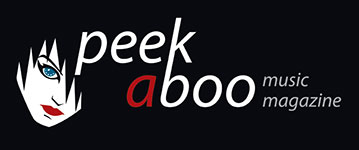 like this article review

---
DAVID BOWIE
David Bowie Is (Groningen, Groninger Museum, Until/tot 13.3.2016)
Article
11/01/2016, William LIÉNARD
---
DAVID BOWIE IS, it is a title that can mean different things: David Bowie is a big rock artist, David Bowie is a unique talent, David Bowie is my god... but no one could have imagined the unimaginable: David Bowie is dead...
Last Friday, on his 69th birthday, the British rock icon released his latest album Black Star and now, just three days later, the message about his death is on the news. His star is extinguished. It will never shine again. He really is a black star now.
If you would like to be confronted with his work and music once more, then you must go and see the exhibition at the Groninger Museum in Groningen (NL). DAVID BOWIE IS is an initiative of the Victoria & Albert Museum in London. In recent years, the exhibition was shown in Toronto, Sao Paolo, Berlin, Chicago, Paris and now it is shown in Groningen, where you are given an impression of the career of one of the pioneering and most influential artists of our time.
Depending on the period in which you were exposed to the music of David Bowie, you will be interested in the early glam rock period or the subsequent commercial episode in the career of the artist, but it is striking that especially the first period is discussed in the exhibition. Artistically it was definitely the most interesting period because of the Bowie's relationship with the dominant art movements of that time and his great personal creativity in that period. This is reflected in the costumes that he had made for his live performances of which quite a few are show in Groningen. Furthermore, you do get a good impression of the way he has been influenced and has influenced various currents in art, design, theater and contemporary culture. It is illustrated with more than 300 objects from the David Bowie Archives: handwritten lyrics, original costumes, photography, designs of albums, music videos, film clips and rare material from the past 50 years. The archive contains more than 70,000 objects, and one gets the impression that David Bowie knew from early age that he would be a big star once. He preserved everything from toys to children's drawings and everything that can be used to situate his personality.
Each stage of the exhibition was introduced with a an explanatory text, but most visitors used the headphones, which is a bit at odds with Bowie's suggestion to be particularly creative yourself. One got the feeling that the visitors moved through the dark spaces like zombies, especially on the second floor of the museum where the atmosphere of a concert was evoked. But there was hardly any participation as during a real live performance. Music was played in the exhibition spaces, but there was almost complete silence, because there was hardly any discussion or exchange of views, no loud enthusiasm or sing along. It often seemed more like a silent service, which perhaps is more topical now, given the bad news. But this event should be a feast: David Bowie is dead, long live David Bowie!
I had mixed feelings afterwards. I expected more and I expected something different, but it is difficult to explain what exactly. It has to do with the headphones, making this event a strictly personal experience, while rock and pop music are especially exciting when people experience them together, because only then arises something like shared euphoria. But do not let that be a reason not to visit DAVID BOWIE IS, because that exhibition wins in importance now that the man is gone.
DAVID BOWIE IS
Groninger Museum, Groningen (NL)
Until 13.3.2016
Opening times:
Tuesday/Sunday: 10:00 to 18:00 pm
David Bowie Late Night (Friday): 18:15-22:00 pm
Mondays during school holidays: 10:00 to 18:00 pm
(22 and 29 February)

Tickets:
Adults: € 23
17-18/ CJP/Students (HBO-WO): € 15
6-16 years old: € 3
Ticket office closes at 17:45 pm
Buy online: http://www.davidbowie-groningen.nl/
William LIÉNARD
11/01/2016
---
DAVID BOWIE IS, het is een titel waarbij je je van alles voor kan stellen: David Bowie is een groot rockartiest, David Bowie is een uniek talent, David Bowie is mijn god… niemand kon vermoeden dat het zou worden: David Bowie is dood…
Op z'n 69ste bracht het Britse rockicoon vorige week vrijdag z'n recentste album Black Star uit en nog geen drie dagen later staat het bericht over zijn overlijden op alle nieuwssites. Z'n ster is gedoofd. Ze zal nooit meer schitteren. Hij is nu een zwarte ster.
Mocht u nog één keer in stijl van z'n werk en muziek willen genieten, dan kan u nog tot 13 maart terecht in het Groninger Museum in Groningen (NL) waar een uitgebreide tentoonstelling over David Bowie loopt. Wij waren er tussen kerst en nieuwjaar en toen was er sprake van een overrompeling, wat wellicht mede het gevolg was van de vakantieweek, maar toch… de man die ooit Ziggy Stardust tot leven wekte blijkt nog heel erg populair te zijn, niet alleen bij vijftigers en zestigers, maar ook bij jonge muziekliefhebbers, want in Groningen was er sprake van een zeer gemengd publiek.
DAVID BOWIE IS is een initiatief van het Albert & Victoria Museum in Londen. De tentoonstelling was in de voorbije jaren te gast in o.a. Toronto, Sao Paolo, Berlin, Chicago, Parijs en nu dus in Groningen als voorlopig laatste plek waar u een indruk kan opdoen over de carrière van één van de baanbrekendste en invloedrijkste artiesten uit deze tijd.
In Groningen kan niemand aan David Bowie voorbij, want overal kom je z'n foto met rode bliksem tegen: platenzaken hebben hun etalages aangepast, boekenwinkels tonen titels over David Bowie en zelfs kledingzaken doen mee. Wie met de trein komt, wordt geconfronteerd met de indrukwekkende portretten van de Britse artiest aan de overkant van het water, want het modernistische Groninger Museum laat er geen misverstand over bestaan: voor de prestigieuze tentoonstelling DAVID BOWIE IS moet je niet in Amsterdam of Rotterdam zijn, maar hier, in het noorden, in Groningen.
Wij werden geconfronteerd met een vrij lange file bij het betreden van het museum. Heeft te maken met de grote toeloop, maar niet helemaal, want het is allemaal efficiënt geregeld: tickets gelden voor welbepaalde tijdslots en dus is de flow onder controle. Wegens de beperkte oppervlakte kan het desondanks toch vrij druk worden in de tentoonstellingsruimte en dus worden de bezoekers in groepjes toegelaten in de loop van het afgesproken tijdslot en niet allemaal te gelijk (terwijl de meesten uiteraard tegen het afgesproken uur verschijnen, wat geen goede beslissing blijkt te zijn). Bovendien krijgt elke bezoeker een hoofdtelefoon om de ingesproken commentaren bij de verschillende stadia zo goed mogelijk te volgen, wat opnieuw voor oponthoud zorgt. Een hoofdtelefoon weigeren is onmogelijk – zo is het niet georganiseerd - dus diegenen die eerder komen voor de algemene sfeer van een dergelijk evenement, zijn er aan voor de moeite (je moet de hoofdtelefoon niet opzetten, je moet hem wel de hele tijd meeslepen). Anderzijds is een hoofdtelefoon noodzakelijk om een perfecte indruk te krijgen van wat er aan informatie te rapen valt.
Al naargelang de periode waarin je als muziekliefhebber aan de muziek van David Bowie werd blootgesteld, gaat de aandacht naar de vroege glamrock of de latere commerciële episode uit de carrière van de artiest, maar het valt op dat vooral die eerste periode in de tentoonstelling in belangrijke mate aan bod komt. Op artistiek vlak was het beslist de interessantste periode wegens de relatie met de dominerende kunststromingen uit die tijd en de grote creativiteit die Bowie zelf aan de dag legde. Dat komt tot uitdrukking in de kostuums die hij liet maken voor zijn live-optredens en waarvan er flink wat getoond worden in Groningen, zij het dat ze visueel niet meteen op een boeiende manier worden gepresenteerd. Maar u krijgt wel een goede indruk van de manier waarop hij is beïnvloed en invloed heeft gehad op uiteenlopende stromingen in kunst, design, theater en hedendaagse cultuur. Dat wordt geïllustreerd met meer dan 300 objecten uit het David Bowie Archief: handgeschreven songteksten, originele kostuums, fotografie, ontwerpen van albums, videoclips, filmfragmenten en zeldzaam materiaal uit de afgelopen 50 jaar. Het archief bevat trouwens ruim 70.000 objecten, want het lijkt erop alsof David Bowie van jongs af aan wist dat hij ooit een grote ster zou worden. Hij heeft nl. alles bewaard, van speelgoed tot kindertekeningen en alles waarmee zijn persoonlijkheid kan worden omschreven. Dat het Groninger Museum máár 60.000 objecten in z'n collectiearchief heeft, is in dat licht niet meer dan een detail!
Elk stadium van de tentoonstelling wordt ingeleid met een bord waarop een verklarende tekst is afgedrukt, maar via de hoofdtelefoon krijgt de bezoeker alle informatie aangereikt. Het staat een beetje haaks op Bowies suggestie om vooral zelf creatief te zijn, want wegens het strakke geleidingssysteem in Groningen kan daarvan uiteraard weinig sprake zijn. Je kon je bijgevolg niet van de indruk ontdoen dat de bezoekers een beetje als zombies door de donkere ruimtes bewogen en dat viel vooral op in de grote ruimte op de tweede verdieping van het museum waar de sfeer van een concertzaal werd opgeroepen, maar waar het publiek nauwelijks participeerde zoals dat tijdens een echt live-concert het geval is. Als je zonder hoofdtelefoon door de tentoonstelling flaneerde, hoorde je voortdurend nieuwe fragmenten uit grote hits van David Bowie, maar voor de rest heerste er zo goed als totale stilte, dat wil zeggen: er werd nauwelijks gesproken of van gedachten gewisseld, enthousiast gereageerd of meegezongen, op uitzondering van een jongetje dat hier en daar aan de mouw van z'n vaders jasje trok. Dat is een beetje jammer, want daardoor was er van sfeer weinig sprake. Het leek vaak meer op een stille dienst, die wellicht nu meer op z'n plaats is gezien het slechte nieuws. Maar misschien net daarom zou een dergelijk evenement een feest moeten zijn: David Bowie is dood, leve David Bowie!
Ik had gemengde gevoelens achteraf. Ik had er meer van verwacht en ik had vooral wat anders verwacht, waarbij het moeilijk is om uit te leggen wat dan precies. Het heeft beslist iets te maken met die hoofdtelefoons, waardoor dit evenement tot een strikt persoonlijke ervaring werd herleid, terwijl rock- en popmuziek toch vooral spannend worden als men ze in gezelschap beleeft, want dan pas ontstaat er zoiets als gedeelde euforie. Maar laat dat geen reden zijn om niet naar DAVID BOWIE IS te gaan kijken, want die tentoonstelling wint alleen maar aan belang nu de man er niet meer is.
DAVID BOWIE IS
Groninger Museum Groningen (NL)
Tot en met 13.3.2016
Openingstijden:
Dinsdag/zondag: 10:00 tot 18:00 uur
David Bowie Late Night (vrijdag): 18: 15-22: 12:00
Maandag tijdens de schoolvakanties: 10:00 tot 18:00 uur
(22 en 29 februari)

Tickets:
Volwassenen: € 23
17-18 / CJP / Studenten (HBO-WO): € 15
6-16 jaar: € 3
Kassa sluit om 17:45 uur
Koop online: http://www.davidbowie-groningen.nl/
William LIÉNARD
11/01/2016
---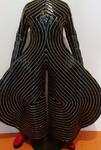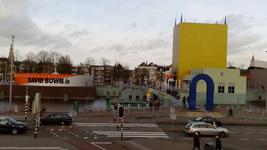 ---