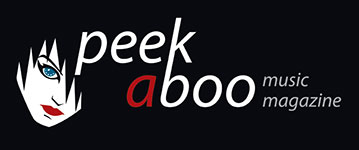 like this cd review
---
L'ORDRE DE HELOISE
Le Chaos De l' Histoire
Music
•
CD
Cold Wave
[78/100]

Self-released
02/01/2015, Wim GUILLEMYN
---
Before I start praising this album, I will first give some background info. This band consists of two Frenchmen (Alain and Frédéric ), who made several albums for 20 years, but never got the attention and recognition they deserve. Sadly enough Frederic passed away in March 2014 because of cancer.
This album has thus become their swan song and is now digitally available. Le Chaos de L' Histoire consists of 14 songs and it is a wonderful cold wave album. Musically the songs are between The Cure and Trisomie21. The dark and cartoon-like style of the cover immediately creates the right atmosphere.
The opening track is instrumental, reminiscent of the former Cure. Le Chaos de L' Histoire and Même le noir s'est assombri are two great songs. They both radiate despondency and alienation. In the title song, the voice sounds very desperate. The analog keyboard sounds and the cheap-sounding drums strengthen that atmosphere. The lyrics are usually dark, but the musical framing and the the way of singing make everything easy to digest. Le Froid and Si Le Vert Dicte Tomb refer again to the old Cure without copying them.
Croire en la nuit is another instumental that ends an album that takes you on a journey into dark places full of pain and despair.
This album comes close to the music of well-known groups such as Trisomie21, Kas Product, Little Nemo, Siouxsie, The Cure, Siglo XX... Curious? Then you should check the links below.
http://lordredheloise.bandcamp.com/releases
http://lordredheloise.free.fr/
Wim GUILLEMYN
02/01/2015
---
Voor ik de loftrompet steek (jawel) over dit werk zal ik eerst wat achtergrondinfo geven. Deze band bestaat uit 2 Fransen (Alain en Frédéric) die gedurende 20 jaar albums hebben gemaakt, maar die nooit de aandacht en de erkenning hebben gekregen die ze verdienen. Frederic stierf in 2004 aan de gevolgen van kanker.
Dit album is dus hun zwanenzang geworden en is nu digitaal verkrijgbaar. Le Chaos de L' Histoire bestaat uit 14 songs en is een prachtig cold wave album geworden. Muzikaal situeren de nummers zich tussen The Cure en Trisomie21. De hoes is een donkere en cartoonachtige stijl en hij roept meteen de juiste sfeer op.
Het openingsnummer Amelia is een instrumentaaltje dat wat aan de vroegere Cure doet denken. Le Chaos de L'Histoire en Même le noir s'est assombri zijn twee geweldige songs. Beiden stralen ze moedeloosheid en vervreemding uit. Het titelnummer is gezongen met een onderkoelde vorm van wanhoop. De analoge keyboardklanken en de goedkoop klinkende drumpartijen versterken die sfeer. De teksten zijn meestal gitzwart, maar door de manier van zingen en de muzikale inkleding blijft alles toch makkelijk verteerbaar. Le Froid en Si Le Vert Dicte Tombe refereren dan weer opnieuw naar de vroegere Cure zonder die te kopiëren.
Croire en la nuit is een instumentaal nummer en sluit het album af. Het neemt je mee op reis naar duistere plaatsen vol pijn en wanhoop. Dit album is o.a. vanwege zijn uniek muzikaal verhaal het ontdekken waard.
Dit album moet dan ook niet onderdoen voor het werk van andere, bekende cold wave groepen zoals Trisomie21, Kas Product, Little Nemo, Siouxsie, Cure, Siglo xx… Nieuwsgierig? Check dan zeker eens onderstaande links.
http://lordredheloise.bandcamp.com/releases
http://lordredheloise.free.fr/
Wim GUILLEMYN
02/01/2015
---