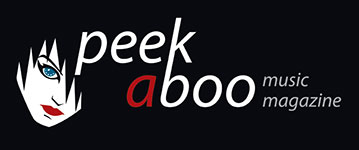 like this cd / digital review
---
FAUST PROJECT
The Future Comes On Sleeping Pills
Music
•
CD / Digital
Cold Wave
•
Post Punk
[88/100]

Analog Wasteland Records
07/08/2020, Jurgen BRAECKEVELT
---
After the release of the very tasty EP 'Somewhere Between The Shadows There's a Place Called Us' in the spring of 2019, Faust will release a full album in 2020. Manu Gillard's one-man project brings us Dark-Wave, Cold-Wave and Post-Punk with an undertone of tension and fear.
Emmanuel Gillard has been active in the music scene since the 1990s, also as a member of the bands Nervous Chillin', Poison Heart, Motueka and Hell-o-tiki. After more than 20 years touring all over Europe and sharing the stage with bands like The Misfits, UK Subs, The Buzzcocks, Alien Sex Fiend, The Dandy Warhols, etc. he felt it was about time to go his own way. After the aforementioned EP there now is the full-fledged 'The Future Comes On Sleeping Pills'.
So what's cooking? Very compelling tasty postpunk with delicious guitars, tight bass lines and regular solid noisy flavors that give it all bit of spiciness and sharpness. 'October' is such a witty one, as is 'Tornado', which tends somewhat towards Shoe-Gaze due to the distorted and sharpened guitar sounds. Tired and decrepit, the song seems to drags along while a number of solid guitar lashes offer some breathing space again.
'Life Won't Wait' is a bit more rock-oriented and a bit sweeter sounding, while 'Payback' is more psychedelic and flirty with a great bass line.
This album contains several gems, like 'Eleven Ways', a particularly shiny one. A bit more Dark-Wave, restrained and yet it cuts right through you. Bone-dry drums offer an enchanting cadence. Then we get some variety with 'Injecté', cranking itself up with dark electronics only to become a Cold-Wave song with an early The Cure sound, but with French lyrics. The song 'Hideout' takes a step further into the electronic universe. Accompanied by overwhelming guitar play, this is a very intense song.
'Fait and Hate' is a song with a firm Minimal-Wave / Dark-Wave content. Here Emmanuel is very frugal with his instruments, which makes it grace brilliance in its simplicity. Sometimes it doesn't take a lot to create a masterpiece. 'Ghost Rider' is a bit of an outsider on this album. A bit more electro-experimental while guitars take over control halfway through.
With this album Faust firmly secures its place in the post-punk scene. Their first EP was already strong and this release is more than just a copy-paste. You will notice how Faust masters this genre, better still how inspired. Fresh music from Belgian soil for your enjoyment!
Jurgen BRAECKEVELT
07/08/2020
---
Na een heel smakelijke EP Somewhere between the shadows there's a place called us in het voorjaar van 2019 komt Faust in 2020 met een volwaardig album. Het éénmansproject van Manu Gillard brengt darkwave, coldwave en postpunk met een ondertoon van spanningen en angst.
Emmanuel Gillard is al sedert de jaren 1990 actief in de muzikscène, o.a. als lid van de bands Nervous Chillin', Poison Heart, Motueka en Hell-o-tiki. Na meer dan 20 jaar toeren door gans Europa en het delen van het podium met bands als The Misfits, UK Subs, The Buzzcocks, Alien Sex Fiend, The Dandy Warhols, etc. vond hij het hoog tijd zijn eigen pad te gaan bewandelen. Na de EP is er nu het volwaardige The Future Comes On Sleeping Pills.
En wat schaft de pot? Heel meeslepende en lekker smakende postpunk met zalige gitaren, strakke baslijnen en regelmatig stevige noisy smaken die het geheel wat pittigheid en snedigheid geven. October is zo'n snedige knakker, evenals Tornado dat door de overstuurde en geslepen gitaarsound neigt naar shoegaze. Moe en afgeleefd sleept de song zich voort, tot een aantal stevige gitaaruithalen het geheel weer wat ademruimte bieden.
Life Won't Wait is wat meer rock-georiënteerd en klinkt wat zoeter, Payback dan weer wat psychedelischer en flou. Zalige baslijn heeft deze song.
Dit album bevat verschillende pareltjes. Zo'n blinkend kleinood is Eleven Ways. Wat meer darkwave, ingetogen en toch snijdt het dwars door je heen. De kurkdroge drums reiken een bezwerende kadans aan. We krijgen wat afwisseling met Injecté dat zichzelf aanzwengelt met donkere electronica en dan een coldwave-song wordt met de sound van early The Cure en Franse lyrics. Zo gaat Hideout nog een stapje verder op de electronische highway. Vergezeld van overweldigend gitaarwerk is dit een heel intens nummer.
Fait and Hate is dan weer een song met een hoog minimal-wave/darkwave-gehalte. Hier is Emmanuel heel zuinig met instrumenten, maar siert in de eenvoud ook de genialiteit. Soms is niet meer nodig dan dit om een meesterwerk te maken. Ghost Rider is dan als uitsmijter op dit album ietwat een buitenbeentje. Wat meer experimenteel in een electro-jasje, waarbij de gitaren ruim halfweg de zeggenschap overnemen.
Faust zet zich met dit album ferm op de postpunk-kaart. De eerste EP was al sterk en dit is meer dan een doorslagje. Je hoort hoe doorwinterd Faust in het genre is, hoe geïnspireerd ook. Nieuw Belgisch werk dat meer dan gesmaakt kan worden.
Jurgen BRAECKEVELT
07/08/2020
---