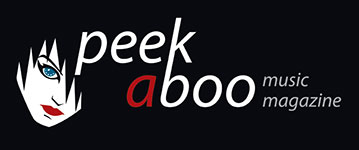 like this documentary review
---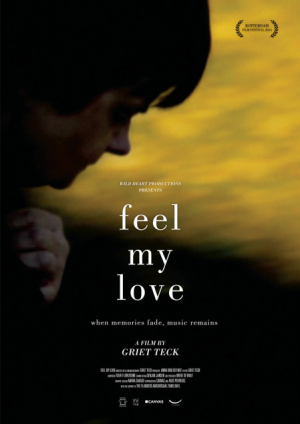 GRIET TECK
Feel My Love
Movie
•
Documentary
Documentary
[80/100]

Dalton Distribution
15/04/2015, William LIÉNARD
---
In Feel My Love, director Griet Teck's camera enters Huis Perrekes in Oosterlo (municipality of Geel, Flanders), a home for demented and dementing elderly people. Perrekes House is a small project, no more than a big townhouse, where the demented elderly are cared for in an almost homely atmosphere. There are two dogs in the living room, a piano, and interested elderly are allowed to work in the kitchen, while those who have largely abandoned the real world, are dozing off on a couch or a chair in the garden. Occasionally, the music teacher plays a few tunes on the piano and tries to motivate them to sing along, and one of the men is surprised and delighted as he is offered a clarinet. He immediately gives a small demonstration at best: nice, but rare moments of lucidity in an environment where people come to wait for the inevitable.
A middle-aged woman comes to visit her demented father. Griet Teck shows her in profile, while she films the old man from behind the sofa. We only see his balding gray head. He barely reacts to the words of his daughter; she touches him gently, but he doesn't notice. He moves uncomfortably back and forth. He's a bit nervous, she tells an old woman sitting next to him. Maybe it's because of your presence, she answers. Meanwhile two friends are sitting in the sun on the terrace. They play with two woolen animal figurines. He has beautiful blue eyes!, says one of them, and then they spontaneously start singing Two Blue Eyes, a song from when they were young… Life can be beautiful, even if there is not much left of it...
After dinner, most seniors only need a soft bed. The day has been long and tiring, and they have not much physical strength anymore after the long walks in the garden, the practice session of the choir or the visit of a group of young girls from the village. The carers take them one by one to their room and put them in bed after a last look at the old photos, a confused story about the past and a final goodnight wish. The atmosphere is calm and relaxed. The nursing staff takes its time. They are like angels, men and women with a lot of patience and a big heart. Their cradle was in Flanders and for some far away in Africa, but that does not matter. Here, only the welfare of the patients counts. House Perrekes is a little like heaven, or at least the caretaker house of heaven.
In Feel My Love the residents of Perrekes House are the main characters and their companions and caregivers are the indispensable fellow players. The camera follows them during the course of the day over a period of one year. Sometimes the house is full of life, other times most elderly people are sleeping on the sofas. Life goes on as usual, or nearly so, but at least this is a safe haven, and Griet Teck brings it to our attention with much respect. She limits the sentimentality and uses a warm hearted approach and a lot of humor, whereby this loaded topic is imaged in a spontaneous and respectful way.
Again an excellent documentary of a Flemish director, and just like in 9999 by Ellen Vermeulen, this is a delicate subject that has been brought to the screen in a very effective way.
Feel My Love
Griet Teck
Documentary/Documentaire
Belgium/België, 2014
78 min. – 1.78.1 PAL – Dutch/Nederlands 2.0
Subtitels/Ondertitels: Dutch/Nederlands/French/Frans/English/Engels
Extra: Trailer
William LIÉNARD
15/04/2015
---
In Feel My Love stelt Griet Teck haar camera op in Huis Perrekes in Oosterlo (gemeente Geel), een home voor demente en dementerende bejaarden. Vier seizoenen lang documenteert ze er de gang van zaken, van de vroege ochtend als het personeel de oudjes uit hun bed helpt, tot het slaapwel en tot morgen na het vallen van de avond. Huis Perrekes is een kleinschalig project, niet meer dan een groot huis, waar de demente bejaarden in een bijna huislijke sfeer worden opgevangen en verzorgd. Er lopen twee honden door de woonkamer, wie interesse heeft en ertoe in staat is mag in de keuken helpen, wie al grotendeels de realiteit heeft verlaten, laat men rustig indommelen op de bank of op een stoeltje in de tuin. Af en toe komt de muziekpedagoge, die de oudjes voor muziek probeert te interesseren, ze motiveert om mee te spelen of mee te zingen, en één van de mannen is helemaal in z'n nopjes als er een klarinet uit een houten doosje te voorschijn wordt getoverd, want daarmee is hij vertrouwd en hij geeft meteen een kleine demonstratie ten beste. Het zijn leuke, maar zeldzame momenten van luciditeit, in een omgeving waar mensen op de finale komen wachten.
Een vrouw van middelbare leeftijd komt haar dementerende vader bezoeken. Griet Teck toont haar van opzij, terwijl ze de oude man vanachter de bank filmt. We zien alleen z'n kalende grijze haardos. Op de woorden van z'n dochter reageert hij nauwelijks, haar aanrakingen schijnen niet tot hem door te dringen. Hij beweegt wat ongemakkelijk heen en weer. Hij is een beetje uit z'n doen, zegt ze tegen een oudje dat naast hem zit. Misschien komt dat door je aanwezigheid, is haar antwoord. Ondertussen zitten twee vriendinnen op het terras van de zon te genieten. Ze spelen met twee wollen dierenfiguurtjes. Wat heeft ie mooie blauwe ogen, zegt één van beiden, en dat is meteen een goeie inleiding tot Twee Ogen zo Blauw, dat ze krakend, maar wel op toon ten gehore brengen. Het leven kan mooi zijn, ook al is er niet veel meer van over…
Na het diner hebben de meeste oudjes nog alleen behoefte aan een zacht bed. De dag is lang en vermoeiend geweest, en ze hebben al sowieso niet veel fysieke kracht meer na de wandeling, de oefensessie van het zangkoor of de knutselnamiddag met een groepje jonge meisjes uit het dorp. De begeleiders brengen ze naar hun kamer voor een uitgebreid omkleedtafereel, een blik op de oude foto's, een verward verhaaltje over vroeger en een laatste slaap wel. De sfeer is rustig en ontspannen. De verzorgers nemen hun tijd, ze zijn als engeltjes, mannen en vrouwen met een engelengeduld en een groot hart. Hun wieg stond in de Kempen en voor sommigen heel ver weg in Afrika, maar dat doet er niet toe. Hier doet alleen het belang van de patiënten ertoe. Huis Perrekes is al een beetje de hemel, of minstens het conciergehuis van de hemel.
Een documentaire over demente en dementerende bejaarden is een delicate aangelegenheid, want je respecteert ze als filmmaker tijdens de opnamen, maar je wilt ook dat het publiek ze straks respecteert tijdens het bekijken van de film. Niet alleen over wat je toont, maar ook over hoe je dat toont behoort m.a.w. serieus te worden nagedacht tijdens het draaien én het monteren. Uiteindelijk gaat het om mensen die ooit een normaal maatschappelijk leven hadden, en die door een speling van het lot in een kwetsbare situatie terecht zijn gekomen. Desondanks is het moeilijk om een zekere mate van zieligheid en mistroostigheid te vermijden in een dergelijk milieu, maar Griet Teck vangt dat op door regelmatige grappige momenten in de montage te stoppen, waardoor het gevoel van hulpeloosheid en onmacht ingebed wordt in een totaalsfeer die positieve energie uitstraalt, en die is er in Huis Perrekens in overvloed aanwezig, getuige het kleurrijke patchwork aan de voor- en zijgevel van het gebouw, waarop bewoners en schoolkinderen regelmatig hun creativiteit botvieren en waardoor het home er elke dag opnieuw uitziet als een veelkleurige blokkendoos waar het goed is om te wonen en te leven.
In Feel My Love zijn de bewoners van Huis Perrekes de hoofdpersonages en hun begeleiders en verzorgers de onmisbare medespelers. De camera volgt ze in de loop van de dag over een periode van een jaar. Soms is het huis vol leven, andere keren zitten de bejaarden er slapend bij in de woonkamer. Het leven gaat er zijn gewone gangetje, of toch bijna, maar het is ten minste een veilige haven, en Griet Teck brengt het met veel respect onder onze aandacht. Ze beperkt de sentimentaliteit en kiest voor een warmhartige aanpak en voor humor, waardoor het beladen thema op een ongekunstelde en onbeschroomde manier in beeld wordt gebracht.
Opnieuw een uitstekende documentaire van een Vlaamse regisseur, en net zoals in 9999 van Ellen Vermeulen, betreft het een delicaat onderwerp dat op een zeer effectieve manier wordt gepresenteerd.
William LIÉNARD
15/04/2015
---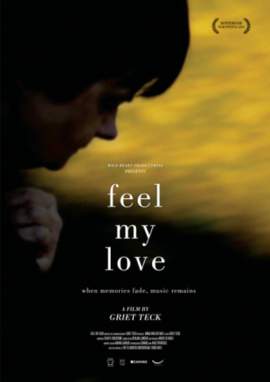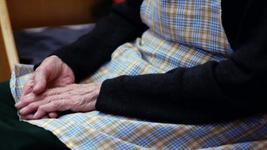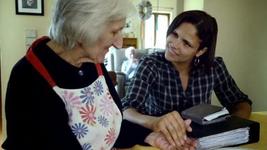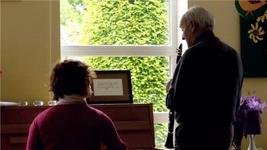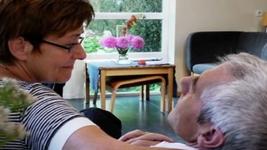 ---