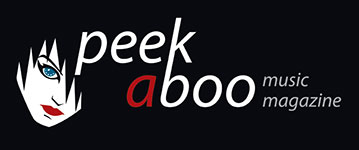 like this movie review
---
GUS VAN SANT
Promised Land
Movie
Drama
[72/100]

A-Film
02/12/2013, Didier BECU
---
Gus Van Sant is a director to cherish as he tries all different styles. Such an attitude unfortunately leads to some missers, but at other times he's able to come up with pure cinematographic explosions. If money is the standard then you can say Promised Land belongs to the first category as no one in the US was losing their sleep over his newest work. You know, these days the viewer wants superheroes who are saving the world, they're no longer interested in moral lessons about the ecologic decay of our planet, because that's what's this movie is all about.
In Promised Land Van Sant worked for the third time with Matt Damon who also wrote the story. Van Sant criticizes the so-called fracking-technique. It's a complicated way to say that companies are gaining oil with the use of high pressure. Through this technique chemicals are getting into the bottom which is of course devastating for the environment. Steve Butler (Matt Damon) works for such a firm. Along with his colleague Sue (Frances McDormand) he's heading to a small village in Pennsylvania to convince the local farmers to sell their ground as according to the future their soil will be worthless. Steve is a self-assured man, but from the very first moment it's clear that it'll be a long strike to get them on their side. As all isn't enough Steve is confronted with a milieu activist who's getting the favor of the locals.
Promised Land is a good movie with some staggering plots. It's a pity though that Van Sant destroys this by making his end far too mellow, but apart from this Promised Land is certainly not the nightmare some critics made from it. The acting is excellent, even if it's no longer a secret that a collaboration between Damon and Van Sant always seem to work (just remember Will Good Hunting ). Also Coen-favourite Frances McDormand stars once again on the screen. And then there's that directing. Totally pristine, but that's immediately the weak link of it as we're awaiting something more from a director like Van Sant, we want him to go some steps further, not just walking on the safe side! Having said that, you can be sure that his newest offering is much much better than most of the Hollywood-stuff we're seeing.
Promised Land is released in the Benelux by A-Film on both DVD and Blu-ray.
Didier BECU
02/12/2013
---
Gus Van Sant is een regisseur is die zo wat alle mogelijke stijlen heeft uitgeprobeerd. Soms slaat hij de bal wel eens mis, maar op andere momenten is het dan weer vuurwerk. Als het op centen aankomt dan kan je Promised Land gerust als een misser categoriseren omdat er in de VS geen kat wakker lag van deze prent. De kijker wil vandaag immers superhelden aan het werk zien, geen gezeur over de ecologische problemen van onze planeet, want jawel daar gaat deze film dus over.
Van Sant werkte voor de derde keer samen met Matt Damon die trouwens ook het verhaal schreef. Van Sant hekelt in Promised Land de beruchte fracking-techniek. Daarmee wordt bedoeld dat men gas wint door gebruik te maken van hoge druk waardoor heel wat chemicaliën vrijkomen, wat dus desastreus is voor moeder aarde. Steve Butler (Matt Damon) werkt voor zo'n firma. Samen met collega Sue (Frances McDormand) trekt hij naar een dorpje in Pennsylvania om de nietswetende boeren ervan te overtuigen dat het een goede zet is om hun "waardeloos" landbouwgebied aan hun te verkopen. De zelfzekere Steve voelt al gauw dat het geen gemakkelijke confrontatie zal worden. Op de koop toe heeft hij af te rekenen met een milieuactivist die de hele bevolking achter zich schaart.
Promised Land is een zeer onderhoudende film met heel wat onthutsende wendingen. Jammer genoeg verknoeit Van Sant dit opmerkelijk scenario door het slot overdreven melig te maken, maar als je dat niet meerekent dan is deze ecoprent meer dan verdienstelijk. De acteerprestaties zijn ronduit schitterend, ofschoon iedereen ondertussen wel weet dat het nu eenmaal klikt tussen Damon en Van Sant (herinner u Good Will Hunting maar). Ook Coen-lievelinge Frances McDormand is zoals steeds in haar goede doen. En dan blijft er natuurlijk nog de regie over. Die is smetteloos, maar tegelijkertijd totaal ongevaarlijk. Dat is misschien net waar het schoentje wringt. Van deze regisseur zijn we immers gewoon dat hij meestal een stapje verder gaat, maar in Promised Land blijft hij mooi (hetzij zeer professioneel) aan de zijlijn staan. Dus jawel, Promised Land is een geslaagde film, alleen verwacht je van Van Sant iets gedurfder. Maar het eindresultaat blijft uiteindelijk wel stukken beter dan de doorsneerommel die Hollywood op ons afstuurt, dat wel!
Promised Land is uitgebracht door A-Film en dit zowel op dvd als Blu-ray.
Didier BECU
02/12/2013
---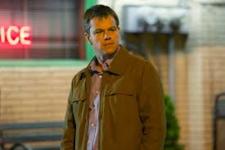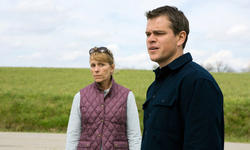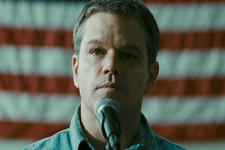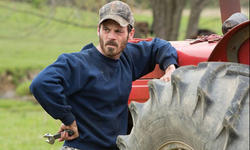 ---