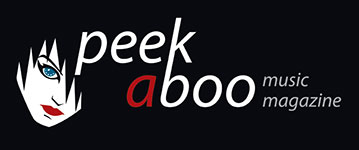 like this cult movies review
---
TOBE HOOPER
Texas Chainsaw Massacre 2
Movie
•
Cult movies
Horror
[58/100]

Arrow
28/11/2013, Didier BECU
---
In 1974 Tobe Hooper caused a whirlwind in movieland with a very cheap production. The Texas Chainsaw Massacre wasn't just brutal, it also broke all the rules. Because the movie gained lots of unexpected money, Tobe Hooper was soon after a wellknown name. When he made in 1982 with Poltergeist another smashing hit, time seemed ripe for a sequel of the Texas-massacre. There have been lots of sequels made from this Texan drama, but the one from Tobe in 1986 is the one and only. A real cultclassic it is, but back then the movie was synonym for one big failure at all fronts.
L.M. Kit Carson was from the very beginning a big fan from this movie. During the 70's he saw it along with his buddy Paul Schrader during a private viewing and he immediately knew that The Texas Chainsaw Massacre had opened some new frontiers. Back then there were already plans being made that Carson should write a a sequel, but it lasted till the 80's before he could start with it. That decade was a golden area for him as he wrote back then Paris, Texas from Wenders that made him an "intellectual writer", but he never wanted that and so he thought it'd be a good idea to start writing a horror story. Nowadays Carson sees it from the funny side, but in reality the whole thing was back then a complete nightmare. Golan and Globus, the men behind the Cannon-group decided to decrease the budget with some millions, and so Carson was forced to rewrite the whole story. Carson's second attempt wasn't their taste either as they consider it too much as a satire. In fact it is as even the filmposter is a parody on The Breakfast Club.

When watching The Texas Chainsaw Massacre 2 now, you start asking yourself how on earth producers ever agreed in putting money in something like this. The movie seems not only unfinished (the end couldn't be more abrupt), also all characters seem doomed to have an afterlife as something that would be labelled as pure bad taste. And yet, how terrible The Texas Chainsaw Massacre 2 looks like, it's still one of the most hilarious pictures ever made. Obligated stuff we absolutely recommend, even if it was only for the role of Dennis Hopper as the lunatic Luitenant Lefty Enright.

Some years ago Leftys cousin Sally Hardesty was the victim of the Texan family who skin their preys to the bone. Lefty has sweared his whole life that he'll catch the murderers one day. And yes, one day Leatherface (Bill Johnson) and his gang strike again. Two yuppies got brutally killed with a chainsaw. By all coincidences dj Vanita 'Stretch' Brock (Caroline Williams) has taped the whole massacre as it all happened during her request show. On the eve when Lefty and Scretch are listening to the recordings, Chop Top Sawyer (Bill Moseley) and Leatherface enter the studio. It's the beginning of a new slaughter.
As said before The Texas Chainsaw Massacre 2 is literally speaking a bad movie, but this B-film obtains at the same time an irresistible charm. The players are acting like their life depends on it, every sentence from each dialogue hits the nail and of course there's that black humour as well. The script has some leaks, especially the editing is a disaster, but once again: this doesn't stop the fun at all!
The bonus section is enormous with a length of 150 minutes and saying that we're only reviewing the one-discversion as this available in a three version-disc as well. The deleted scenes are somewhat forgettable, but the rest of the extra material is great stuff for every dedicated horrorfan.
It Runs in the Family is a mixture from interviews and some nice facts. Different people. (L.M. Kit Carson, cinematographer Richard Kooris and some actors) tell how difficult this release was. Did you know for instance that The Texas Chainsaw Massacre 2 was not shown in any British theatre? Due to its low budget the makers were using everything they could get, even Christmas lamps were good enough. There's also some footage about Tom Savini who is responsible for the special effects. A name that sounds familiar? Indeed as Tom has later become an actor who showed up in From Dusk Till Dawn and of course those Machete-movies. A strange guy, Savini? Yeah, especially as he was accompanied by his 9 month (!) year old daughter on the horrorset. But then again, it's just pure fun as the brains that are splattering on the screen are nothing but redpainted peanuts.
Also excellent to see is Still Feelin' the Buzz, a documentary in where Stephen Thrower (author from Nightmare USA) tells you his opinion about this horror flick. Thrower is certainly not a fan as all by all The Texas Chainsaw Massacre 2 is half a failure. The reason is because Hooper had the same problem as Sam Raimi had with Evil Dead. The original is so good and exciting that it simply impossible to equal it. The minor points are: the bad soundtrack, the bad editing and also because Hooper is giving the new Leatherface emotions.The sole person who can come up with good sequels is (according to Thrower) George A. Romero.
In the meantime there are already a lot of sequels around, but the sole you really should care about is the one by Tobe Hooper himself. This cultclassic is released in the UK only by Arrow Video. Something to cherish!
Didier BECU
28/11/2013
---
In 1974 veroorzaakte Tobe Hooper met een spotgoedkope productie voor een wervelwind in de filmwereld. The Texas Chainsaw Massacre was niet alleen ongemeen brutaal, ook werden zowat alle regels gebroken. De film bracht onverwachts veel geld in het laatje waardoor Tobe Hooper voortaan een bekende naam werd. Toen hij in 1982 opnieuw met Poltergeist enkele Hollywoodproducenten wat rijker kon maken werd ook de tijd rijp geacht voor een vervolg op de horrorhit. Vandaag is deze enige echte sequel een culttopper van formaat, maar in de jaren 80 was er maar één woord dat synoniem stond met dit vervolg: een totale mislukking.

L.M. Kit Carson was vanaf de begindagen een grote fan van de film. Toen hij in de jaren 70 samen met zijn vriend Paul Schrader The Texas Chainsaw Massacre tijdens een privévertoning zag, wist hij meteen dat Hooper nieuwe grenzen had geopend. Er werden toen al plannen gesmeed dat Carson het scenario zou schrijven voor een eventueel vervolg, toch zou het tot in de jaren 80 duren vooraleer hij aan deze taak kon beginnen. Toen de scenarioschrijver met Paris, Texas van Wenders zowat alle superlatieven naar zijn hoofd kreeg, wist hij dat het moment was aangebroken om het over een totaal andere boeg te gooien. Hij wilde allesbehalve de man zijn die serieuze verhalen schreef! Ofschoon Carson vandaag met alle plezier naar deze tijd terugblikt was het toen een regelrechte nachtmerrie. Het productiehuis Cannon van de befaamde broertjes Golan en Globus schroeven het budget met enkele miljoenen dollars terug waardoor Carson genoodzaakt werd om een nieuw scenario neer te pennen. Ook de tweede poging kon de studiobonzen maar weinig boeien, hij had er immers meer een satire dan een horrorfilm van gemaakt. Dat merk je inderdaad, want zelfs de affiche is een regelrechte persiflage van The Breakfast Club.

Als je anno2013 naar The Texas Chainsaw Massacre 2 kijkt, vraag je je inderdaad af hoe de studio's ooit met deze productie akkoord zijn kunnen gaan. Niet alleen lijkt deze film onafgewerkt (een meer abrupt einde heb je waarschijnlijk nog nooit gezien) en zowat alle personages waren vanaf de eerste seconde gedoemd om in een tweede leven het etiket "wansmaak" opgeplakt te krijgen. En toch, is The Texas Chainsaw Massacre 2 een giller van formaat. Een absolute aanrader die iedereen moet hebben gezien, als was het maar voor de hilarische rol van Dennis Hopper als volslagen krankzinnige luitenant Lefty Enright.

Enkele jaren terug was Leftys nichtje Sally Hardesty het slachtoffer van een familie uit Texas die hun prooien levend vilt. Lefty heeft zijn hele leven lang gezworen dat hij de daders wil pakken. En jawel, op een dag slaan Leatherface (Bill Johnson) en zijn kompanen weer toe. Twee yuppies worden met een cirkelzaag onthoofd. Het toeval wil dat een vrouwelijke dj Vanita 'Stretch' Brock (Caroline Williams) het hele gebeuren op een bandje heeft staan omdat de moord tijdens een verzoekprogramma gebeurde. Op de avond dat Lefty samen met Scretch naar de tape luisteren, dringen Chop Top Sawyer (Bill Moseley) en Leatherface de studio binnen. Het is de start van een nieuwe slachtpartij..

Zoals eerder gezegd is The Texas Chainsaw Massacre 2 volgens de letters van de filmwet barslecht, maar toch bezit deze B-film een onweerstaanbare charme. De acteurs vertolken hun rol alsof hun leven ervan afhangt, zowat iedere zin uit de dialogen is compleet raak en natuurlijk is er ook die onweerstaanbare zwarte humor. Het scenario is allesbehalve waterdicht, want men gaat meermaals van de hak op de tak, toch kan ook dit de pret niet drukken.
Het is ondertussen al lang geen geheim meer dat de filmfans in het buitenland meer extra's krijgen dan in de Benelux. Naar de reden daarvan kunnen we alleen maar gissen. Op deze Blu-ray vind je in totaal 150 (!) minuten aan bonusmateriaal terug en zeggen dat we het over slechts één disk hebben, want deze film is tevens beschikbaar in een box van 3 schijfjes. De weggelaten scènes zijn wel verwaarloosbaar, maar voor de rest zijn het allemaal documentaires die iedere horrorfan zal doen likkebaarden.
It Runs in the Family is een bont allegaartje van talloze interviews en leuke weetjes. Verschillende mensen (L.M. Kit Carson, cinematograaf Richard Kooris en de meeste spelers) vertellen hoe moeilijk het wel was om deze release aan de man te krijgen. Wist je bijv. dat deze sequel in geen enkele Britse zaal te zien was? Dat maar om te zeggen dat The Texas Chainsaw Massacre 2 een regelrechte mislukking was. Door het lage budget moesten de makers alles nemen wat ze maar kon vinden, zelfs kerstlampjes! Er is een bijdrage over Tom Savini die verantwoordelijk was voor de special effects. Een naam die je bekend in de oren klinkt? Inderdaad, want Tom werd later één van de karakterkoppen uit Taratino-films (From Dusk Till Dawn en ook bijv. in de de Machete-franchise van Rodriguez). Een rare kwast die Savini, want hij liep op de horrorset met zijn toen negen maanden oude dochtertje rond. Nu ja, horror...de hersenen die je op het scherm ziet rondsplatteren zijn gewoon niet meer dan roodgeverfde pindanootjes!

Ook uiterst vermakelijk is Still Feelin' the Buzz waarin Stephen Thrower (auteur van Nightmare USA) de film op de korrel neemt. Thrower is zeker geen fervente fan, want hij vindt The Texas Chainsaw Massacre 2 een halve mislukking. Hooper had net hetzelfde probleem als Sam Raimi met zijn Evil Dead had. Het origineel is zo goed en verrassend dat het volgens de horrorspecialist gewoon onmogelijk is om dat met een sequel te evenaren. Thrower ziet vele minpunten: de slechte soundtrack, de slechte editing, het feit dat de eerste realistisch is terwijl de tweede dat net helemaal niet is en ook dat Leatherface uit de tweede versie emoties kreeg. Dat kan volgens Thrower helemaal niet. Volgens de man is er maar één horrormaker die ooit met sublieme sequels op de proppen kwam en dat is George A. Romero met zijn zombiefilms.

Er zijn ondertussen al ontelbare sequels geweest die het oorspronkelijke verhaal van Tobe Hooper wat nieuw leven willen hebben inblazen, uiteindelijk is er maar één de beste en dat is die van Hooper zelf. Deze bibberprent is alleen maar in Engeland op Blu-ray uitgebracht. Een cultklassieker om royaal van te smullen!
Didier BECU
28/11/2013
---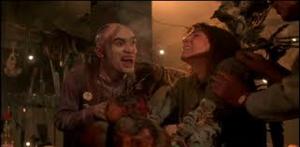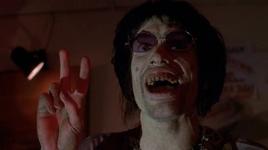 ---