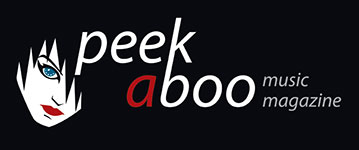 like this concert review
---
LIV KRISTINE
Roeselare, De Verlichte Geest (19/12/2015)
Concert
Symphonic Metal
22/12/2015, Ruben SAEY
---
Saturday 19th December was noted in my diary for a while. That particular day the Norwegian nightingale Liv Kristine would perform a gig in Roeselare (Belgium). And Raymond Rohonyi (the man with whom she formed Theatre Of Tragedy in the early 90s) was part of the Winter Tour 2015.

This mini-reunion of Theatre Of Tragedy was not so obvious as in 2003 Liv Kristine had to leave the band when she moved to Germany. She did not give up, formed the symphonic metal band Leaves' Eyes with her current husband Alexander Krull (ex-Atrocity) and started a nice solo career.

The relationship between Liv and Theatre Of Tragedy was for many years disturbed and each memeber went his/her own way. Nobody thought that once Liv Kristine and Raymond Rohonyi would stand together on one stage again, but Liv decided to ask Raymond to be part of the Winter Tour 2015. Apart from performing tracks of her latest album Vervain, they did Theatre Of Tragedy classics.

The Liv Kristine Winter Tour 2015 began in Russia, and that was the place where the last Theatre Of Tragedy.gig.was performed Before the doors of the venue opened, there already was a queue of metalheads on the sidewalk. Everyone was curious and expectations were high. Would the magic return? Hearing the different languages, it was clear that many fans had made the trip to Roeselare for this special concert.

The evening was started by the relatively unknown, but promising Dutch symphonic power metal band End Of The Dream to build up the atmosphere and to put the audience in the right mood. After a short, but very strong performance it was time for Liv Kristine.

You could feel the tension in the venue rise. The musicians walked on stage one by one, followed by Miss Liv Kristine. From the first notes, the room was on fire. Liv's appearance was phenomenal and the relatively young band played the songs in a very tight way. She stated that she wasn't alone and had brought a guest and the name of Raymond was chanted by the audience. When the rather timid Raymond came on stage, he was greeted with a loud applause: the ruturn of the prodigal son.
After giving Liv a kiss, Raymond took the mic and he performed his role as the diabolical opposite of Liv's nightingale voice. That was indeed the reason why most fans came to Roeselare. Were they able to bring back the magic of the heydays? With full conviction, I can answer "YES, the did".
Every song was rewarded with a thunderous applause, and Liv was very thankful and grateful. That's the beauty of a good interaction between the band and its audience: the applause gives them extra energy. Each question by Liv or Raymond was answered by the public. The set was a mixture of tracks from Liv's album Vervain (2014) and older (even very old) work of Theatre Of Tragedy.

At the end, Liv thanked her audience for creating a fantastic atmosphere. They played a few encores, including Liv's classic Der Tanz Der Schatten.

In the Dutch section you can find the set list.

Livefoto's: Tania Devroe
Ruben SAEY
22/12/2015
---
Zaterdag 19 december stond al een tijdje met stip in mijn agenda aangekruist. De Noorse nachtegaal Liv Kristine kwam naar het metalcafé De Verlichte Geest in Roeselare voor haar Winter Tour 2015. En Raymond Rohonyi, de man met wie ze samen in het begin van de jaren negentig Theatre Of Tragedy vormde, was van de partij.

Deze mini-reunie lag niet zo voor de hand als je weet dat Liv Kristine in 2003 op een niet zo mooie manier uit de band werd gezet toen ze naar Duitsland verhuisde. Ze bleef niet bij de pakken zitten en vormde met haar huidige man Alexander Krull (ex-Atrocity) de symfonische metalband Leaves' Eyes en startte tevens een mooie solocarrière.

De verstandhouding tussen Liv en Theatre Of Tragedy was vele jaren sterk vertroebeld en elk ging zijn eigen weg. Dat Liv Kristine en Raymond Rohonyi toch nog ooit samen op een podium zouden belanden, had niemand durven dromen, tot bleek dat zij Raymond had uitgenodigd om in het kader van haar Winter Tour 2015 mee te spelen tijdens nummers uit haar recentste album Vervain én klassiekers uit hun gezamenlijke Theatre Of Tragedy-verleden.

De Liv Kristine Winter Tour 2015 begon in Rusland en laat dat nu net de plaats zijn waar ze de laatste keer met Theatre Of Tragedy optraden. Al van voor de deuren van De Verlichte Geest opengingen, stond er al een rij metalheads op de stoep te wachten. Altijd een goed voorteken voor een mooie opkomst. En ja, geleidelijk aan liep de zaak vol, iedereen nieuwsgierig en vol verwachting. Zou de magie van weleer opnieuw tot leven komen? Aan de verschillende talen te horen waren er echt wel fans bij die er een reisje naar Roeselare voor over hadden.

De avond werd geopend door de nog vrij onbekende, maar veelbelovende Nederlandse symfonische powermetalband End Of The Dream. Die deed wat een voorprogramma hoort te doen. De sfeer in de zaal opbouwen en het publiek opwarmen en het in de goede stemming brengen. Na een kort, maar heel sterk optreden van deze sympathieke Noorderburen was het dus tijd voor Liv Kristine.

Je voelde de spanning in de zaal stijgen en daarmee ook de temperatuur. De muzikanten bestegen onder luid applaus één voor één het podium met als laatste Miss Liv Kristine. Vanaf de eerste klanken stond de zaal in vuur en vlam. Livs uitstraling is fenomenaal en de nog vrij jonge begeleidingsband speelde de nummers heel strak en met veel gevoel voor afwerking en detail. Toen Liv Kristine vertelde dat ze niet alleen was gekomen, maar een gast had meegebracht, werd de naam van Raymond al vanuit de zaal gescandeerd. Toen de eerder schuchtere Raymond het podium besteeg, werd hij met een luid applaus en gefluit als een verloren zoon ontvangen.
Na een kusje aan Liv, nam Raymond de microfoon en stapte hij onmiddellijk in zijn rol van de diabolische tegenpool. Daarvoor waren de meeste fans gekomen. Konden ze de magie van de hoogdagen van Theatre Of Tragedy laten heropleven? Daar kan ik dus volmondig en met volle overtuiging "JA" op antwoorden. Terwijl de band de oude doom- en gothicmetalsongs aan elkaar reeg, trakteerden Liv en Raymond het publiek op een echte Theatre Of Tragedy-reünie. Ze duelleerden messcherp met hun teksten en genoten zelf ook zichtbaar van de magie die ze creëerden.

Elk nummer werd beloond met een daverend applaus waarvoor Liv heel dankbaar en erkentelijk was. Dat is het mooie aan een goede interactie tussen band en publiek: het applaus van het publiek geeft de band extra energie. Elke vraag of elke aanwijzing van Liv of Raymond werd onmiddellijk door het publiek beantwoord of opgevolgd waardoor de dynamiek groeide naarmate de avond vorderde. De set werd mooi afgewisseld met nummers uit het in 2014 uitgebrachte album Vervain van Liv Kristine en het oudere (tot zelfs heel oude) werk van Theatre Of Tragedy. Tijdens de hele set was het publiek in beweging.

Liv bedankte het publiek voor de talrijke opkomst en de fantastische sfeer van de avond. Dat tot ongenoegen van het publiek dat de band met het bekende We want more weer op het podium wist te krijgen. Er volgden nog enkele nummers en toen Liv de klassieker Der Tanz Der Schatten als afsluiter aankondigde, trok de band nog één keer alle registers open en gingen Liv en Raymond nog voor een laatste keer met elkaar in duel. Een oorverdovend applaus en een groepsbuiging sloten deze heel geslaagde historische avond af.

De mooie setlist zag er ongeveer zo uit:
Intro – Vervain – Venus (T.O.T) – A Hamlet For A Slothful Vassal (T.O.T.) – My Wilderness – Paris Paris – Cassandra (T.O.T.) – On Whom The Mood Dot Shine (T.O.T.) – Image (T.O.T.) – Panic – Let You Down (T.O.T.) – Siren (T.O.T) – Machine (T.O.T) – Black As The Devil Painteth (T.O.T.)
Bisnummers : Commute (T.O.T) – Love Decay – Der Tanz Der Schatten (T.O.T).
Livefoto's: Tania Devroe
Ruben SAEY
22/12/2015
---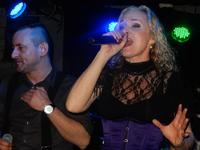 ---