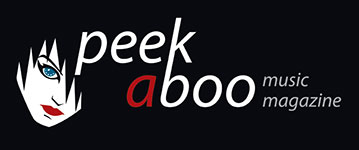 like this cd review
---
STAHLNEBEL & BLACK SELKET
We Break the Silence
Music
•
CD
Dark Electro
[80/100]

Advoxya Records
02/06/2015, Britta Tabrit
---
Stahlnebel & Black Selket is a German-Dutch project around the three members Ralph (vocals, lyrics, organization), Sander (music, machines, mastering, production) and Branko (keyboard, live programming).
Somewhere between Industrial and Future Pop Stahlnebel & Black Selket is everything but another boring dark music band and I'd like to tell you something about their latest album "We break the silence", released on 28.11.2014. So, don't waste any time and start with this interesting sound experience right away:
The album contains 15 tracks and is available e.g. at http://www.poponaut.de/stahlnebel-black-selket-m-1978.html The Intro is non-instrumental, a voice is telling you that this world is a weird one and we fight every single day and the only thing you can count on is blood! With these words the door opens and you enter the world of "We Break the Silence". It's not only the theme song of this album, but also the first impression you get. And somehow my first thought was "That's good but common', but not like "boring common", more "danceable and with majority appeal common". The song is a solid and calling up song that is more than sufficient as the opener to an album of this kind!
"Echo" seizes the idea of the first song but is way more interesting as it seems to be kind of a personal style development of Stahlnebel & Black Selket. Stomping beats and only few vocals draw te attention mainly to the music!
The next track, called "Die Zeit", comes with German vocals for a change. Almost depressing, the song is about the fact that our time here on earth is strictly determined and limited, and before you realize it your time is over! This content is accentuated by a great instrumentalization, almost like an anthem. For me this song is the strongest so far! For sure this one is a dancefloor attraction and definitely promising more great stuff to follow!
"Crown of Thorns" is obviously a hardfloor track. As you all know I'm not afraid of making use of comparisons and I'd compare this track to Grendel. Fast technoid beats, seeming never-ending somehow, no time to take a deep breath. But somehow I miss a bit the individuality here, something that's surely there with this project. On the other hand, the song is plug compatible for a wide range of people and it's always hard to find the balance between "own style" and "what people want to hear".
And on we go with "Coming Home". It's a more calm and relaxing song, if that is the right expression here. The main melody flows constantly through the whole song, a voice talking about a perfect past and coming home now. Was the past really that perfect? I got the impression that this one is a very individual song. I enjoyed listening to it a lot, it gave me a save feeling in a way that I can't explain now. Let's keep it like that.
"Prism" is about online surveillance. In times we all use the internet and social networks, we may become an easy prey for those waiting for your data. Not only data, they also control your words. Samples about Edward Snowden and the transatlantic and inter-European monitoring reinforce the thesis of being transparent nowadays. Quite an actual problem with lots of different opinions about it.
"Dead Meat" is kind of a disgusting song to me. I guess it's a strong personal feeling. "Finally you're lying here like dead meat!' It's about being tortured by someone. You develop hate and now you are free, standing there watching the dead meat. Maybe one of the oldest human fears and wishes at the same time. For me it's always hard to identify with vocals like those. I'm not the one who condemns it wholesale, not at all! But in the past I learned that things like these are part of the dark scene, but I've never been able to approach this. Instrumentally I like this song a lot, though!
The next track is "Foreign Control". Puh, this song gives relief to me after the previous song. The melody is easy to catch and it reminds me of SITD and I'm sure that they are one of the main influences of this project!
"Smog" is about a life controlled by others. Big cities drowning in smog and people there going on with their every day lives. Taking pills to forget about the pain, mentally and physically, they kill the truth. Are we all robots already? Humans still? "We are waiting to realize that everything was wrong", is one phrase of the song "Waiting". Our whole lives we spend waiting for good things, gentle people, peace and freedom. But what is it that we get at the end? A critical song once again to make you think about us and the things happening around us. But shall we keep waiting?
'Fresh Flowing Blood (The Chessboard Killer)' is the next one on the album. Again influenced by SITD and talking about a killer, it is there to perpetuate a stereotype – the stereotype of a person waiting to kill, going into raptures over his actions, not having a sore conscience at all.
"Fight" (Album Version) catapults you back into the world of hardfloor music. Honestly, I can't say that much here. Fairly average in my opinion!
The second last track is called "Signal" and quite an ear-catcher again! It can't be denied that the Mexican band Hocico sets a pattern for Stahlnebel & Black Selket's music as well. The beats are booming and the vocals are aggressively venting the singer's spleen! Really a well arranged milestone!
And now we have arrived at the end of the album. "Circle of Life (Be Not Sad)" creates a well-made finish here. Slow, but definite the track reminds us of our own mortality and the ongoing circle of life.
On the whole the album is quite a diversified work and I really enjoyed it. You can clearly feel the addiction to music and Stahlnebel & Black Selket can offer you well-known and approved creations as well as independent ones. Will be interesting to see what's coming up next!
Here we go with some links to find out more about this venture:
Facebook: https://www.facebook.com/stahlnebel.blackselket?fref=ts
Soundcloud (also contains new songs!): https://soundcloud.com/stahlnebelblackselket
YouTube: https://www.youtube.com/channel/UCq3ZZtvw8Um5FWndlJFQH8A
Britta Tabrit
02/06/2015
---