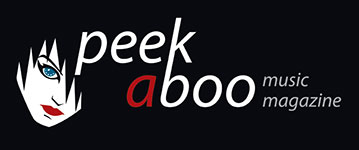 like this cd review
---
POLYMORPHIE
Voix
Music
•
CD
Avant-garde
•
Jazz
•
Noise
[70/100]

Atypeek Music
31/05/2015, William LIÉNARD
---
The six-member French band Polymorphie from Lyon was founded in 2006 and now releases its first album. It's called Voix and contains 8 tracks in the field of free jazz, noise, rock and electronics. When we think of experimental jazz, we think of our own Nordmann, but Polymorphie adds a voice to the music and according to the circumstances, singer Mariane Pellegrini whispers, tells or declaims the text.
Saxophones are ubiquitous on Voix, sometimes we hear one saxophone backed by guitars, drums and prudent electronics, other times two or more saxophones with an accompaniment that sounds like a big band: loud, nervous and jazzy. Le Berger begins quietly with acute repetitive claps as a stepping stone for the narrator. Later, guitars and saxophones are added and the track degenerates into a barrage of guitars and noise. Cell actually consists of four parts with nervous saxophones (and later melancholy and dragging saxophones), a big band sound and noise. Between the 4th and 6th minute a beautiful saxophone solo resounds. Occasionally the American band Chicago haunted through our head, but Polymorphie sounds a lot louder, more restless and more contemporary.
The five-part Suite N.C. includes five components, but there is little question of consistency, because after the jazz/post-punk track Part 1: Happy Birthday, Mariane Pellegrini's voice takes the lead in Part 2: Where the Wild Roses Grow, that starts with the sound of a gentle humming drone on which a polyphonic choir of two and later three voices flourishes with a narration on top, which is doubled in turn. It's a most beautiful track, but the narrative voice could have been omitted. We have never really been a fan of the murmur of Current 93, because there too the voice displaces a wonderful instrumental track to the background. Unfortunately we never got further than Atlantis (Donovan) when it comes to spoken vocals in music!
Part 3 begins with quiet saxophones and dull synths, but the drum tempo is high and the saxophone and the repetitive guitars are used to expand the composition to a steamy big band track, and the same goes for Part 5 and Pachinko: pure free jazz improvisation, loud, cacophonous and nervous. Part 4: The Mercy Seat begins with deep drones punches, followed by a distorted narration, small sounds and quiet guitars, later joined by one and then two saxophones. The track leads to a conclusion with emphatic guitars.
Voix has guitars, synths and drones, but the saxophones take the lead and it all sounds very often like a jazzy big band. You have to love it. But it is made in an excellently manner, hence the score.
Tracklist:
1. Le Berger
2. Cell
Suite NC
3. Happy Birthday/Part 1
4. Where the Wild Roses Grow/Part 2
5. Part 3
6. The Mercy Seat/Part 4
7. Part 5
8. Pachinko
William LIÉNARD
31/05/2015
---
Het zeskoppige Franse gezelschap Polymorphie uit Lyon bestaat sinds 2006 en brengt nu z'n eerste album uit. Het heet Voix en het bevat 8 tracks waarin free jazz, noise, rock en elektronica aan bod komen. Als we aan experimentele jazz denken, dan komen we uiteraard op het terrein van onze eigen Nordmann, maar Polymorphie voegt een stem toe, die van zangeres Marine Pellegrini, die de teksten al naar gelang de omstandigheden op een fluisterende, vertellende of declamerende toon brengt.
Saxofoons zijn alom tegenwoordig op Voix, soms gaat het om 1 saxofoon gesteund door gitaren, drums en voorzichtige elektronica, andere keren zijn 2 of meer saxofoons van de partij en klinkt de begeleiding als een big band: luid, nerveus en jazzy. Le Berger begint rustig, met scherpe repetitieve claps als een bedje voor de vertelstem. Later worden gitaren en saxofoons toegevoegd en ontaardt de track in een spervuur van gitaren en noise. Cell omvat eigenlijk vier delen, maar dobbert voornamelijk op saxofoons (zenuwachtig en later weemoedig en slepend), bigbandgeluid en noise, waarbij tussen de 4de en 6de minuut een prachtige saxofoonsolo is ingebouwd. Af en toe spookte de Amerikaanse band Chicago ons door het hoofd, maar Polymorphie klinkt een stuk luider, zenuwachtiger en uiteraard eigentijdser.
De vijfdelige Suite N.C. bevat vijf onderdelen, maar van samenhang is weinig sprake, want na Part 1: Happy Birthday, dat als jazz/post-punk uit de speakers rolt, krijgt Marine Pellegrini's stem (letterlijk) het hoogste woord in Part 2: Where the Wild Roses Grow: op het geluid van een zacht zoemende drone groeit een polyfoon koortje van twee en later drie stemmen, waarover een vertelstem is gelegd die op haar beurt wordt verdubbeld. Mooie track, maar de vertelstem had men wat ons betreft achterwege mogen laten. Wij zijn ook nooit echt fan geweest van het gefezel van Current 93, want ook daar drukt de stem keer op keer een wondermooie instrumentale track naar de achtergrond. Verder dan Atlantis (Donovan) zijn wij met vertelstemmen jammer genoeg nooit geraakt!
Part 3 begint met rustige saxofoons en doffe synths, maar het drumtempo ligt hoog en daar maken saxofoon en repetitieve gitaren gebruik van om de compositie uit te bouwen tot een stomende bigbandtrack die net zoals Part 5 en Pachinko klinkt als een pure freejazzimprovisatie: luid, kakofonisch en zenuwachtig. Part 4: The Mercy Seat zet in met diepe drones-stoten, gevolgd door een vervormde vertelstem, kleine geluidjes en rustige gitaren die later het gezelschap krijgen van 1 en nadien 2 saxofoons. De track leidt naar een conclusie met vooral nadrukkelijke gitaren.
Voix bevat gitaren, drones en synths, maar de saxofoons nemen het voortouw en het geheel klinkt heel vaak als een jazzy big band. Je moet ervan houden. Maar: het is allemaal uitstekend gemaakt, vandaar de score.
William LIÉNARD
31/05/2015
---