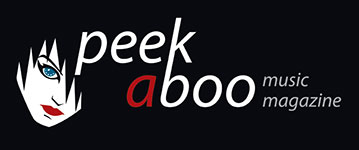 like this concert review
---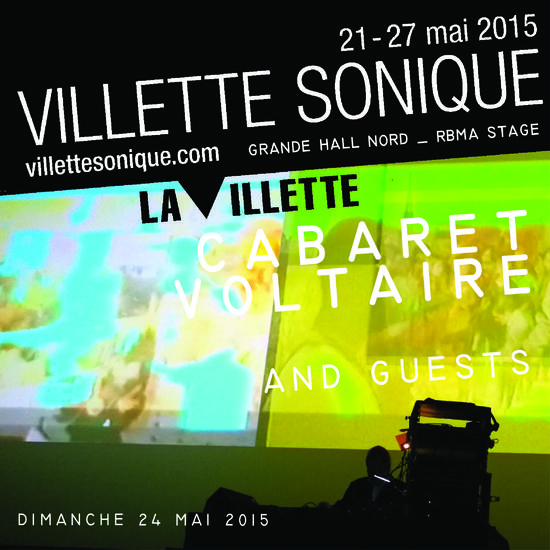 CABARET VOLTAIRE, CARTER TUTTI & ANDY STOTT
Paris, Villette Sonique (24/05/2015)
Concert
Ambient
•
Dark Ambient
•
Electronics
•
Experimental
•
Industrial
•
Techno
[90/100]

28/05/2015, William LIÉNARD
---
Over the past week (21-27 May), the Parc de la Villette in Paris was the scene of the successful music festival Villette Sonique. Every day youngsters could see various young artists and bands from home and abroad on different locations in the park (for free). Among the many acts we saw and heard the US garage band King Khan and the Shines, the post-punk band Girl Band (Ireland), Traxx (Chicago house) and the Italian punk rock/techno band Ninos de Brasil, but also the Canadian Ought, the opera-like Heimat, the French punk duo Pierre et Bastien, the American garage rock band The Gories and their compatriot, guitarist and songwriter Kevin Morby. Thanks to the good weather, there was a massive influx and as usual indie labels were present for a small record fair which attracted many interested music lovers.
On Sunday, May 24th, a special evening program was organized at La Grande Halle, for which an entrance fee was asked, but the artists were of a heavier caliber. RBMA STAGE: Cabaret Voltaire + Guests, curated by Richard H. Kirk, with famous guests like Andy Stott and Carter Tutti Void, could count on a lot of acclaim and a (mostly) Paris audience that responded enthusiastically.
The English producer Andy Stott has four albums to his name. The two most recent (Luxury Problems, 2012; Faith in Strangers, 2014) received good reviews on the Australian electronic music website Resident Advisor and the US (Chicago) indie website Pitchfork Media. His compositions can be situated between ambient, drone, dub techno, electronics, experimental and they exhibit similarities with the work of Luomo, Locust and Autechre. In Paris Stott started his performance with thunderous drones and hard-hitting percussion over which he draped a soft woman's voice and then African drums, layered percussion, piano patches and a glockenspiel, and then murmuring drones. Halfway we heard machine gun-like drums, a shadow of drones, a firework of bells, cannons and industrial whistles, all in the style of Autechre: tight, loud and razor sharp. Afterward, the woman's voice returned with dark and distorted noise in the background, a chaos of piano, bells and industrial sounds, popping ping-pong balls, short and violent breaks, clicks, bleeps and echo shocks, and even a choir, soon overshadowed by a rapid succession of all kinds of electronic sound fragments and a sporadic techno thump, supported by rhythmic shifts, menacing drones and weeping strings of electronics. A strong performance, bathed in a sea of bright white and colored light until the very last second. (100/100)
Barely 10 minutes later Carter Tutti Void appeared on stage against the projected visuals from their album Transverse: a quiet revolving circle with white and black squares on an identical background, an optical illusion that makes you dizzy if you look at it too long! Carter immediately fired his techno beats to the audience, the layer on which he creates his very own universe of sound and noise with distortion and manipulation. On the up-tempo rhythm screeching drones and small sounds were spread to which Tutti and Void added their cautious guitar noise. The concert started with some hesitation, as if the trio had not played together for a while, but after the introduction of Tutti's dark vocals on a bed of chopping percussion and rumbling drones, the atmosphere was okay. Like Andy Stott, Carter Tutti Void left little room for applause, and so their set seemed to be one long composition, although there were fans who neatly managed to distinguish the various parts and loudly expressed their enthusiasm. Carter Tutti Void did well in Paris, although we had the feeling that the same concert in Tilburg in September 2014 was livelier and visually more appealing, because visually the performance was poor: Carter as a techno magician behind his synthesizers and modulators, Void occasionally busy with a violin bow to let the guitar sound different, Tutti unfortunately quite aloof, half turned away from the audience, seemingly only interested in her guitar and microphone. It shows a certain attitude and style, but adds little to the performance. Fortunately, there was music, with electro percussion hovering between metal and wood, abrasive guitars and lots of echoes, roaring and whistling drones, and in the background very low and dark noise. A beautiful concert, although we have seen and heard better by Carter Tutti Void in the past. (80/100)
Curator Richard H. Kirk, aka Cabaret Voltaire - Watson left the band in 1981 and Mallinder went his own way in 1994 – performed the last concert in La Grande Halle. He calls himself an artist rather than a musician, which means that he attaches as much importance to the visual aspects of a performance as to the musical content, and that has always been a hallmark of the Cabaret Voltaire style. But radio voices, interviews - assembled according to the cut-up style of William S. Burroughs - have always been a part of the Cabaret Voltaire repertoire, and Richard H. Kirk continued on that path after the departure of his mates. In an interview on the occasion of his appearance in Villette, he told the journalist of the French website Noisey that he never performs old CV material, and that the fans don't need to wait for a contemporary version of Nag Nag Nag or Sensoria, because Cabaret Voltaire, he added, is a project that looks to the future and not to the past.
in Paris the techno and dance master performed a hard-hitting electro program, a mix of radio voices, humming drones, up-tempo beats and noise, spiced with electrical flashes and at times very hard electronic percussion, overtones and then little sounds, followed by dark drones, loud percussion and a bombardment of voices and electrical noise. All recent or new material as the soundtrack for visuals which were projected on three screens over the entire width of the stage: 40 minutes of scenes from movies, documentaries and newsreels, fired to the public at a frenzied pace, a picture-in-picture technique with flashy, distorted and repetitive pictures, in black and white and color with yellow and blue as the main common denominators.
Meanwhile, among the video screens, Richard H. Kirk sat in the darkness, huddled behind a wall of amplifiers and samplers and often completely invisible to the public as an incognito sound magician. We saw Kirk at the Mute Irregular Festival in London in May 2011, and that was a bit of a disappointing performance, and so we had mixed feelings about this concert. But Kirk did better in Paris with more structure in the repertoire and more elaborate compositions. Of course it remains a rather impersonal way of performing, and because the visuals draw the most attention, the music always seems to be of minor importance, whereby the fine nuances are lost in the visual bombardment. Perhaps that is the intent, anyway that's the result achieved. Still, a good concert. (90/100)
The interview with Richard H. Kirk on the French website Noisey can be read here.
William LIÉNARD
28/05/2015
---
De voorbije week (21-27 mei) was het Parc de la Villette in Parijs het toneel van het groot opgezet muziekfestival Villette Sonique. Elke dag kon het jonge volkje er gratis op diverse podia in het park jonge artiesten uit binnen- en buitenland aan het werk zien. Tussen de vele acts noteerden we o.a.de Amerikaanse garageband King Khan and the Shines, de postpunkband Girl Band (Ierland), Traxx (Chicago-house) en de Italiaanse punkrock/technoband Ninos de Brasil, maar ook het Canadese Ought, het opera-achtige Heimat, het Franse punkduo Pierre et Bastien, de Amerikaans garagerockband The Gories en hun landgenoot, gitarist en songwriter Kevin Morby. Dankzij het goeie weer was er sprake van een massale toeloop en naar goede gewoonte waren ook indielabels aanwezig voor een kleine platenbeurs die heel wat geïnteresseerde muziekliefhebbers trok.
Zondag 24 mei was er in La Grande Halle een speciaal avondprogramma waarvoor wel entree werd gevraagd, maar de artiesten die er aantraden waren dan ook van een zwaarder kaliber. RBMA STAGE: Cabaret Voltaire + Guests, gecurateerd door niemand minder dan Richard H. Kirk, met als bekendste gasten Andy Stott en Carter Tutti Void, kon rekenen op heel wat bijval en op een (overwegend) Parijs publiek dat heel enthousiast reageerde.
De uit Manchester afkomstige producer Andy Stott heeft vier albums achter zijn naam staan waarvan de twee meest recente (Luxury Problems, 2012; Faith in Strangers, 2014) goede kritieken kregen op resp. de van oorsprong Australische electronischemuziekwebsite Resident Advisor en de Amerikaanse (Chicago) indierockwebsite Pitchfork Media. Zijn composities situeren zich in het grensgebied tussen ambient, drone, dub techno, electronics, experimental en ze vertonen overeenkomsten met het werk van o.a. Luomo, Locust en Autechre. In Parijs stak Stott van wal met donderende drones en snoeiharde percussie waarover hij een spaarzame vrouwenstem drapeerde en vervolgens een Afrikaanse drumpartij, roffelende en gelaagde percussie, flarden piano en een glockenspiel en opnieuw ruisende drones. Halfweg hoorden we machinegeweerachtige drums, een schaduw van drones, een vuurwerk van toeters, kanonnen en industriële fluittonen, helemaal in de stijl van Autechre: strak, luid en messcherp. Naderhand keerde de vrouwenstem terug met op de achtergrond donkere en distorted noise, een chaos van piano, bellen en industrial, ploffende ping-pongballen, korte heftige breaks, clicks, bleeps en echoshocks en zelfs een koortje, dat gauw werd ondergesneeuwd door een snelle opeenvolging van allerhande elektronische klankfragmenten en een sporadische technodreun, gesteund door ritmeverschuivingen, dreigende drones en huilende elektronicaslierten. Een sterke performance die baadde in een zee van fel wit en gekleurd licht tot de allerlaatste seconde.
Nauwelijks 10 minuten later stond Carter Tutti Void op het podium tegen de geprojecteerde visuals van hun album Transverse: een rustig ronddraaiende cirkel met witte en zwarte vlakken op een identieke achtergrond, een optische illusie waarvan je na lang kijken een beetje tureluurs wordt! Carter vuurde meteen zijn technobeats op het publiek af, de onderlaag waarop hij met distortion en manipulatie een heel eigen universum van geluid en noise creëert. Over het uptemporitme werden krijsende drones en kleine geluidjes uitgesmeerd waaraan stoorzenders Tutti en Void voorzichtig gitaarnoise toevoegden. Het concert kwam een beetje haperend op gang alsof het trio al even niet meer samengespeeld had, maar de weifeling was van korte duur want na de introductie van de donkere vocals van Tutti op een bedje van hakkende percussie en galmende drones, zat de sfeer er weer helemaal in. Net zoals Andy Stott liet Carter Tutti Void nauwelijks ruimte voor applaus, waardoor de set op één lang uitgesponnen compositie leek, al waren er fans die de diverse onderdelen toch netjes van elkaar wisten te onderscheiden en luidruchtig hun enthousiasme uitten. Carter Tutti Void werkte zich op een uitstekende manier door het voorziene programma, al was hetzelfde concert in Tilburg in september 2014 naar ons gevoel een flink stuk levendiger en visueel aantrekkelijker, want veel viel er voor de fan niet te beleven: Carter als technomagiër achter z'n synthesizers en modulators, Void af en toe in de weer met een strijkstok om de gitaar anders te laten klinken, Tutti jammer genoeg helemaal afzijdig, half weggedraaid van het publiek, met schijnbaar alleen interesse in haar gitaarwerk en microfoon. Het getuigt van een zekere attitude en stijl, maar het voegt weinig toe. Gelukkig was er dus de muziek, met elektropercussie die zweefde tussen metal en hout, schurende gitaren en heel veel echo, ronkende en fluitende drones, en op de achtergrond heel lage en donkere drones. Een mooi concert, zij het dat we beter van Carter Tutti Void hebben gezien.
Curator Richard H. Kirk, alias Cabaret Voltaire – Watson verliet de band al in 1981 en Mallinder ging z'n eigen weg in 1994 – nam het laatste optreden in La Grande Halle voor z'n rekening. Van hem is bekend dat hij zich eerder een kunstenaar dan een muzikant noemt, wat betekent dat hij evenveel belang hecht aan de visuele aspecten van een performance als aan de muzikale invulling, wat overigens altijd al een kenmerk was van de Cabaret Voltaire-stijl. Maar ook radiostemmen, interviews – gemonteerd volgens de cut-upstijl van William S. Burroughs – zijn altijd een onderdeel geweest van het Cabaret Voltaire-repertoire, en op dat pad is Richard H. Kirk doorgegaan na het vertrek van z'n maten. In een interview ter gelegenheid van z'n optreden in Villette, vertelde hij de journalist van de Franse website Noisey dat hij nooit oud werk ten gehore brengt, dat de fans dus niet op een eigentijdse versie van Nag Nag Nag of Sensoria hoeven te rekenen, want dat Cabaret Voltaire een project is dat naar de toekomst kijkt en nooit naar het verleden.
In Parijs bracht de techno- en dancegrootmeester een snoeiharde elektroset, een mengeling van radiostemmen, zoemende drones, uptempobeats en noise, opgeleukt met elektroflitsen en bij momenten harde percussie, overtones en dan kleine geluidjes, gevolgd door donkere drones, snoeiharde percussie en een bombardement van stemmen en elektronoise. Allemaal recent of nieuw materiaal als de soundtrack voor visuals die op drie schermen en over de hele breedte van het podium werden geprojecteerd: 40 minuten scènes uit films, documentaires en journaals tegen een waanzinnig tempo op het publiek afgevuurd, een beeld-in-beeld-techniek met flitsende, distorted en repetitieve scènes, in zwart-wit en kleur met geel en blauw als belangrijkste gemeenschappelijke deler. Onder de schermen zat Richard H. Kirk ondertussen in het halfduister, weggedoken achter een muur van versterkers en samplers en vaak helemaal onzichtbaar vanuit de grote hall, de incognito geluidstovenaar. We zagen Kirk voor het laatst aan het werk op het Mute Irregular Festival in The Round House in Londen in mei 2011 en dat viel toen lichtjes tegen waardoor we met gemengde gevoelens dit concert tegemoet zagen. Maar in Parijs bracht Kirk het er heel wat beter vanaf. Er zat meer structuur in het repertoire en de stukken waren beter uitgewerkt. Het blijft uiteraard een vrij onpersoonlijke manier van performen, en omdat de visuals de meeste aandacht trekken, is de muziek toch altijd een beetje van ondergeschikt belang, waarbij de fijne nuances verloren gaan in het visuele bombardement. Maar dat is misschien de bedoeling of het is in elk geval het effect dat wordt bereikt. Toch een goed concert.
Het interview van Richard H. Kirk op de Franse website Noisey kan u hier lezen.
William LIÉNARD
28/05/2015
---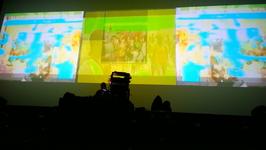 ---