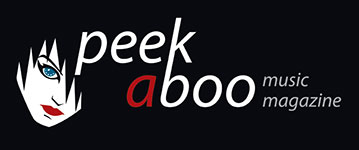 like this cult movies review
---
C. COURTNEY JOYNER
Lurking Fear
Movie
•
Cult movies
Horror
[55/100]

88 Films
25/06/2014, Didier BECU
---
Do you also like movies that are so bad that they're becoming fun? If you do then you certainly must check out the British label 88 Films that release on a very regular base lots of these forgotten cultgems. You know the type of movies that get serious critics start puking! One of the latest titles that is added on the already long list is Lurking Fear from 1994, a movie that is based on the short stories by HP Lovecraft. Well at least, a bit. The director is one C. Courtney Joyner, a man who mainly earned his living with writing scripts for (delicious) nonsense like Trancers III, Doctor Mordrid or Puppet Master III. All productions that are coming from the Full Moon Entertainment-stable, just like Lurking Fear.


HP Lovecraft is only mentioned because his name looks good on horror pics, the movie itself is miles away from the original story. John Martense (Blake Adams) is just released from prison. The poor sod was committed for a crime he didn't even committed. After coming home Martense visits an old family friend: the undertaker Knaggs (Vincent Schiavelli) who has a map for him. The route leads to a place at a cemetary where Martense's father has buried money from a robbery. Once he arrived, Martense notices something very strange. The town has been demonised for years by weird creatures. The only survivors are Cathryn (Ashley Lauren who you might know from Hellraiser) and Father Poole (John Mantee).

Fans from HP Lovecraft probably won't be happy when they see what C. Courtney Joyner has made with this story. The reason why they added his name is simple: all directors were hoping to score another
Re-animator. That wasn't the case with Lurking Fear. The film was just another tape in the videostore no one cared about. That's no surprise as after all the story is weak (not even thrilling), a bad directing, dumb performances and silly (but hilarious) special effects. But look, in movie world time can do a lot as now this type of films have become pure cult. Today there's a huge interest for productions like these, even if it was only to see how it was possible that people put money in such productions.

Lurking Fear is out on DVD on 88 Films. Something for the fans and freaks.
Didier BECU
25/06/2014
---
Ben je ook zo'n cinefiel die maar niet genoeg krijgt van films die zo slecht zijn dat je ze met plezier bekijkt? Wel, dan zit je bij 88 Films op rozen want dit Britse label brengt met de grote regelmaat van de klok releases op de markt die de doorsnee "filmkenner" doen kotsen.


De nieuwste pulpfilm in het rijtje is Lurking Fear uit 1994, een film die zeer losjes is gebaseerd op de kortverhalen van HP Lovecraft. De regisseur van dienst was ene C. Courtney Joyner, een filmmaker die vooral zijn brood verdiende als scenarioschrijver van talrijke (heerlijke) ondingen als Trancers III, Doctor Mordrid of Puppet Master III. Allemaal producties die uit de Full Moon Entertainment-stal komen, net zoals deze Lurking Fear.


HP Lovecraft staat alleen maar op het hoesje omdat deze naam nu eenmaal goed klinkt bij een horrorprent, want met het originele verhaal heeft deze bibberprent weinig of niets te maken. John Martense (Blake Adams) komt net uit de nor. De arme drommel werd veroordeeld voor een misdaad die hij niet eens had gepleegd. Na zijn thuiskomst bezoekt Martense een oude familievriend: begrafenisondernemer Knaggs (Vincent Schiavelli) die een kaart voor hem heeft. De map leidt naar een plaats op het kerkhof waar Martense's vader de buit van een gepleegde overval heeft begraven. Eens in het stadje aangekomen merkt Martense dat er iets vreemds aan de gang is. De plaats wordt al jarenlang door vreemde wezens geteisterd. De enige overlevenden zijn Cathryn (Ashley Lauren die je misschien kent uit Hellraiser) en priester Poole (John Mantee).


Fans van HP Lovecraft zullen wellicht steigeren als ze zien wat C. Courtney Joyner met het verhaal van hun geliefde schrijver heeft uitgespookt. De reden waarom men dat deed is zeer simpel. Re-animator was een gigantisch succes en dus dacht men dat de naam Lovecraft mits wat geluk opnieuw een schot in de roos zou veroorzaken. Dat werd het niet. Lurking Fear werd gewoon zo'n soort videotape die geen kat huurde. Een meer dan normale zaak, want de film is verschrikkelijk slecht geregisseerd, de acteerprestaties ondermaats, de special effects potsierlijk en er is nauwelijks spanning merkbaar. Maar kijk, het wonder dat tijd heet heeft ervoor gezorgd dat Lurking Fear anno 2014 pure cult is geworden. Plotseling is er wel interesse voor deze prent, al was het maar om te zien hoe men zoiets ooit op de markt durfde te brengen!


Lurking Fear is heruitgebracht op dvd via 88 Films. Voor liefhebbers en de freaks dus!
Didier BECU
25/06/2014
---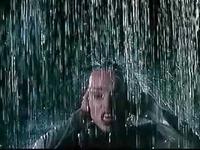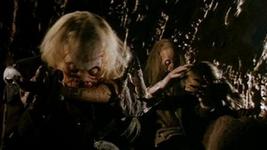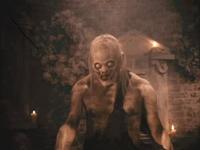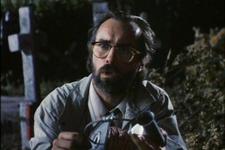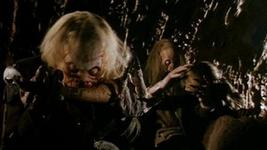 ---