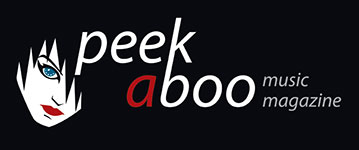 like this cd review
---
CHEMICAL SWEET KID
The Speed Of Time
Music
•
CD
Industrial Rock
[70/100]

Danse Macabre
16/11/2015, Benny CALUWE
---
The Speed Of Time is the third album by the French industrial rock band Chemical Sweet Kid. If you compare it to Obszön Geschöpf, that other French industrial band I recently reviewed, then Chemical Swet Kid sounds more contemporary. The record is also better produced and has a more balanced sound. Julien Kidam describes Chemical Sweet Kid as an electronic hybrid of Marilyn Manson and Christian Death. The influence of Marilyn Manson is obvious, especially in the vocals. But it's a Marilyn Manson without Twiggy Ramirez.
The album opens with 00:00 AM, followed by Once Agian. Dirty sounding synths with a dark edge, chuncky guitars, heavy beats and aggressive vocals. No Emotion also goes full throttle. During Kiss My Hate the hatred is clearly heard in the vocals.

Reciting, whispering, singing and screaming are alternated fluently. Although Julien Kidam tries hard to sound varied, variation is exactly what this album misses. Most of the songs don't equal the quality of the start, some tracks are build up slowly, but eventually aggression is the primary emotion. Maybe I would have liked this album if I still were a frustrated adolescent. There's only one song that surprised me. In Dissilusion the aggression makes place for an ominous atmosphere. I would have liked to hear more of this.
The conclusion is the same as in the review of their French collegues Obszön Geschöpf. Although Chemical Sweet Kid has a certain charm, I'm not completely convinced. And yes, I'm aware of the fact that charm is an odd word when talking about these bands!
Benny CALUWE
16/11/2015
---
The Speed Of time is het derde album van de Franse industrial rock band Chemical Sweet Kid. In vergelijking met Obszön Geschopf, de andere Franse industrial band die ik onlangs onder de loep nam, klinkt Chemical Sweet Kid eigentijdser. De plaat is ook beter geproduceerd en er is een beter evenwicht tussen de gitaar en de elektronica. Julien Kidam omschrijft zijn band als een elektronische hybride tussen Marilyn Manson en Christian Death. Marilyn Manson hoor je inderdaad duidelijk als invloed, vooral vocaal dan. Maar het is dan wel een Marilyn Manson zonder Twiggy Ramirez.

Het album opent met de intro 00:00 AM waarop Once Again naadloos aansluit. Vette synths met een donker randje, stevige gitaren, harde beats en de agressieve zang zetten de toon. Ook tijdens No Emotion wordt het gaspedaal stevig ingeduwd. Tijdens Kiss My Hate druipt de haat van de vocalen.
Declameren, fluisteren, zingen en schreeuwen worden vlot afgewisseld. Hoewel Julien Kidam zijn best doet om gevarieerd te klinken, mist het album toch wat variatie. Het is niet altijd zo voluit als in het begin; soms wordt er traag opgebouwd, maar uiteindelijk primeert de agressieve toon. Misschien zou dit album me beter bevallen als gefrustreerde adolescent. Er is slechts één song die me wist te verrassen. In Disillusion maakt de agressie plaats voor een dreigende atmosfeer. Hier wil ik wel meer van horen.
De conclusie is dan ook dezelfde als bij hun Franse collega's van Obszön Geschöpf. Hoewel Chemical Sweet Kid een zekere charme heeft, kan het mij niet volledig overtuigen. En ja, ik ben er mij van bewust dat charme een vreemd woord is als je praat over Obszön Geschopf en Chemical Sweet Kid.
Benny CALUWE
16/11/2015
---